Rating:
67

reviews
Please wait, sending notifications
---
Thank you! Information about this Midas shop has been sent to you. We hope to see you soon!
Close Window
Sorry, your start location could not be found. Please try again.
Midas
clifton park

is your one-stop shop for brakes, oil changes, tires and all your auto repair needs.
Midas stores are owned and operated by families in your community dedicated to providing high quality auto repair service at a fair price. And their work is backed by our famous Midas guarantee* Whether you need an oil change or tires, factory recommended maintenance, or brake repair, your local Midas has you covered.
*See store for applicability and limited guarantee terms
Average Rating:
67

reviews
Excellent customer service  
Justin at the Clifton Park Midas shop helped to get my leaking tire fixed hours before I had a trip planned. Great technician named Walt solved the problem. The customer service at this shop is excellent.
- Pat A.
Excellent service  
Every time I go there I get excellent service. Great job. I trust them with my vehicles.
- David M.
Friendly Service  
Friendly environment. Affordable. Made the rebate process easy by stapling receipts to each rebate form. They are always looking to save you money!
- Karen C.
30,000 mile inspection  
well done, thanks!!
- Steffan H.
Five star service  
Very friendly and helpful service. We will be bringing our vehicles back to Midas.
- Jeanette H.
Great service  
My technician was Jon and he did a great job! Very accomadating and made sure I knew everything that was going on.
- Kelly M.
Great  
Great
- Cleo S.
Exhaust work  
Excellent customer service and very reasonably priced.
- Darlene G.
Great Job  
Outstanding job.This is the only place that I allow my wife to take her car in with a problem without me.Always friendly and always do what needs to be done to keep her safe and happy.
- Greg T.
I don't know what this means  
I was very pleased with the staff and the work provided The price quoted was fair and reasonable for the work completed.
- Bill B.
Best customer service!!  
I called the store late on Friday afternoon because there was metal dragging under my car. They were able to diagnose over the phone and got me in first thing the next morning! I was in and out in 15 minutes, and they removed the piece for FREE!! I will definitely return to this store the next time I need work done!!
- Stephanie G.
Good customer service  
Really enjoyed working with staff at the Clifton Park Midas shop.
- Claire M.
Always friendly honest competent service  
I have been bringing my cars to this Midas for several years and have always been treated with respect and courtesy. When I mention a problem with a car I am always listened to and questions are asked to make sure Midas staff completely understand the problem. My schedule is such that I often have a very tight time window for repair and they always work with me to make sure I can get in and out promptly. I generally deal with Jonathan (hope I spelled the name right :) and am always greeted by name and friendly conversation. When the car is on the lift I am invited back to examine the problem. The mechanics take the time to explain the problem and the proposed solution. I am relatively knowledgeable about car repair and always feel that I am being told the truth and that no unnecessary work or parts are being "sold". The level of integrity of both the managers and staff is really high, As far as price goes, car repair is expensive regardless of where it is done. Midas' hourly rates seem to fall about mid-range between dealers and the backyard mechanics, and with their honesty and warranties they are, to me, a bargain. Jonathan and the manager John always work hard to find offers and discounts to apply to my bill to save me money. I assume that they honor their warranties; the work I have gotten done has been done right the first time. I have never had to bring a car back twice for the same problem so I have no experience in this aspect of Midas service. In short I am delighted with how I am treated at this Midas, both as a person and a vehicle owner.
- Art M.
well done...  
i dont usually go to big box service centers, but this was a refreshing detour. unlike the others, they did good work, did only the work i asked for and didnt leave screws out like some quick oil change place. quality wasnt sacrificed for quantity or time, true american. also landed on customer appreciation day and was fed sausage and peppers which were excellent! to add to it, if possible, another guy who had an appt was going to have his son pick him up so he didnt have to wait. the manager told him not to worry and gave the guy a ride home. Fantastic!
- Rob B.
Work on Ford  
Friendly, Clean and honest. Thank you for the work done in such a timely manner.
- Todd K.
Long wait times  
Service is good, but they need to figure out how to manage multiple customers together. It took 2 hrs to complete a NYS inspection! Scheduling appointments and taking in customers at the given time is crucial to customer satisfaction.
- Taher K.
Great service!  
Brought my car in for an inspection and needed New tires. Staff very friendly/ professional, will continue to be my go to place for car needs!
- Diana R.
Oil Change, Tire Balance & Rotate  
Treated very fairly, all discounts available were given to me, very polite and professional. Took a little longer than expected, but I am sure it is hard to schedule everything to work out perfect.
- Steven S.
Great service  
They were able to install tires the day before a snow storm. Price was great ?? staff super pleasant ??
- Laurie J.
Great Service  
Thanks John for taking the time with handling my truck. Very professional shop
- Chris S.
Muffler Replacement  
Work was done quickly and noise issue solved. No complaints about service. I was a walk in.
- Doug M.
Winter Wheels and tires swap.  
Good work, professionally done at a more than reasonable cost. Late afternoon appt was delayed but no big deal.
- James S.
Mr. James Madelone  
I was satisfied.
- James M.
2015 Toyota Rav4  
Awesome job, very helpful and fast service.
- Deb S.
Great service and fast  
Jon J definitely went above and beyond for us. Had whole job done hours earlier than anticipated. Thanks again! Kevin M.
- Kevin M.
Overall  
The Clifton Park location was clean and professional. The new manager was very professional and helpful.
- Todd K.
Great Manager  
Jon answered the phone, was knowledgeable, tracked down my specific requested tires, and got back to me within an hour. Even Delivered my vehicle to me due to illness i had! We seldom see this kind of service in todays world. Great young man who appears to run a well operating shop. I will definitely be a repeat customer.
- Kim F.
*25000 miles  
To whom it may concern, service included oil change, state inspection and winter tire setup - thanks for you service!! Will come again. Steffan Herrmann
- Steffan H.
Great customer service!  
I had an appointment on an extremely busy day. My car got brought in a little later than I expected but the manager was extremely communicative and attentive with me which made what could have been a frustrating experience very pleasant. I'll be back for my next oil change :)
- Cassie M.
Satisfied customer  
Only in for an inspection, but they got me in and out quickly.
- Richard S.
Repeated excellent customer service  
I have brought my van, my sedan, and my convertible to this Midas for service. I have found them to be quite honest in that they have never tried selling me parts and accessories that I did not obviously need. Since I use my van for business, the reliability of a service appointment is critical to me. I have never had a problem with the vehicle either being ready when promised if I left it, or fixed promptly while I waited. The quality of the work is fine; have not yet had to bring something back for a second repair for the same problem. Their prices are mid-range, and considering the quality of the service and the work, more than fair.
- Art M.
Install tires  
My tires were swapped from summer tread to winter tread. I had stopped in to see when they could be done and an hour and a half later I returned and the work was started. It was done in a timely manner.
- Timothy R.
NYS Inspection  
Well done and on time.
- James S.
Helping in time of need  
I had a very unique experience with this Midas location, after making an almost detrimental mistake with my vehicle. Employees at this location did not hesitate to assist in a very professional and quick way. They helped me push my vehicle across a parking lot to avoid potentially damaging the engine and got it right in the bay to drain the oil and replace it as soon as possible. They were able to get me in and out within 30 mins and I am very pleased with how they reacted to the situation and how professional and courteous they were. Cudos to an excellent team!
- Jason H.
Great service  
My daughter brought in the car, but I heard all about it and was in contact with her while the car was in the shop. I was very happy with how she was treated and service was great. Thanks!
- Tom L.
Excellent service  
No appointment ,got me in on a Saturday, in and out , NY state inspection, awesome!
- David G.
Awesome  
Very professional very nice They go out their way to make sure you are Happy!!!! ??
- Aimee R.
09/25  
I have been bringing my vehicle to this location for years now. Each and every issue I bring to this shop, the staff always find a solution and make the repairs. The crew are very professional and polite. They all have great knowledge and maintain a good level headed attitude with the vast diverse customer basis for this area. I have witnessed them handling rude and disrespectful customers with the utmost decency and professionalism. I would recommend anyone to this Midas.
- Adam G.
Great customer service  
Always friendly and great service when you come in, they get things done at a timely manner.
- Alyssa .
Excellent service  
I came in at the end of the day with no brakes to speak of, the diagnosed the issue and explained everthing clearly. Had to keep the vehicle over night as the warehouse was closed, but vehicle was promply repaired the next day. Great experience!
- George K.
Fuel pump  
Was able to get my truck in and fixed in a short time on a saturday
- Ed B.
Great service  
Josh and his team provide excellent customer service
- Nick K.
Great service  
Each and everytime I have brought my car into Midas I had no issues. Always straight forward, and honest.
- Llsa D.
Great customer service!!!  
Just had a great experience at Midas in CLIFTON PARK! The guys were friendly and cordial. They took my car in ON TIME and gave me an honest review of what the found! Great value and prompt, timely, courteous customer service.....couldnt ask for more!
- Ronold W.
Honest shop  
Great service with good prices and not all the hassle and nonsense of other shops
- Eddie L.
Great service  
Josh and his crew do excellent work with knowledge and professionalism. Will definitely be a return customer.
- Nick K.
Great service  
Josh and his team do an amazing job. Highly recommended
- Nick K.
Great service  
Josh and the employees at the shop perform excellent service. Thank you once again
- Nick K.
Excelant  
The work was done quickly and correctly.
- John W.
Fantastic  
I have been going to this Midas for 7 years now. All my cars, they are fantastic great customer service, explain and show you everything that needs to be done. And I never feel like they are telling me I need anything I don't. I highly recommend them.
- Lynn T.
service  
Service was great
- joe a.
Amazing Service  
These guys are top notch. They showed me what needed to be fixed and explained it all. Amazing techs and very friendly. Best experience at a repair shop ever!
- Ashley L.
Quick Excellent Service  
Service was quick and the job done right. The staff is very friendly, What more can you ask for?
- Adam R.
oil change tire rotation  
Presented Todd with a coupon for oil change and free tire rotation,he honored it and wrote up the invoice. The work was done, the mechanic checked a tire that was giving me a low pressure warning, said everything looked ok but told me to bring it back if it kept goin low. Tina checked me out, giving me information about frequent service rewards, and I was on my way. Good job
- Michael R.
oil change tire rotation  
Presented Todd with a coupon for oil change and free tire rotation,he honored it and wrote up the invoice. The work was done, the mechanic checked a tire that was giving me a low pressure warning, said everything looked ok but told me to bring it back if it kept goin low. Tina checked me out, giving me information about frequent service rewards, and I was on my way. Good job
- Michael R.
Truely Professional Service  
While traveling out of state last month, our car broke down. First no AC on a 90 degree day and then no power steering. Luckily for us we were staying around the corner from the Clifton Park Midas Shop. Todd, the manager, was incredible. He got us in the shop first thing in the morning, accurately diagnosed the problem, found parts, had them delivered and installed by 5PM on a Friday!! Oh by the way, I should not fail to mention that the car is a fifteen year old Saab. The entire experience still impresses us and we are grateful.
- Peter O.
"5" STAR SERVICE  
Had brakes done at another Midas location hearing ratting sound. Keith my merchant check everything he was amazing also driving the car to make sure it address the challenge. From the start with Tina and Todd the manager the services was top shelf . My comfort level was great I was aware of all services and cost before moving forward. "My new service shop "Thank you nice to know TRUST, HONESTY and TOP GRADE SERVICE are still alive and it's at "Midas" Clifton Park.
- Robyn A.
Muffler Repair  
Raymond replaced my entire muffler system; was courteous, did a great job explaining what was wrong to someone with minimal car knowledge and the entire process was done rather quickly. Will be going back there for any issues that arise. Definitely recommend them.
- stevan p.
Routine Oil Change  
I get my car serviced at Midas in Clifton Park every three months and have to say my experience every time is extremely positive. The employees, especially Aaron have been responsive, dedicated and timely during my visits. The costs of services are more than reasonable. I highly recommend services from Midas!
- Reid M.
Excellent, prompt service  
I would recommend this Midas location to everyone! I recently brought my car in for an oil change and tire rotation. While I was there they noticed my rear brake pads and rotors were almost worn through. They gave me a reasonable estimate and did the repairs for me immediately. Very happy with the service I received and Tina at the front desk was courteous and knowledgeable. Thanks again!
- Alison S.
Owner  
Recently I experienced a complete replacement of my Dodge Ram's rear differential. I brought my truck to Midas here in Clifton Park, NY. I could not be more satisfied with the final completion of this task! Competitively priced, Completed in a timely manner and My truck is rock solid, Thanks to everyone @ Midas! You Guys are the BEST!!!
- Jim M.
Great experience  
This was the first oil change and tire rotation for my new vehicle. I was able to get a convenient slot for the next morning. The front desk member was friendly and well informed. Aaron did the job efficiently and quite well. At the end, I was given a satisfactory explanation of the charges and the frequent buyer program. Recommended to all.
- Tarunendra B.
Outstanding Customer Service  
A few years ago, I needed some help replacing a headlight and was unsure how to replace it after I purchased it. Midas in Clifton Park, NY was right near where I purchased the bulb and I decided to stop by to see if I could receive a little help. Aaron, the manager, immediately pitched in to help me. He was was so friendly and didn't even charge me. I knew the next time that I needed service, I was going back. It is now 3 years later and I'm even more satisfied with the customer service that I have received from Aaron, Tina and Ray! They always make me feel like a valued customer! I trust their opinions and workmanship! I would highly recommend this Midas location to anyone!
- Colleen S.
Yes I would recommend . Oil change  
Good job. It was quick, friendly and informative. Tina and Aaron were very nice. Pina L.
- Pina L.
As Good As It Gets!  
I have been a customer for about two years now. I appreciate their honesty, dedication, and attention to detail. Assistant Manager Tina and Manager Aaron are so very helpful and always explain to me what and why services are needed to my vehicle. I usually speak to Tina when scheduling my vehicle, she is very easy to communicate with and work out a great time to fit my vehicle in. So I would like to Thank the whole team at Ckifton Park Midas for their dedication and making it a great place to have my vehicle serviced.
- April W.
Trusted service  
Whenever I need service for my vehicle I always go to my local Midas shop. It's nice to see & know manager Aaron, Tina, & mechanic George are there to answer any question I might have regarding my vehicle. Midas should be very proud to have them as employees. I would tell anyone that if you need service to go to Midas.
- Debbie A.
This Midas is Top Shelf  
I do most of the work on my cars and have for years, but every so often, I need expert technical or diagnostics done and have had great luck with Midas and mechanics Jason and George. I recommend them highly. Marty
- Marty w.
10
Write a review
We would like to hear about your experience at Midas.
Request appointment
Great auto service is only a click away.
Complete the online form to request a service appointment or call us for an inmediate appointment.
Thank you
---
We really appreciate your feedback!
Would you like to share your review? We've made it easy for you to share your review on Yelp or Google Places. No thanks, I'm finished.
Step 1
Use the button to copy the text of your review.
Step 2
Please click the Yelp or Google Places icon below, then click Write a Review. Follow the instructions to publish your review. To Paste the text on Windows use "control + v". On a Mac use "command + v"
Thank you
---
We really appreciate your feedback!
Would you like to share your review? We've made it easy for you to share your review on Yelp or Google Places. No thanks, I'm finished.
Step 1
Press and hold inside the review text to copy your review.
Step 2
Select the Yelp or Google Places icon below, then select Write a Review. Press and hold inside the review space to paste your review.
Thank you
---
We really appreciate your feedback!
Programs
Better Business Bureau Accredited Business
ASE Certified
Motorists Assurance Program
Amenities
WiFi
After Hours Drop-off
Coffee
Magazines
Online Appointments Available
Online Estimates Available
Online Tire Shopping Available
---
---
Payment methods
The Midas Credit Card offers instant credit and easy terms to qualified applicants. Subject to credit approval. Minimum monthly payments required. See store for details. Get Details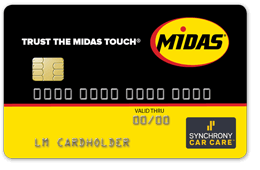 Join the Midas team at 1689 Route 9, Clifton Park, NY, 12065
Build your future with a leader in the automotive services industry...Midas.
Midas is one of the world's largest providers of automotive service, incluiding exhaust, brakes, steering, suspension, and maintenance services. Midas has more than 1700 franchised and company-owned Midas locations in the United States and Canada.
Midas is committed to earning our customer's trust by offerring them the expertise, value and reposiveness they expect... every time they visit us.
Positions at Midas
Auto Shop Manager
Automotive Technician
General Service Technician
Thank you!
Thank you for your interest in Midas. We will review your skills and experience and will contact you if your background matches the available position. If there is not a fit at this time, we will keep your information on file for any future openings.
Please Note: This employment opportunity may be with an affiliate of Midas International Corporation or it may be with an independent owner and operator of a Midas shop.
Midas Management at 1689 Route 9 Clifton Park, NY 12065.
Sending Message... Please wait.
Apply at your local Midas