Rating:
66

reviews
Please wait, sending notifications
---
Thank you! Information about this Midas shop has been sent to you. We hope to see you soon!
Close Window
Sorry, your start location could not be found. Please try again.
Midas
brunswick

is your one-stop shop for brakes, oil changes, tires and all your auto repair needs.
Midas stores are owned and operated by families in your community dedicated to providing high quality auto repair service at a fair price. And their work is backed by our famous Midas guarantee* Whether you need an oil change or tires, factory recommended maintenance, or brake repair, your local Midas has you covered.
*See store for applicability and limited guarantee terms
Average Rating:
66

reviews
GLENN DRAPER  
AS ALWAYS--EXCELLENT SERVICE--ASST. MANAGER, MIKE TOOK CARE OF US FOR YEARLY INSPECTION--EXPLAINED THINGS WE NEEDED TO DO FOR INSPECTION TO PASS--WE FOLLOWED HIS INSTRUCTIONS--WENT BACK TO SEE HIM--COMPLETED INSPECTION WITH PASSING GRADE--VERY PLEASANT AND PROFESSIONAL IN DEALING WITH US---AND EVEN PROVIDED A FEW LAUGHS--HAVE ALWAYS HAD EXCELLENT RAPPORT WITH MIDAS STAFF--ESPECIALLY MANAGER, MIKE R.--WOULD NOT GO ANYPLACE ELSE----A**** TO ALL THE MIDAS GUYS IN BRUNSWICK!!!
- Glenn D.
Tires  
Awesome
- Kay B.
Great Service  
The service is great and timely and the staff are friendly. Would definitely be a return customer.
- Rie J.
Glad to find good mechanics.  
I always lease my cars until last year.If anything went wrong I just took the car in the shop and everything was cover under the warranty. Now that I own my car, finding a good honest mechanic was hard to find..When something happened to my car I had to wait days just to get my car in the shop. I found Midas on line, made my appointment on line ,and they took my car right in as I waited. The mechanics were very knowledgeable and answer all my questions. They were very honest and the price was very fair. I will go there again and I recommend all my friends to go there. I am glad to finally find a good honest shop to take my car with fair prices and great mechanics. Thank you.
- Mark C.
tires  
I was really impressed. Very courteous.
- Dan P.
Love Midas  
I love the Hoosick Street Midas. Mike and Mike are great to work with. Christian is an assist to the team.
- Season C.
Sooo thankful  
I went to this Midas on Hoosick st in Troy Ny to see if I could get an instant oil change. They were very busy and they couldn't do it in my time schedule. No big deal. They were kind and professional about it. I went to leave and my shifter cable broke as I went to turn around. I asked if I could leave it and they were very accommodating They pushed my car into a parking spot so I could call for a ride and they said they would take a look at it as soon as they could. I understand they were super busy and went about my day. The very next day they had made the repair and change my oil and filter. Their professionalism and kindness is rare for a chain store and I will definitely return. Mikes honesty and hard work as well as his coworkers far surpassed my expectation for the general expectation of what we think we will get from a chain store I am forever grateful for their timelyness and communication skills as they definitely took my personal scenario of having a funeral that day and only having one vehicle at the time . Thank you Midas crew a thousand times. I hope this review gets the attention of the owner operator of this particular Midas location
- Adam C.
Great staff and service  
Mike and team are always professional and don't push the extras. They call out what's wrong and fix only what you agree to with no pressure. I trust this team.
- Chris R.
Great service!  
My go to for service, always friendly,helpful & efficient!!
- Holly N.
Great service  
I always take my car here, the service is great, they are attentive and thorough. Glad to have them in our community
- Carol B.
Midas Worker  
I Will recommend this place to everyone I know.
- John D.
Oil change / tire rotation  
The staff here are courteous, honest and go the extra mile for satisfaction.
- Michael D.
Close  
I have been taking my car to this Midas shop for many years. I like the location as I can drop the car off and walk home. I have gotten to know some of the staff and they are friendly.
- Joe A.
Chevy Equinox  
You Guys always do a Fantastic Job on my Car.... Even thought I'm not driving right now you Do good with my Daughter......
- Jean B.
Oil change & tire rotation  
Received a free oil change and tire rotation coupon for a conventional oil change. I needed a full synthetic oil change. No problem. I just paid the difference and I was good to go.
- Dennis B.
Thank you!  
Great service today! Visiting from out of town and called because of a humming noice. I certainly did not want one more thing to deal with on a snowy cold weekend! Mike immediately identified the wheel bearing/hub assembly needed replacing and kindly informed me of the issue. Great and timely service is hard to find these days. Very thankful for your help.
- Ann R.
Car tires  
My car needed 4 new tires. Midas took good care of this and checked car for any thing else iy needed/
- John S.
Very Quick Oil Change  
Thanks to your mechanics, and the scheduler, for being so quick and efficient on my last visit. Merry Christmas and Happy Holidays
- Amy H.
Car tyrecheck  
Very good.
- Prashant N.
Need tires  
My car needed 4 tires. Mike took care of this and recommended wheel alignment too. Was done quickly and now ready for winter.
- John S.
Efficient, friendly service  
Love the shop. The employees are polite and knowledgeable. They take the time to explain what they are doing and why.
- Sue S.
Brunswick Midas  
I have been getting my vehicles serviced @ Brunswick Midas for 10 years plus. Always prompt and courteous, work done at a fair price. My son and daughter also bring their vehicles to them. Mike and John have always taken good care of our vehicles.
- John B.
Brunswick Midas  
John is the best. Always ensures that everything is right with my vehicle before pulling it out of the garage.
- Bruce C.
Great people  
Always my 'go to' shop for any car care and answers to my questions! Thanks
- Martha D.
Great service  
Everyone is always very helpful and nice. Mike and John have become familiar faces and I never wonder if I'm getting work done on my car that isn't necessary. Great team, and always happy with the Hoosick Street location, wouldn't take my vehicles anywhere else!
- Jennifer T.
Oil Change  
The shop is very busy so we did not get into a bay for our 9 am appointment until almost 10:30. The people are very friendly and the service is very good once you get in.
- Edward S.
Midas Service  
The service at Brunswick Midas is fantastic. The guys there usually get you in and out in a short amount of time and I can depend on them being honest. Great place to get your car serviced!
- Bernard B.
Great Service  
I received excellent service with a very short waiting time.
- Nick B.
Nice work and good manager  
Very helpful and really solve the problem!
- Ke X.
Highly recommend!!  
Mike, John and the rest of the staff are very friendly and knowledgeable. I usually have a lot of questions and they do a great job at answering them. They know what they are doing and I trust these guys, that's why I bring my vehicles to them. I highly recommend!
- Kerry S.
The best!!  
Never had such a bunch of guys so friendly and helpful! John and Howard are the best!!!!!
- Joe S.
Fast and Courteous  
Everyone here was very courteous and the service was quick without trying to upsell me on things.
- David V.
My Midas experience  
I trust the Midas team. They have taken excellent care of my car for years. And while you wait the customer service and the environment is always friendly and personable.
- Lisa P.
always great service  
I always can trust these guys to do good inspections and quality work, always fair and upfront with everything, highly recommend
- Chris M.
Great Service work done properly  
Ran into an issue with my brakes. I made an appointment for the morning of the next day. They took my car in as scheduled, completed the work in a timely fashion, and the work was done properly. Friendly note: I let them know I was taking a walk to the local Walmart, and because the weather report for the day included rai, they lent me an umbrella, just in case.
- Larry D.
Great service  
As always, I experienced excellent service when having my car inspected. I was down to last day of the month the inspection was due, and Jon and Mike and the guys got me in and got it done.
- Kathy O.
Great service.  
I made an appointment and when I showed up my car was taken in right away. My state inspection and tire rotation took about 30 minutes.
- Michael H.
Great Service  
Mike and his crew are always friendly and work hard to keep the cars they are working on working and at the time frame they had stated. I send folks to them as they are professional.
- Beth M.
My review of Midas  
Always did a great job fixing my car!!!!
- Theresa P.
always great  
We have 2 cars serviced at Midas and have always received great service. Mike and John are friendly and helpful.
- John S.
oil chg  
great service
- Jeanne P.
Excellent, as usual  
I got the normal excellent service with minimal wait time, good service and great price.
- Peter E.
oil change  
Great bunch of guys, they don't push you into buying anything you don't want or can't afford. No pressure, that's why u keep going back
- marge B.
EXCELLENT SERVICE  
AGAIN--EXCELLENT SERVICE--KEPT UP TO DATE ON CHANGES AND REPAIRS NEEDED--TREATED IN A PROFESSIONAL AND FRIENDLY MANNER---MIKE, JOHN AND THE REST OF THE GUYS ARE TOP-NOTCH!! WOULD NOT GO ANYWHERE ELSE--A* FOR MIDAS IN BRUNSWICK!!!!
- KATHLEEN D.
Hoosick Rd  
The guys on Hoosick Road are the best...
- Beth M.
thanks!  
I always dread getting work done, but this was hands down the easiest time I've had yet. The guys were quick, personable, and totally willing to walk me through everything- without ever pressuring me into more work than I could afford at the time. I'm really happy to have a shop I feel good about so close to home.
- Kate V.
Always there  
Mike and the guys are always there and helpful. So appreciative of the willingness to help
- Beth M.
MRS.  
AS ALWAYS--GREAT SERVICE WITH A FEW LAUGHS THROWN IN BY JOHN AND MIKE--WOULD NOT GO ANYWHERE ELSE--ALWAYS EXCELLENT SERVICE--NEVER HAVE TO WAIT FOR AN APPOINTMENT--WAITING AREA IS ALWAYS CLEAN AND NEAT--NUMBER 1 MIDAS DEALER AND STAFF--
- KATHLEEN D.
Great Service Brunswick Midas  
I own two trucks and have all of my service done at Brunswick Midas. Jon, Mike and the team are very trustworthy. The work is done professionally and efficient. Skillfull team. Good prices and another plus is that coupons can be found easily online.
- Liz B.
quick and friendly  
Called at 350pm for an oil change, got squeezed in 40 minutes later and was out the door 25 minutes after that,keys in hand. Can't ask for better service and Jon is always great to talk to.
- Tom M.
Excellent Job  
Jon Jarvis took excellent care of me at your location today I and an inspection done and he was professional and courteous. They did an excellent job I would recommend this location to everyone I know
- mark R.
great service  
Had a great experience at the brunswick midas getting 4 new tires for a great price. Didn't have to wait long either without an appt.Awesome job boys!
- carlee J.
Jon/Midas Review  
I only come to midas because they're the only people I trust with my car. I've had the pleasure of being helped by Jon on a number of occasions who is very friendly, eager to help and very straight forward with what your car needs.
- Dan P.
Always excellent service  
As a stay at home mom, I have been bringing our 3-4 cars to this Midas for about 10 years for routine maintenance and repairs. Mike and Jon are always accommodating in getting me in promptly and finishing the work quickly. I have always been more than satisfied with the quality of their work and their excellent customer service. For example, last summer, I had a state inspection that was 3 months overdue and I only discovered it the day before leaving on a planned vacation down south. Mike got me in that day to take care of it, even though I know they were packed with work. I am always confident that the work will be performed with the utmost professionalism and attention to detail. It is very helpful that Jon and Mike will explain and show me any issues that arise with the cars in the course of their inspections. I appreciate that both Mike and Jon, as service managers, have been in their positions for a long time...they know me and my vehicles very well...I would, and have recommended this Midas to my friends and family.
- Kathy O.
Excellent!  
The service and care has been wonderful at the Hoosick Road location. John and Jim took very good care of me. Explaining everything that needed to be done. Also, going above and beyond to accommodate my crazy work schedule. I really appreciate everything they have done for me.
- Vici (BA) H.
OUTSTANDING SERVICE  
WE HAVE BEEN RETURNING TO MIDAS FOR OVER 20 YEARS WITH OUTSTANDING SERVICE AND PROFESSIONAL CUSTOMER SERVICE EVERY TIME. THANK YOU MIKE AND JOHN FOR SUPER FAST SERVICE AND REASONABLE RATES. I WILL ALWAYS BE A LOYAL RETURN CUSTOMER AND REFER ALL OTHER TO YOU.
- Jerry H.
EXCELLENT SERVICE  
AS ALWAYS, BRUNSWICK MIDAS TOOK EXCELLENT CARE OF US--EXPLAINED AND TOOK CARE OF THE PROBLEM---GREAT GUYS ESPECIALLY MIKE AND JOHN--HAVE TOTAL FAITH IN THEM AND THEIR WORK!! HAVEN'T STEERED US WRONG YET!!! WAS BACK AGAIN 10-22 AND SAME EXCELLENT TREATMENT!!
- KATHLEEN AND GLENN D.
BRAKES  
I BROUGHT MY TRUCK IN FOR BRAKES & NYS INSPECTION, I WAS ADVISED BY A COMPETITOR THAT I NEEDED BRAKES. THANK GOD I PUT IT OFF, BROUGNT MY TRUCK TO MIKE & HIS STAFF & HE SHOWED ME THAT I IN FACT DID NOT NEED BRAKES JUST THE INSPECION. MIKE IS VERY PROFESSIONAL & HONEST AS WELL AS HIS STAFF. I WILL CONTINUE TO RECOMMEND MIDAS TO EVERYONE. THEY ARE AWESOME!! THANKS GUYS!! Tim D Brunswick
- Tim D.
MR. AND MRS. GLENN DRAPER  
HAVE BEEN DEALING WITH MIDAS ON HOOSICK ST. FOR OVER 10 YEARS---HAVE ALWAYS HAD EXCELLENT, PROFESSIONAL SERVICE--THE MANAGER, MIKE, HAS ALWAYS BEEN MOST COURTEOUS TO US--HAS FIT US IN WHEN WE HAD A PROBLEM--AND HAS ALWAYS PROVIDED US WITH INFORMATION AND ADVICE!! JOHN IS ALSO A GO-TO GUY WHEN MIKE IS NOT THERE--HAVE NEVER HAD A PROBLEM THAT THEY COULD NOT FIX FOR US--WOULD RECOMMEND THEM TO ANYONE--WE HAVE EXCELLENT RAPPORT WITH MIKE AND JOHN--ALWAYS GO THE EXTRA MILE TO HELP US OUT!!!!
- KATHLEEN---GLENN D.
Expectations Met or Exceeded  
I strive to haver my expectations met. I look for svc locations that will consistently meet, or exceed, my expectations. All I expect is to have the service(s) I paid for done in a professional (workmanlike) manner. Nop surprises, no drama. I have been havinf my auto service done at the Brunswick Midas for at least 10 years. Mike and John consistently meet and often exceed my expectations. Piece of mind. Thanks for that. I apprecite it.
- Glenn C.
Brakes and so much more  
I took my car in for brakes and so much more. Josh took excellent care of my car and his customer service skills are amazing. My Cobalt rides like new again. Thank you so much.
- Mandy R.
Jeep  
What i thought was a simple hose replacement turned out to be a new radiator and fan. Then an electrical issue which was a struggle to figure out. Mike and his staff didn't quit on it and made it right again. Very friendly and professional shop.
- sal r.
Great Customer Service  
I've taken my car to be serviced here for years. Mike and his guys never 'steer' me wrong! As a woman I feel comfortable here and will continue to bring my vehicle to Midas for service.
- Veronnica P.
Always good service  
Mike and the crew always do an excellent job with routine maintenance and with any problems that come up with one of the cars. This visit was a stop-in to see if there was a chance to do an oil change and check a minor noise from under the car. They drove me to the grocery store to get a few things while they worked on the car. By the time I walked back, the car was nearly done. It was a stress-free and quick oil change along with the diagnosis of the little noise. Give them a try.
- David D.
Great Service, Fast Too  
I made an appointment to replace a broken exhaust pipe on my 2003 Saab. Mike, who took the call, suggested I stop by before my appointment so they could take a quick look and be sure to order the right part since Saab parts aren't common. This stop took 3 minutes and at my appointment 2 days later, the part was in stock and the install took about 20 minutes. Mike was pleasant and friendly. The store was clean and bright. They stuck to their quoted price and even took off a coupon I found online.
- Bob M.
Excellent job, as usual!  
I have always been pleased with the professional service and customer service that I get each time my car is serviced!
- Peter E.
10
Write a review
We would like to hear about your experience at Midas.
Request appointment
Great auto service is only a click away.
Complete the online form to request a service appointment or call us for an inmediate appointment.
Thank you
---
We really appreciate your feedback!
Would you like to share your review? We've made it easy for you to share your review on Yelp or Google Places. No thanks, I'm finished.
Step 1
Use the button to copy the text of your review.
Step 2
Please click the Yelp or Google Places icon below, then click Write a Review. Follow the instructions to publish your review. To Paste the text on Windows use "control + v". On a Mac use "command + v"
Thank you
---
We really appreciate your feedback!
Would you like to share your review? We've made it easy for you to share your review on Yelp or Google Places. No thanks, I'm finished.
Step 1
Press and hold inside the review text to copy your review.
Step 2
Select the Yelp or Google Places icon below, then select Write a Review. Press and hold inside the review space to paste your review.
Thank you
---
We really appreciate your feedback!
Programs
Better Business Bureau Accredited Business
ASE Certified
Motorists Assurance Program
Amenities
WiFi
After Hours Drop-off
Coffee
Magazines
Online Appointments Available
Online Estimates Available
Online Tire Shopping Available
---
---
Payment methods
The Midas Credit Card offers instant credit and easy terms to qualified applicants. Subject to credit approval. Minimum monthly payments required. See store for details. Get Details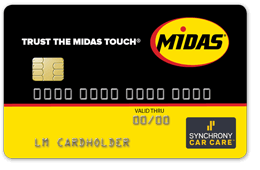 Join the Midas team at 779 Hoosick Road, Brunswick, NY, 12180
Build your future with a leader in the automotive services industry...Midas.
Midas is one of the world's largest providers of automotive service, incluiding exhaust, brakes, steering, suspension, and maintenance services. Midas has more than 1700 franchised and company-owned Midas locations in the United States and Canada.
Midas is committed to earning our customer's trust by offerring them the expertise, value and reposiveness they expect... every time they visit us.
Positions at Midas
Auto Shop Manager
Automotive Technician
General Service Technician
Thank you!
Thank you for your interest in Midas. We will review your skills and experience and will contact you if your background matches the available position. If there is not a fit at this time, we will keep your information on file for any future openings.
Please Note: This employment opportunity may be with an affiliate of Midas International Corporation or it may be with an independent owner and operator of a Midas shop.
Midas Management at 779 Hoosick Road Brunswick, NY 12180.
Sending Message... Please wait.
Apply at your local Midas