Rating:
25

reviews
Welcome to Midas,
How may we help you?
Rating:
25

reviews
---
Change Store
Please wait, sending notifications
---
Thank you! Information about this Midas shop has been sent to you. We hope to see you soon!
Sorry, your start location could not be found. Please try again.
Midas
austin

is your one-stop shop for brakes, oil changes, tires and all your auto repair needs.
Midas stores are owned and operated by families in your community dedicated to providing high quality auto repair service at a fair price. And their work is backed by our famous Midas guarantee
*
whether you need an oil change or tires, factory recommended maintenance, or brake repair, your local Midas has you covered.
*See store for applicability and limited guarantee terms ↩
Average Rating:
25

reviews
G L  
I was traveling and in Austin. My brakes suddenly sounded wrong. Stopped at Midas and they helped me immediately. Fantastic service.
- Gisette L.
These people are Liars and scam Artists  
I went in for a diagnostic- Check engine light. I am a young girl with my first car. My car is 6 years old, less than 80k on the engine. They told me I needed a brand new $6k engine because "gunk" was in my car. Turns out I was driving around with NO OIL in my car. The diagnostic does not note that there was no oil- indicating they did not even check it, OR they intentionally left this info out. Christian Brothers did a second diagnostic and stated nothing is wrong with my car. I am appalled at this office. I have wasted time and money on the fear of needing a new car. You should be ashamed.
- DONT U.
Great experience  
I've been to the midas at the Ben white location, because of James... and recently was gonna schedule an oil change, but learned that he went to the Guadalupe location. Went I called to schedule my oil change appointment. I spoke with ned... so he said they opened at 7:30 I got there at 7:15.. thanks to my man ned and James, my car was in the bay 1st customer.. that has never ever happened to me... but I just want give big ups to my man ned and my man James... they're the type of homies that you can just sit and have a down home type of conversation with... I will most definitely send all my friends and fam to that location...I know I will always be treated with royalty by those two, and their techs... Thanks guys
- Leon(Lee) M.
tires  
A great team fixed my tire
- Phoebe R.
Satisfied Customer  
I was having vibration problems coming from where I thought was the front end of my car, but James and the guys at MIDAS found out it was my motor mounts. They replaced them and now my car performs like new. Thanks MIDAS!
- Dwan M.
Problem solver  
I had a bad experience at a different store. James called me from this location seeking to rectify the problem even though it wasn't his to deal with. James was very professional and polite. He solved the problem for me. My experience with him was nothing short of spectacular. James is a very respectable person and I appreciate the efforts he and his team put in to change my Midas experience.
- Alan B.
SCAM SCAM SCAM  
I cant even leave a scathing review of your awful shop because it doesnt show up on your website. This is scam to the fullest. Should be ashamed.
- SCAM ARTISTS F.
Thanks!  
Store Manager, Mr. J Wilson offered me an excellent service. Job was well done, and now I'm able to go to work! Thanks!
- Flavio L.
Incredible Courtesy  
My muffler was rattling because two bolts had sheared off that had helped keep it in place. I expected this to cost me over $50. They looked at it right away (to be fair there was no one in front of me at the shop, and that helped), and replaced the bolts for free. The manager on duty requested that I tip the mechanic, which I was most happy to do. I like it that not only did he do me a good turn, he cares about his employees as well. This builds trust. When I need a "real repair," I'm bringing it here.
- Margaret C.
Service  
I went in for an oil change and tire rotation. Only the oil change was noted and completed.
- Edward W.
Great job and customer service  
Good job. From the time I was greeted until after everything was done, they were professionally polite and thorough in checking my car. They also explained and provided with with what I needed to do next. Also, when someone came in without an appointment, they assisted them as well. I would recommend using them again.
- Shelia W.
Rear brakes & drums on an obs '97 F-250 7.3l 4x4  
The guys at Midas got me in for a next day appointment when I called yesterday, and they're able to finish the job in a few hours today so that certainly gets them points for convenient scheduling. I came in to replace the rear brakes & drums on my old school powerstroke which definitely needed them. (Thanks to an incident with some genius deciding to stop short for a left turn on a 50 mph road last month, nearly wrecking 4 vehicles in the process- mine included. One cloud of brake smoke later- an accident was averted, but it tore up my brakes pretty good which have been emitting their ill-fated siren song ever since that day. Yep..thanks for makin that illegal left turn, d**k.) Everyone I spoke with has treated me with respect which is a big plus when you're a woman dealing with a shop you've never dealt with before. I'm doing 4 instead of 5 stars only because I've yet to test drive my baby since it's still gettin worked on, and because the estimate was on the high side of what's normally expected for this job- though it IS absolutely within the average range for such a task..especially with the pain in the a** old 4x4 to work around and drums that haven't been changed in god knows how long since I only bought this beast about 2 years ago. All in all, I'm happy so far with my decision to swing by Midas, and I can't complain about the fact that I live within walking distance either- keepin it local's always a nice thing. So far so good for my Midas experience!
- Erika V.
Awesome and fast service  
Brian T handled the entire experience. Great person to have on your team
- dan l.
LOVE THE PLACE  
Them guys are great to work with hope to see them next time i need some work done Jeremy real cool dude nice too talk with
- John T.
Fast and fair  
I was called before anything was ever done to the car. When they got the go-ahead it was done that day. In the pricing was excellent I would bring my car here again..
- Cheryl P.
Great Customer Service and Responsiveness  
My check engine light had been on for a couple of weeks and I was about to go out of the country for vacation. I wanted to leave my car with them while I was gone so that it would be done when I return. I stopped by one day and asked if this was ok, they were supportive and said Yes. I left my car late at night and dropped my keys with a note of how to contact me. I received an email very early the next business day and all communications were very clear and prompt and within 2 days I had my friend pick up my car and bring it home for me. Thank you so much Midas team for your great customer service.
- Jennifer W.
awesome  
Totally professional, knowledgeable and friendly crew. Best price around! In and out, in a timely manner.
- Jeremy .
Good Job with inspection, knowledge and service.  
The customer service was excellent and they are very knowledgeable. I will go back for more service!
- Sarah D.
good service  
super good service!! fast and cheap!
- Hannah F.
it's finally perfect  
I was having problems with the dual exhaust Midas installed: too loud, rattles, misalligned. I took it back and they installed a quieter muffler and said THEY wouldn't be satisfied until I was satisfied. It took awhile for me to confirm the rear tips were spot on but they finally were and I'm glad I gave them a second chance instead of going elsewhere. I'll go back again. Oh: they didn't even flinch when I presented a coupon I had!
- Jim D.
awesome  
Awesome service!!! Very fast and professional as well as nice. Will definitely be back
- Chaundra S.
Exceeds expectation  
Midas has gone above and beyond my expectations for auto repair shops. Their friendly employees, punctual service, and expert opinions were well balanced and plentiful. I wouldn't take my car anywhere else in Texas.
- Kate A.
Excellent Service  
This is my first time here and I think the service is Excellent* The staff are very friendly and knowledgeable* I am sure I will be back here to do my oil changes* I like the Free wireless and the Free water ***
- Austin L.
Excellent Fast Service.  
I always do my oil change in this location and I have never had any problems. Excellent work.
- Amj M.
Superior customer service  
They were quick to respond to my email about estimates for an alignment. The entire crew was informative and very friendly. I highly recommend Midas off Guadalupe . Mike and jeff were the best!
- Edly D.
10
Write a review
We would like to hear about your experience at Midas.
Request appointment
Great auto service is only a click away.
Complete the online form to request a service appointment or call us for an inmediate appointment.
Thank you
---
We really appreciate your feedback!
Would you like to share your review? We've made it easy for you to share your review on Yelp or Google Places.
Step 1
Use the button to copy the text of your review.
Step 2
Please click the Yelp or Google Places icon below, then click Write a Review. Follow the instructions to publish your review. To Paste the text on Windows use "control + v". On a Mac use "command + v"
Thank you
---
We really appreciate your feedback!
Would you like to share your review? We've made it easy for you to share your review on Yelp or Google Places.
Step 1
Press and hold inside the review text to copy your review.
Step 2
Select the Yelp or Google Places icon below, then select Write a Review. Press and hold inside the review space to paste your review.
Thank you
---
We really appreciate your feedback!
Anti-lock Brake System repair and replacement

Brake adjustment

Brake fluid testing and replacement

Brake pad replacement

Brake shoe replacement

Brake System Evaluation

Brake System Inspection

Brake System Visual Check

Caliper repair and replacement

Drum reconditioning and replacement

Rotor reconditioning and replacement

Wheel bearing repair and replacement

Wheel cylinder repair and replacement
CV axle repair and replacement

Driveshaft repair and replacement

Motor mount replacement

Transmission mount replacement

U-joint repair and replacement
Check Engine Light Diagnosis

Emissions Repair

Ignition Wire replacement

Spark plug replacement

Timing belt replacement
Catalytic converter repair and replacement

Exhaust pipe repair and replacement

Flex-pipe repair and replacement

High-Performance Exhaust installation and replacement

Manifold repair and replacement

Muffler repair and replacement

Oxygen sensor repair and replacement

Tail pipe repair and replacement
Windshield repair and replacement
Air Conditioning System Check

Compressor repair and replacement

Condenser repair and replacement

Coolant hose repair and replacement

Engine Block heater installation and repair

Evaporator repair and replacement

Heater core repair and replacement

Radiator repair and replacement

Refrigerant evacuate & recharge

Thermostat repair and replacement

Water pump repair and replacement
Fuel filter replacement

Fuel injector repair and replacement

Fuel pump repair and replacement

Fuel tank repair and replacement
Accessory belt replacement

Cabin air filter replacement

Coolant drain and fill

Coolant system flush

Differential fluid drain and fill

Engine air filter replacement

Fuel filter replacement

Fuel System Cleaning

Headlight replacement

Lift support replacement

Lighting repair and replacement

Oil & Filter Change

Power steering fluid drain and fill

Power steering fluid system flush

Serpentine belt replacement

Transfer case fluid drain and fill

Transmission fluid drain and fill

Transmission fluid system flush

Wiper blade replacement
Alternator repair and replacement

Battery testing and replacement

Starter repair and replacement

Starting/Charging System Check
Emissions testing

Safety inspections
Ball joint repair and replacement

Coil spring repair and replacement

Leaf spring repair and replacement

Rack & pinion repair and replacement

Shock & Strut mount repair and replacement

Shock repair and replacement

Steering component repair and replacement

Strut repair and replacement

Tie rod end repair and replacement
Custom wheels

Flat repair

Tire & wheel replacement

Tire Inspection

Tire mounting

Tire rotation

TPMS recalibration

TPMS repair and replacement

Wheel balancing
Trailer hitch installation

Trailer hitch wiring installation and repairs
4-wheel alignment

Alignment Check

Thrust-angle alignment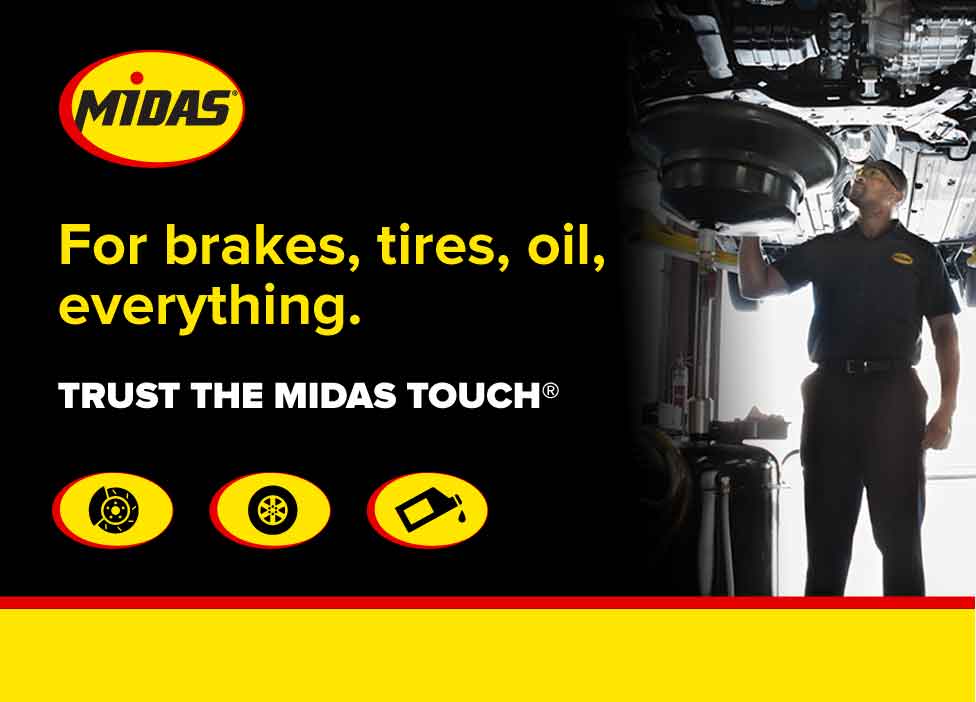 Programs
ASE

Better Business Bureau Accredited Business

ASE Certified

Motorists Assurance Program
Amenities
Spanish

WiFi

After Hours Drop-off

Coffee

Magazines

Online Appointments Available

Online Tire Shopping Available
---
---
Payment methods
The Midas Credit Card offers instant credit and easy terms to qualified applicants. Subject to credit approval. Minimum monthly payments required. See store for details. Get Details
Join the Midas team at 4001 Guadalupe Street, Austin, TX, 78751
Build your future with a leader in the automotive services industry...Midas.
Midas is one of the world's largest providers of automotive service, including exhaust, brakes, steering, suspension, and maintenance services. Midas has more than 1700 franchised and company-owned Midas locations in the United States and Canada.
Midas is committed to earning our customer's trust by offerring them the expertise, value and reposiveness they expect... every time they visit us.
Positions at Midas
Assistant Shop Manager

Auto Shop Foreman

Auto Shop Manager

Automotive Technician

Customer Service Representative

General Service Technician

Join the Team

Service Advisor
Thank you!
Thank you for your interest in Midas. We will review your skills and experience and will contact you if your background matches the available position. If there is not a fit at this time, we will keep your information on file for any future openings.
Please Note: This employment opportunity may be with an affiliate of Midas International, LLC or it may be with an independent owner and operator of a Midas shop.
Midas Management at 4001 Guadalupe Street Austin, TX 78751.
Sending Message... Please wait.
Apply at your local Midas