Rating:
71

reviews
Please wait, sending notifications
---
Thank you! Information about this Midas shop has been sent to you. We hope to see you soon!
Close Window
Sorry, your start location could not be found. Please try again.
Midas
mt. pleasant

is your one-stop shop for brakes, oil changes, tires and all your auto repair needs.
Midas stores are owned and operated by families in your community dedicated to providing high quality auto repair service at a fair price. And their work is backed by our famous Midas guarantee* Whether you need an oil change or tires, factory recommended maintenance, or brake repair, your local Midas has you covered.
*See store for applicability and limited guarantee terms
Average Rating:
71

reviews
happy customer  
wonderful experience! Staff was courteous, prompt, and fast! I will definitely be back again! Thanks so much !
- Anne G.
Great service  
Friendly, fast and great cost!
- Daniel J.
Full set of tires.  
Great job with my tires. Updating me every step of the way and informing me on everything. Did take longer then I thought it would but over all great experience.
- Alexandra H.
Fast service done right  
I recently went to Midas with an air conditioning situation with my car. I called the location and they asked me to come right in. They had me out the door within 30 minutes as promised. Thank you very much for all of your help. It was done right and at a great price.
- Chris G.
Great costumer service  
Midas has always been great. Being a young college student I? put my trust in them and they always deliver. Gary at the front desk is always so nice and remembers me every time I? come in. He is very helpful.
- Caylin M.
Inspection  
I've been a Midas customer for several years, I enjoy the service and the prices are reasonable. I wouldn't trust my vehicle anywhere else.
- Erica G.
Top Notch Customer Care  
Frank and his team never cease to amaze with their first class professionalism and customer care. I wouldn't trust anyone else with my vehicles needs.
- Diane S.
Great place to get car maintenance  
My experience is always great when I come here. They are fast, and friendly.
- Jasmine M.
Excellent an friendly professional service  
The guys are so efficient and you do not feel like you are getting ripped off. thye are always so friendly
- Sue S.
So friendly/quick and helpful  
Had a great first time experience- comfortable waiting room, friendly staff and quick and efficient problem solvers
- Erin G.
The most honest Vehicle Service Center in Mount Pleasant, SC  
We have been servicing both our vehicles for over a year at the Midas, Mount Pleasant HWY17 location. Greg and his crew are fantastic folks to work with. Honest, in repair quotes and scheduled service costs; and they stand by their work. No excessive markups or un-necessary work is ever suggested by them. They will tell you what's needed if they find a problem. They take care of their customers and provide value service.
- Glenn L.
Personnel are great  
The gentlemen in the front are always awesome. I'll keep going there too.
- Nancy F.
Reliable Service  
I continue to take my vehicles to Midas Mt. Pleasant because Frank and his team take good care of us through customer service, straightforward talk about vehicle issues, and they try to get things done quickly.
- Angela M.
Excellent service  
I brought my car in for an emergency and was immediately greeted by Frank. Within minutes James had it up in the shop to diagnose the problem. They were friendly and reassuring. Thankfully they had it fixed quickly. Can't say enough good things about this Midas- they were efficient, professional and very courtesy. Highly recommend!
- Zach K.
Flat Tire  
Best service EVER. I woke up to a flat tire and after a simple phone call I was able to get my tire there and have it changed out with out an issue. They encouraged me to buy the road hazard insurance when I bought the tires, not something I usually do but did this time. I am so glad that they had my best interest in mind from time of purchase to time of repair. Would not go anywhere else.
- Diane S.
Excellent Service  
I always receive quick, friendly and quality service at a reasonable price. Thank you
- Daniel O.
Count on Midas  
Courteous and professional service, offering helpful advice when requested.
- Harriet S.
Great neighborhood shop.  
Nice people. Good service with fair pricing. Easy to work with.
- Rick P.
Straightforward  
They told me straight away when they could get to me. I made an appointment for that time. They did what they said they would do. These days, that is not always the way it goes.
- Mark D.
Efficient and courteous  
I came in for a routine oil change, and Frank and his crew were efficient and courteous, especially for a Friday afternoon at the end of the day :)
- John H.
Awesome service  
They were very friendly and very helpful. I appreciate the service that I received.
- Tammy J.
Reliable and honest service  
One of the main reasons I only go to Midas in Mt. Pleasant is cause they're reliable and honest. Honesty and integrity can often be hard to find but they seem to do it easily here. I would highly recommend these guys!
- Mckenna B.
Very Satisfied Customer  
Today was my first experience with Midas in Mt. Pleasant. I am totally satisfied with the service on my car and the courtesy extended from the moment I walked into the shop. I will return the next time my car is in need of service and recommend them highly. It was a very positive experience.
- Donna K.
fantastic staff  
During a brief visit to Charleston while traveling from Tampa, FL to Charlotte our car started making a strange noise coming from the right front wheel. We stopped @ Midas (Mt. Pleasant) to have it checked, almost certain it was the brake. When they heard we were traveling and this was our only vehicle they immediately put in on the rack to check it. They found the plastic cover over the wheel well was missing a couple screws and had fallen down. They replaced the ***** and had us back on the road in 10 minutes or less. Even better, they didn't charge us anything. I couldn't have wished for a better experience. Thank you to all involved (I think the mechanic's name was Nat, don't remember anyone else's name) and Merry Christmas!
- Aryne P.
Excellent service!!!!  
great service, fast and efficient!!!!!!
- Brian H.
Staff  
Such a great staff in the Mt. Pleasant store. My father always used Midas and I have continued the tradition. Always welcoming and helpful. Merry Christmas Midas !!!
- Karen F.
Awesome!  
Customer service was great and service was fast. Will definitely be visiting again.
- Abigail K.
Helped me out in a 'pinch'  
I was traveling for the Thanksgiving holiday from the Philly area to Mount Pleasant, SC to visit my folks and on my long road trip had 'almost' avoided a pothole in the center lane of I-95S on the way down. I did catch the edge of it, jolting the car. My Saab is very low to the ground, being a sports car. I'd noticed a loud noise coming from my exhaust system and my "check engine light' had come on. I'd had a computer check at an Autozone in Rocky Mount,NC where we were spending the night, which pointed to my catalytic converter. I then took it to a tire store that was open (of course this was a Sunday) and they put it on their more sophisticated computer and confirmed it and informed me I'd be OK to drive to SC but to have a muffler shop look at it when I got there. Upon reaching my destination, I went to this Midas dealer. Frank and Greg were SO helpful, professional and took care of me in an expeditious manner. Their mechanic identified the problem, a crack in the catalytic converter, took it off, welded it (saving me big bucks not having to buy a new one) and off I went on my journey, comforted in the knowledge that my car was in 'tiptop' shape for the next 8 days we'd be on the road. This had gone on over 2 days, because I was considering waiting till I got home to have my mechanics fix it- I'd called them from SC and they assured me it would be OK to drive it that way. But I didn't want to take a chance and Frank fit me right in after I'd decided to have the repair done there. Southern Hospitality at its Best!
- Michele G.
Very informative  
Learned a lot and received great service. Would highly recommend!
- Cindy J.
Emergency Help!  
My local MIDAS garage replaced all four worn tires as quickly and efficiently as possible after a frightening front tire blow-out during morning rush hour traffic. Working a low-paying job, I ran the old tires for all they were worth, trying to extend their recommended mileage as much as possible. I could have limped my car into local "discount" favorite, Gerald's Tire and Brakes, but I chose to pull into MIDAS (next door!) due to significantly fewer people waiting in line. MIDAS was timely, comparatively priced, and very thorough during my "walk-in" ("limp in on the rim") unscheduled service. I was given a fair assessment on the condition of the brakes without being pushed to "do something NOW." The new treads, along with an overdue front-end alignment, has made for much safer and smoother travelling. Paying a "fair" price for this emergency service was more than I can afford (now I'm deeper in debt to the credit card company), but I simply could not justify continuing to run this compact car in that condition. MIDAS got me up and running again! I would definitely consider MIDAS in the future, especially if a payment plan can be worked out for such a major purchase. I plan to return for regular oil changes. I have nothing but the deepest appreciation for what the MIDAS team did for me that memorable morning. Thank you MIDAS! Sincerely, Paul :)
- Paul C.
Love the guys at Midas!  
I always take my car to Midas for whatever I need. The guys up there are so friendly and helpful and they always have my car in and out in no time.
- Lauren J.
Great!  
Very friendly. Great service
- Caylin M.
Excellent Service  
In and out for an oil change before I had to go out of town for the weekend. Quick, friendly and efficient service from all the staff.
- Lindi L.
SERVICE  
Reliable and quick friendly service is their routine at MIDAS of Mt. Pleasant, SC.
- Ken R.
Road wort  
If you are touring and need vehicle attention while in the Charleston/Mt. Pleasant area...head for this spot of excellence, attention and competence.
- James B.
Phenomenal Service  
It's hard to come by quality service in today's world, especially quality service that is led by incredible leadership! The team serviced my vehicle ahead of schedule and did a fantastic job! Thank you!
- Mike H.
Infiniti  
Great like always
- Lisa B.
Muffler  
Timely and professional. Great music!
- Joan S.
Honest, quick and efficient  
The problem was diagnosed quickly and they were able to repair the car and have it ready by the end of the day. Cost is what we anticipated--no surprises. Friendly and courteous staff.
- Victoria B.
Thankyou for Great service  
Customer service is always a pleasure they are awesome very helpful and clear about what the problem was with my vehicle I will definitely be back for more repairs
- Chandra L.
Highly recommend  
The Mt Pleasant Midas shop showed me professionalism and courtesy, and worked through my oil change, checking fluids and tire pressure - all as promised. They honored the coupon, too, all while finding a replacement wiper blade for my car's rear window. Which is nearly impossible!! They cut a new blade for me. I love them!!!!
- Kat M.
Always A-#1  
The customer service is so pleasant and organized. They are efficient in booking and following through with appointments and timeliness. The work product has always been done on time, on budget and CORRECT which is always nice to know. I highly recommend this group for any kind of car service.
- Diane S.
write a review  
great service and friendly people to deal with
- Robert R.
Good service as usual  
Went in for an oil change, they let me know I had a brake light out and they offered to change it (i declined as I don't want to spend money on that). Short wait and they joked and talked the whole time which made it more enjoyable. Even offered some bottled water.
- Brett N.
Excellent Service  
Highly recommend. Excellent service and expertise.
- Michael P.
Great Service  
I dropped in unscheduled and the guys at Midas worked me into their schedule. The problem was the muffler, they said they could fix it but was probably under warranty from the car manufacturer. So, instead of just sending me on my way, they called the manufacturer, confirmed it was under warranty, scheduled an appointment for me and even followed up to make sure I had been taken care of. They didn't charge me a nickel and even served fresh coffee! 5 start service for sure.
- Christina B.
Great Experience  
I will definitely be recommending this shop to others. They took the time to explain everything they looked at and never pressured me to buy unnecessary parts or repairs. For someone who knows little about cars, it's great knowing I have somewhere I can trust to take my car.
- Lindsay L.
Fast and friendly  
Frank and Greg took my car in and serviced it quickly and efficiently. They were super friendly and ensured I had everything I needed during my wait, which really wasn't very long.
- Lindi L.
Ultra Pros  
The mechanics and staff are extremely well informed, talented and caring. They have worked on my three cars and have rendered service at the highest level. Highly recommend.
- Michael P.
Excellent  
Very happy with the customer service and work. Dean was especially helpful and professional.
- Matt W.
Dependable  
Fellows are likeable, direct, courteous, fair and they do good work.
- William S.
Excellent Service  
I have experienced nothing but exceptional service during each of my visits. Everyone treats me with the utmost excellent assistance and generous pricing. I always recommend them to my family and friends.
- Stephanie L.
Excellent Service!  
I was extremely satisfied with both the price and service at the Mount Pleasant Midas. Of course, now that I've been driving around for two weeks in a "silent" car, I can thank you for that too ... And so can my neighbors!
- Robert D.
Superb  
Timely, courteous, more than fairly priced service. No bill padding here.
- William S.
Excellent Service  
Daniel Helmase helped me to work an as well came and got me from work when my car needed parts.Excellent service in my book Midas is the best in all of Charleston.
- Tyler S.
It's been Real  
Marvey, it'd been a pleasure again, follow up appointment. Took care of everything right away, excellent service again from Daniel and James. Look forward to future visits. Thanks, all.
- Dorothy H.
Blown Away!!!  
I came in needing 4 tires and an alignment really bad for my Pontiac G6. Another tire place next door turned me away. Daniel greeted me with a hand shake and smile. Told me what tires that he had available in stock and told me that he could have it all done in an hour in a half. Sure enough, Daniel and his guys in the shop delivered!! I highly recommend Midas Mt.Pleasant to everyone! Gracias
- Juan D.
midas touch  
James was a nice clean cut guy. Very helpful, very intelligent. Always nice
- Landon B.
midas touch  
James was a nice clean cut guy. Very helpful, very intelligent. Always nice
- Landon B.
Great  
This was the only time in my entire life as a driver that I actually enjoyed getting an oil change
- Daniel R.
Top Notch!!  
Daniel, Rob and the crew have always provided excellent customer service. I'm consistently greeted with a handshake and a smile. I've been doing business at their location for several years and I always bring my car as well as my daughter's car to them for service. If I trust them with my daughter's car they must be good!
- Capt. Steve G.
My Midas Visit  
Dan, Rob, and Mr. James are the best!!! They always take good care of my vehicle and I would refer anyone to them!!!!!
- Oprah B.
Customer Service and Convenience  
These guys are good. I called the shop to make sure they had time and (the manager- Daniel) answered and said they would be happy to see me immediately. When I arrived the lot was nearly full! (It turns out this place is swamped most of the time.) Before I arrived I had no clue about the maintenance that was due on my ten (plus) year old car. They printed out a form that showed exactly what was needed and when. They have Full Synthetic Oil- which I researched and upgraded to. They kept my car for three hours and had everything they recommended done as promised.
- Robert J.
Awesome service and team  
I have been to the Mount Pleasant Midas store a couple times and every time that I go in, I have experienced the top of the line service with a little extra. I've been to other places including my own car's brand dealership for services on my car and went away feeling like I paid for something and gotten taken like a sucker, but this team is precise and knows there business. I highly recommend Midas in Mount Pleasant, SC, for service.
- Charles M.
MIDAS TOUCH FOR SURE!  
Customer service with a plus!! The front desk is responsive, thoughtful, courteous and thorough. The store was backed up (Saturday, of course) and I was not in a hurry. The staff was able to have my oil change done within two hours much sooner than I had expected given the number of people. And the follow up calls were timely and also most pleasant. Thank you for all you do and do well.
- diane s.
WoW  
Came in with a brake concern. I had a qoute for all new pads and rotors from elsewhere. Within 30 minutes of them having my car, Daniel took me outside to my car to show me how bad my rotors and pads really were. He also already had a price together, including a brake flush. It was over a hundred dollars less than the qoute I had from the other place and they never even told me about flushing out my lines. I Love this place! Thank you Daniel!
- Ashley H.
Great Service  
I received excellent service in this very customer oriented business. The personnel were professional, friendly, and kept me informed about the probelm with my car. The repair was done efficiently and resolved the problem. I will be a regular customer.
- Diana M.
Absolutely Superb  
From the moment that I walked in I was warmly greeted by the store manager Daniel and Rob. I came in for just an oil change and just a good look over my vehicle. They brought to my attention that I was due for some routine maintenance, such as flushing my coolant, power steering, transmission and that my front brake pads were about 90 percent gone and that 3 of my tires were down below the wear bar and that they were more than 5 years old. Daniel put together a very prompt and straight forward qoute and even offered me a ride home while they performed the work. They took me out to my car to show me my fluids and showed me how to read the dates on my tires, and I decided to do all 4 tires and all of the maintenance they recommended. I am sooo very happy with the work and their top notch professionalism! I am a lifetime customer now.
- Kelly A.
WONDERFUL CUSTOMER SERVICE  
Everyone at this Midas walks the walk and talks the talk when it comes to customer service. The front desk is courteous and helpful; and the positive experience is completed in the garage where care is taken and quality work completed. James, the manager, owner, is amazing in his thoroughness and knowledge. They all are great problem solvers and make car maintenance/repair certainly less painful. THANK YOU
- Diane S.
Awesome  
The manager is very honest. Its good when you can take you vehicle a place and you feel comfortable knowing that you can depend on them to do the right thing my mother recommend me and I'm well please. yes, I would recommend family and friends even strangers.
- Roberta W.
Midas for me *  
Very professional customer service along with mechanical services rendered. Would definetly use again. Manager exceptional.
- Harriet S.
10
Write a review
We would like to hear about your experience at Midas.
Request appointment
Great auto service is only a click away.
Complete the online form to request a service appointment or call us for an inmediate appointment.
Thank you
---
We really appreciate your feedback!
Would you like to share your review? We've made it easy for you to share your review on Yelp or Google Places. No thanks, I'm finished.
Step 1
Use the button to copy the text of your review.
Step 2
Please click the Yelp or Google Places icon below, then click Write a Review. Follow the instructions to publish your review. To Paste the text on Windows use "control + v". On a Mac use "command + v"
Thank you
---
We really appreciate your feedback!
Would you like to share your review? We've made it easy for you to share your review on Yelp or Google Places. No thanks, I'm finished.
Step 1
Press and hold inside the review text to copy your review.
Step 2
Select the Yelp or Google Places icon below, then select Write a Review. Press and hold inside the review space to paste your review.
Thank you
---
We really appreciate your feedback!
Programs
ASE
Motor Assurance Program
Better Business Bureau Accredited Business
ASE Certified
Motorists Assurance Program
Amenities
WiFi
After Hours Drop-off
Coffee
Magazines
Online Appointments Available
Online Estimates Available
Online Tire Shopping Available
---
---
Payment methods
The Midas Credit Card offers instant credit and easy terms to qualified applicants. Subject to credit approval. Minimum monthly payments required. See store for details. Get Details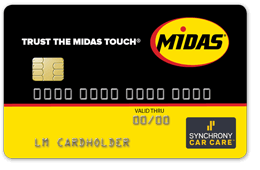 Join the Midas team at 1621 N Highway 17, Mt. Pleasant, SC, 29464
Build your future with a leader in the automotive services industry...Midas.
Midas is one of the world's largest providers of automotive service, incluiding exhaust, brakes, steering, suspension, and maintenance services. Midas has more than 1700 franchised and company-owned Midas locations in the United States and Canada.
Midas is committed to earning our customer's trust by offerring them the expertise, value and reposiveness they expect... every time they visit us.
Positions at Midas
Assistant Shop Manager
Auto Shop Foreman
Auto Shop Manager
Automotive Technician
Customer Service Representative
General Service Technician
Join the Team
Service Advisor
Thank you!
Thank you for your interest in Midas. We will review your skills and experience and will contact you if your background matches the available position. If there is not a fit at this time, we will keep your information on file for any future openings.
Please Note: This employment opportunity may be with an affiliate of Midas International Corporation or it may be with an independent owner and operator of a Midas shop.
Midas Management at 1621 N Highway 17 Mt. Pleasant, SC 29464.
Sending Message... Please wait.
Apply at your local Midas