Rating:
96

reviews
Please wait, sending notifications
---
Thank you! Information about this Midas shop has been sent to you. We hope to see you soon!
Close Window
Sorry, your start location could not be found. Please try again.
Midas
tinley park

is your one-stop shop for brakes, oil changes, tires and all your auto repair needs.
Midas stores are owned and operated by families in your community dedicated to providing high quality auto repair service at a fair price. And their work is backed by our famous Midas guarantee* Whether you need an oil change or tires, factory recommended maintenance, or brake repair, your local Midas has you covered.
*See store for applicability and limited guarantee terms
Average Rating:
96

reviews
Emergency repair.  
Fifty miles from home in an unfamiliar town. I discovered gasoline spraying out under my car. I drove to this Midas shop and checked in at the service desk. The service writer came out and checked, told me he'd put it on the rack and give me an estimate. Turns out it was a leaking filter that they were able to replace. In and out of there in less than an hour. Great service, great shop.
- Edward E.
Good work  
Midas was helpful and very prompt in getting my muffler fixed. I'd recommend Midas to friends and family!
- Melisa D.
Outstanding  
So glad we found this place thanks to our friend Jeff Kirk. Been here a few times and always happy with how well they treat customers and the service of our vehicles. We will continue to bring all of our cars here due to the excellent, and honest service they provide.
- James P.
Fleming  
Excellent service and engine diagnostics allowing me to make the best decision financially and by priority. Thank you
- David F.
Rear Brakes  
Brought in my own product. They had no problem installing they and had it done quickly and at a good price. Thanks.
- Lawrence W.
Excellent Customer Service  
This place is amazing! They have excellent customer service! They make you feel like family here.
- Isaiah D.
job performance  
the guys at this midas are the best and most helpfull i wont take my car anywhere else.
- Karen D.
Rate  
The service was good and it was done in time
- Mike G.
Satisfied  
The entire Midas Team is very professional and does exceptional work.
- Toni G.
4 Wheel Brake Repair  
I had a complete brake system repair done at the Tinley Park location. The work was done professionally and was finished sooner than I expected. It is like driving a new car. Good work, as usual. Thanks.
- Randal T.
Muffler Replacement  
The guys did a great job and were very professional.
- Greg K.
Muffler Replacement  
They replaced my missing muffler, and then brought it through the emissions testing for me. That saved me so much time. Great job.
- Megan M.
Muffler work  
Helpful people who explained everything.
- Marilyn J.
EXCELLENT SERVICE!!!  
Fast, excellent and friendly service. Will definitely be back for all my car needs.
- Sonia S.
Satisfied  
The guys are very personable and very thorough when describing any issues with your car. They will only do what is needed and not make up work to do on the car. Joe and the team are all great guys.
- Toni G.
Oil change  
Quick, professional service. It is reassuring knowing you can trust their advice and service.
- Jim M.
Great shop!!  
We have been taking our cars to Midas for 15 years,always great service,prompt with repairs and a clear explanation of the repairs and options. I have and will continue to recommend Midas to anyone in need of car repairs. Thanks for the great years of service. Ken Schultz
- Ken S.
Car fix  
Thank you for all your help with my car
- Jeniffer R.
a*  
a*
- Mark V.
My Lexus 460LS  
The team at Midas went above and beyond to fix my car. At every turn they explained my options and offered me the highest quality work at a price that was more than fair. It is hard to find a mechanic that you have full confidence in - but i have found a shop that I trust completely! I will send friends and family their way.
- Robert L.
These guys are the best  
I've been using Joe and company for so long now that I can't remember, but this I know, 12 years ago I moved further away and I am willing to go out of my way for auto service because of the trust factor. Plus they do great work and competitive fees. They value their customers and that feels good.
- Frank C.
Very pleased  
Work is done car is good!!!!! I am happy
- Nick G.
Great Service  
Great group of guys. Great Service I highly recommend them for all of yur auto needs.
- Pat Y.
quality caring professionals  
Been going to this Midas with all the cars we have for the past 12 or more years. They tell us what is wrong and a price and what might wait for later repairs. Gives us the choice to fix what we need to do now and plan on the rest at a later date!!!! Always friendly and accommodating, really care about the customer. 5 Stars
- Michael J.
Jeep liberty  
They taje very good care of me and my vehicle.
- Robert D.
Thank you  
Thank you guy's for servicing my car, no problems with your service so far and I hope to see you in the future.
- Tannya H.
Yes  
Very good service!! Top quality and very knowledgeable staff especially Mike
- Terry W.
Honest and trustworthly  
I have brought all of our 4 cars here for muffler issues and they have always been up front and helpful. I am glad I can trust them!
- Dana P.
Great service  
Service was great and quick as usual
- Carol E.
friendly and trustworthy service  
Midas in Tinley is a top notch shop that doesn't break the bank. honest service and get it done attitude are some of the strengths of this shop. they make taking care of our vehicles easy.
- We O.
Great service ALWAYS !!!  
All the employees are always so professional and courteous.
- Isabel R.
Outstanding!  
We first took the car to the service department of the dealership where it was purchased. They quoted us $457 for a new alternator and said we'd need to wait a day while they ordered the part. I then called Midas — they got us in right away, had the part in stock in their warehouse, finished it by noon, and charged us $140 LESS than the dealership. That dealership is super convenient — just a few blocks from my house — but I'm done. Midas has a new regular customer in me.
- Pamela K.
Brakes  
Friendly and helpful staff. Reasonable pricing. Efficient service
- Bill T.
Great Service!  
I was late for my appointment, but they did my oil change quickly. I was in and out. They also gave me a great coupon, so I was pleasantly surprised by my bill. I will definitely be back!!
- Elizebeth B.
Very pleased  
The service was fantastic
- Peter H.
Service  
Service was great. They took very good care of me and my vehicle.
- Robert D.
Running a little Hot  
These r the (my) BEST mechanics. Again, my truck had a over heating problem on Dec 27 ,2017. Went to see these guys, they took a look under the hood and found that my radiator hoses weren't right. Bottom one ice cold, top one hot. Radiator not circulating right. I left it with these guys, they fixed it. Today, Jan. 10,2018 it's running SUPER and nice and Toasty and my gauges r back to normal. Thanks Mike, Joe, Jeff, and ALL that took care of my truck (my baby). ?? Got a vehicle problem, come See these Guys, you won't b disappointed, you'll b Very HAPPY you did.
- Sharon B.
Car repairs  
Really trust the guys at the 159th street location
- Margy M.
Car Maintenance  
The guys who work here are all super polite and knowledgeable! They explain what's going on clearly without being condescending. I appreciate how you are not kept waiting or charged for imaginary extras.
- Phoebee L.
Super Friendly & Accommodating  
I called of a morning and these guys got me right in for an oil change. Everyone was so nice and respectful!! I will definitely be back.
- Kc S.
Maintance  
I will always trust Midas to preform any work on my car.
- Carl N.
These guys are the best!  
Thanks to the guys that work at Tinley Park Midas the problem with my chevy equinox was fixed under warranty at the dealership. I really truely appreciate them for reaffirming my trust in this shop. They have a customer for life! Thanks to all the employees at Tinley Park Midas!
- Grace S.
THE BEST  
.
- Jerry W.
THE BEST  
.
- Jerry W.
Overall - Great!!!  
Mike, Joe and all the staff are awesome. They have gone above and beyond on several occasions for me. I would recommend them to anyone.
- Jeff M.
Job well done  
All work done on my car at the Tinley Park Midas shop at 7011 W. 159th St. always has given me excellent service, the staff attitude is one that make you feel welcome, they don't tell you, that you need work done on your car you don't need, and also explain everything they will be preforming on your car. Never had to return to have work redone which they preformed on my car. I highly recommend this shop, if you want quality work done on your car, I will highly give them a 5 Star review. Earline Rayburn
- Earline R.
Excellent Service  
We had a burning smell coming from the car and had brought it to the dealer first they did not fix. We brought it to Midas and they were able to resolve the smell. We are very pleased with the service and knowledge of the staff at Midas.
- Bob P.
Good place  
Good service got my car done fast. Just my engine light came on as is still on day after service was done.
- Anna M.
Brakes  
Mike, was great. Very up front with pricing and work. I stopped in and he took me right away. I will go back again!
- Tom C.
Oil change  
Great service! Even though they were extremely busy they still got my car serviced. I have been going to this exact Midas for many years and even though I don't live in Tinley Park, I still take the drive to have my vehicle serviced there. Thanks!
- Jon I.
Good customer service  
Great customer service
- Jennifer R.
Great people  
This is the 2nd time I've used the guys at Midas. They are honest,friendly and professional. They quoted me the price and free estimate with no pressure to fix my car at their shop. When they did fix it was done within an hour and running like new. Highly recommended!!
- Laura P.
Excellent Customer Service Throughout!  
Had 4 tires replaced and the gentlemen were professional, speedy, and efficient. Their thorough communication and ability to take care of my cars needs was excellent and very much appreciated! I just moved to the area and they will be my new point of contact for all of my cars needs. Earned my trust & business! Tysm!!! Very satisfied customer! Tysm!
- Wendy F.
Great people  
They could have taken advantage of me (70 years young) and put brakes on my car 74,000 miles but they didn't. They checked them, rotated my tires and told me to check again in 10,000 miles. Not a penny was I charged for about 40 mins of work. So I took it back 12,000 miles later, had my oil changed and I still dont need brakes. Very nice people.
- Carol E.
Horrible bussiness men JOE/ROBERT  
My car was not returned in the orginal way i gave 2 them...i told Joe his responds was "you cant prove it"..i went for a simple oil change and end up spending $100..to fix their mistake...Robert/Joe said oh well you can't prove it..
- African Q.
Great service  
We always get good service at a reasonable price at Midas in Tinley park. All of the service techs are very helpful, knowledgeable, friendly and professional. It's the only place we take our vehicles.
- Maureen A.
Barb  
This Midas store was recommended by my daughter-in-law because they have used them several tin*mes and was very satisfied with their work. I only needed a bulb replaced, but they were courteous and helpful. I didn't have to wait very long. As I waited, they helped other people and they were the same with everyone. I would recommend this Midas store to anyone needing work on their car. It was a very satisfying experience.
- Barb B.
Review  
Yes
- Carl N.
First Midas visit  
Great service, good price. I will return
- Jim M.
SATISFACTION  
Mike and Joe are the Best! Whenever I call or have to visit the shop, I am warmly welcomed and my car is given the best of care. These guys don't just listen but they hear your concern, find the problem and fix it at the root! No matter your model or make of car, I Highly recommend them and I say, "Go SEE" for yourself!
- Edna M.
Service Review  
I have had worked done over the past several years at this particular Midas store on 159th in Tinley Park. They always explain everything in detail and they do not try to sell me something I do not need. I have been to other car repair shops in the past and, since I am a woman, they think I do not know anything and try to add things to the bill. I am somewhat mechanically inclined so I know if I am getting the run around. Joe and his staff are always polite and informative. I will continue to bring my car here for repairs. In fact, I got my husband, Ray, to take his F150 there after he had problems at other places. He is also pleased with their service. We refer this Midas whenever possible.
- Michelle M.
Car work  
Was good
- Rebecca C.
Road Trip  
Went to Midas for a oil change and to try to find a noise in the front end that no one could find. They found it and it runs like new. The Manager Mike Lenard is great. I "m headed to Graceland on a road trip in my 2007 Pontiac G-6 convertible. Thank you Midas
- Donald M.
Bearing job  
You folks always do great work , fair pricing,good communication and timely service
- Mike H.
Trust  
Been going to MIDAS for years. The place you can trust.
- Matilde M.
Service  
This location away provide professional & excellent services to all their customers needs.
- Arthur E.
Honest and wonderful to deal with.  
They sent someone to jump my car and they where so honest and service was fast. Thank you guys!!
- Samar K.
Tinley Park, Illinois Midas  
Mike and his crew at the Tinley Park Midas shop are simply the best. They always go above and beyond the norm to provide superb service at a reasonable price. I won't go anyplace else.
- Greg C.
Nice people. Great Service.  
Although I called the day before to make an appt for the following day, when I got there, there was no sign of an appointment. They still got me right in immediately and they were nice and professional. I'll be back!
- Yolanda V.
The crew at midas  
One word. Best
- Richard K.
Incredible Midas Team Ever  
These mechanics r the BEST in town hands down. My engine put them through **** for a little over a week, but they knew exactly what to do to get my engine back up and running like a champion. I highly recommend these guys to everyone that needs work done. Joe, Mike,Jeff, Scott, THUMBS Up. And to the other mechanics that also got dirty taking apart and cleaning up my engine THANK YOU. Mike kept me a float on everything that was happening to my engine. Need a Mechanic. Come see these guys. You won't be disappointed.
- Sharon B.
great expierence  
I recently had work done at this Midas in Tinley Park and Jesse took time to explain my results and recommendations. No pressure to get services I did't need. Other technicians also explained their findings to me in a clear concise manner. I feel secure that my vehicle is in tip top shape.Plus the warranties are great.
- Leon D.
Always Great Service  
It's great to have reliable service so close to home. I've been a customer for awhile now and I'm always pleased with the service I've received. Anyone I've dealt with is always friendly and up front with what's needed/recommended.
- David S.
Positive experience  
Appointment was on time. Service was performed and explained; as usual a positive experience.
- Irma P.
incredibly Knowledgeable  
I own a Lexus LS430. These gentleman know their stuff. Scott at the front desk knew exactly what my autos issue was after a short conversation on the tele. Incredible! Also, my auto is generally not repaired reasonably. Lexus dealers price was 3x the cost of this particular repair performed at Midas. In the past they have also diagnosed issues on mine and my friends various FOREIGN AUTOS quickly and repaired them for substantially less than the dealerships! Thank you very much Scott... & also Mike for his help in the past! Tell the guys who worked on my auto thank you very much also. Its purring like a kitten! Awesome!
- Craig P.
Great Team  
Once again, the Midas Team shows their professionalism. They did a great job and the car came out like brand new and sounding great.... Thanks to the Midas Team members !!!! They all know their stuff.... Thanks again, Joe & Jimmy......
- Rick N.
Quick!  
I usually visit the Midas in Chicaogo Heights, but my experience was much better at Tinley's location. The customer service was superb and the service was done quickly! I was in and out in no time.
- Markeeta S.
First Visit  
I would like to thank Joe and Scott for making my first visit with Midas a positive experience. Lenny your compliment on how clean my car is, engine and all brought tears to my eyes. My husband always went above and beyond. I truly feel you all let your passion for service shine through. I will be looking forward to more visits to come. Thank you all once again.
- Sue A.
Great Job!!!!  
As always the Midas team did a great job in servicing my car. I went in for a oil change for my 2015 Dog Journey. THEY didn't have the filter in stock. I have to wait just a little while for the filter to be delivered Joe and Mike really apologizedon't for the inconvenience. I still will taken my new car their for future services
- Rocky M.
Fantastic Business model!  
Great...Honest...Integrity... In today's competitive market this business is the standard on what it takes to retain customers,make money and allow customers to make your business grow..really well run business
- john b.
Great service!!  
As always it's a pleasure to bring my car in for service. Prompt efficient service,everything that was done was explained in a great manner. I always look forward to bringing my car in for service. We own three cars and soon it will be four it's great to know that Midas in Tinley Park can always be counted on. And George makes the best coffee. Thanks, Ken Schultz and Family
- Ken S.
Great job...Fair price  
What more can you ask for other than guys who know their job, do it well, on time, and charge a fair price.
- Gerald C.
GOOD JOB  
the technician recommended to replaced the muffler after he showed will not last long..good thing at a nominal price of $180.00 for new hanger and muffler..
- roger m.
Trustworthy service  
Over the years my extended family & I have taken our vehicles in for repair here. I can always count on an honest determination of service and professional advice.
- Jeanne W.
Honorable service  
What a great shop, all the repairs are discussed prior to any service. The enthusiasm I see from all the workers makes me confident that my vehicle is in great hands. I look forward to getting any updates and repairs done by Midas I give them a vote of superiority
- Ken S.
job well done...  
Joe, Mike and the staff have always been great - job well done. and they love when I bring them cookies.
- sharon p.
spreading the word  
after reading the excellent reviews, I decided to bring my car to Midas, and I'm so happy I did. Joe and the staff were honest, professional, and long story short, the service and the savings were unbelievable. (Honda Dealer wont be seeing me again!)My car is working great and I am spreading the word.
- debbie b.
Customer Service  
This was our 1st visit to Midas. Joe & the entire staff was extremely kind, professional & very helpful. They answered all of our questions & even made a few suggestions that was to our advantage. With all that we needed done to our car, Joe & Team made it a "one stop shopping". We have spread the word already if/when you need work done, make sure you go to this shop! We love you guys!!!!
- Ron and Bobbie B.
Tinley Park  
I have always had a great visit to the shop. Very courteous and always have what i need and if they don't will order for me. Good Job
- Sharon P.
Great Job  
I switched to Midas from my Honda dealer because I love the customer service. They are super courteous, explain everything, and I never feel like I'm being taken advantage of. They always bring the old part out and show me the new part. Or they'll take me to the car and let me know what's going on. My last visit they were busy and running late, and Joe came out 2x to tell me they were working on it and thanks for waiting. Great place.
- Erin S.
Manifold Repair  
I had a leak under my engine. Went in and had the guys look at it. As the vehicle was up on the rack it was leaking a good amount of coolant. Mike and Kurt told me that it looks like the manifold had a crack in it. I left it with them and had them fix it. Now it runs GREAT. These guys are the GREATEST. I wouldn't trust any one else to work on my vehicle but them. Keep up the GREAT work guys. ***
- Sharon B.
Tinley Pk, Crestwood  
I have always had pretty good luck with this company, I usually go to this location or the one in Crestwood. They have always been good to me and my car, I would not trade these guys for nothing! Love these guys!
- charlotte m.
Highly Recommended  
They always treat me like family. They are professional and do excellent work. I've been taking my cars there for many years and wouldn't go anywhere else.
- Tom O.
auto reair  
The guys at Tinley Park Midas are great and ALWAYS helpful
- Laura M.
Fantastic service  
I was very satisfied with the service. The employees were very knowledgable and friendly. I would not go anywhere else.
- Sue P.
Quick and Reliable  
Stopped by this shop without an appointment. They seemed busy, but still got my car in for a quick inspection. Service was fast, and honest about what I needed. They also have WIFI and offer a free car wash. Cost was very reasonable, and they have great warranties. Thanks**
- Delmar S.
10
Write a review
We would like to hear about your experience at Midas.
Request appointment
Great auto service is only a click away.
Complete the online form to request a service appointment or call us for an inmediate appointment.
Thank you
---
We really appreciate your feedback!
Would you like to share your review? We've made it easy for you to share your review on Yelp or Google Places. No thanks, I'm finished.
Step 1
Use the button to copy the text of your review.
Step 2
Please click the Yelp or Google Places icon below, then click Write a Review. Follow the instructions to publish your review. To Paste the text on Windows use "control + v". On a Mac use "command + v"
Thank you
---
We really appreciate your feedback!
Would you like to share your review? We've made it easy for you to share your review on Yelp or Google Places. No thanks, I'm finished.
Step 1
Press and hold inside the review text to copy your review.
Step 2
Select the Yelp or Google Places icon below, then select Write a Review. Press and hold inside the review space to paste your review.
Thank you
---
We really appreciate your feedback!
Programs
Better Business Bureau Accredited Business
ASE Certified
Motorists Assurance Program
Amenities
WiFi
Pick-up/Drop-off Services
After Hours Drop-off
Coffee
Magazines
Online Appointments Available
Online Estimates Available
Online Tire Shopping Available
---
Community involvement
Shady Oaks Cerebral Palsy Camp

Homer Glen, Il 60491

Learn More
---
Payment methods
The Midas Credit Card offers instant credit and easy terms to qualified applicants. Subject to credit approval. Minimum monthly payments required. See store for details. Get Details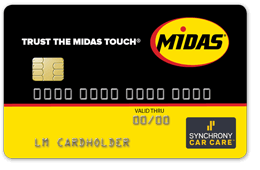 Join the Midas team at 7011 West 159th Street, Tinley Park, IL, 60477
Build your future with a leader in the automotive services industry...Midas.
Midas is one of the world's largest providers of automotive service, incluiding exhaust, brakes, steering, suspension, and maintenance services. Midas has more than 1700 franchised and company-owned Midas locations in the United States and Canada.
Midas is committed to earning our customer's trust by offerring them the expertise, value and reposiveness they expect... every time they visit us.
Positions at Midas
General Service Technician
Thank you!
Thank you for your interest in Midas. We will review your skills and experience and will contact you if your background matches the available position. If there is not a fit at this time, we will keep your information on file for any future openings.
Please Note: This employment opportunity may be with an affiliate of Midas International Corporation or it may be with an independent owner and operator of a Midas shop.
Midas Management at 7011 West 159th Street Tinley Park, IL 60477.
Sending Message... Please wait.
Apply at your local Midas