Rating:
50

reviews
Please wait, sending notifications
---
Thank you! Information about this Midas shop has been sent to you. We hope to see you soon!
Close Window
Sorry, your start location could not be found. Please try again.
Midas
naperville

is your one-stop shop for brakes, oil changes, tires and all your auto repair needs.
Midas stores are owned and operated by families in your community dedicated to providing high quality auto repair service at a fair price. And their work is backed by our famous Midas guarantee* Whether you need an oil change or tires, factory recommended maintenance, or brake repair, your local Midas has you covered.
*See store for applicability and limited guarantee terms
Average Rating:
50

reviews
Good People  
Taking your car to a shop for repairs can be very frustrating. Danny (assistant manager) and his team made a 5* hour troubleshooting repair a positive experience, for which I am very grateful. I'll be a repeat customer.
- Ken K.
2008 Saturn  
The guys at Midas are very professional and courteous. They are honest about the work to be done and the prices are very affordable and competitive. I will not take my car anywhere else.
- Darlene C.
Midas Touch  
Very professional and polite . Overall pleasant experience and my oil change was done fairly quickly . They also took it in 10 minutes prior to scheduled appointment because I arrived early , which I very much appreciated .
- Anthony C.
This Midas shop rocks!  
This Midas shop rocks, honest and fair pricing. Willing to help you out with only what you need.
- Robert T.
Service  
Excellent service, friendly knowledgeable technician.
- Lucille W.
Synthetic oil change  
Great price, coupon, Great service
- Barbara K.
Great Job!  
Shawn and his team did an outstanding job. They have my confidence. Much Thanks!
- Tim S.
Very polite - Great work  
Brought car in for belt replacement. Everyone there is very nice, the waiting room very comfortable and work done quickly. Price very reasonable!
- Patricia L.
Rear Shocks  
They replaced both tear shocks in about an hour, they were very professional to work with.
- John W.
Review  
My name is Dexter and every time I come in, Rob and Mike are extremely helpful to me and my family. Also, the mechanics do great work as well. I also recommend people to come here
- Dexter P.
Good experience  
It was a great experience. I was in and out very quickly. Like it!
- Deb S.
No surprises  
As always, I was completely satisfied with the work, price, timeliness, and cleanliness and professionalism .
- George M.
Did pretty good job  
I was impressed that they were able to do the oil change in about 1/2 hour. They did not charge me for the extra quart that they had to put in, unlike Jiffy Lube. I had asked them not to change my radio station or turn off my automatic lights,as they did the last time I went to Midas, but I found out, the next time i drove at night, that my automatic lights were again turned off. My husband had asked them to keep the air in my tires at 40, which they did.
- Anita S.
Midas Naperville location  
They did a great job on my vehicle and I was happy with their customer service.
- Jackie E.
Great Visit  
Made an appointment for brake replacement. Job was completed on time and for 1/2 of what I would have paid at the dealer.
- Jason J.
Great Service  
Dropped in for an oil change on a Saturday morning without an appointment and they were able to get my car right in. Clean waiting area with coffee and water. Polite, professional staff.
- John K.
Fantastic job!!!  
Mike is the BEST!!!! Very knowledgeable and super understanding! Rob also was very helpful. Thanks for all you do. You know I will be back :)
- Kim C.
Good customer service  
Went to Midas for an oil change. I had to make an appointment. When I did show up for my appointment, they took my vehicle in right on time.
- Andrea S.
Trustworthy  
Manager is great... does not try to oversell unneeded work like my dealer always does. They also maintain records of past repairs for quick reference. Timely appointments.
- Karen J.
Very helpful, friendly  
They fixed my a/c on my ancient Escape a year ago, so when the car failed emissions, I went to them to fix it. They did and I passed the next try. I'll probably have them do the brakes in the spring. They are helpful and I didn't feel like anybody was trying to upsell me.
- Meg T.
Amazing  
The discovered my brakes were about worn out in the front and asked if I wanted to fix them. They were very honest that the back brakes were still good and they even gave me a $50 off coupon! Highly recommend!
- Andrew T.
Great customer service  
Very customer oriented. I was happy with the work and expediency. They also checked my tires. I appreciated the honesty regarding my tires.
- Jackie E.
70K maintenance  
I scheduled my 70K maintenance on my 2013 Camry and to save a few bucks I purchased the air and cabin filter to install myself. I had a little problem reinserting the air filter and without me noticing the housing for the filter cracked and a piece fell into the throttle. When I went to drive the car it stalled and I had to have it towed to the Midas shop. They found the problem quickly and suggested a fix that didn't cost a lot of money and of course finished the 70K maintenance. I have found this shop and the people who work there caring and willing to look at solutions that save you money and still fix any mechanical issues. I would highly recommend this shop for almost all car repairs and maintenance.
- James O.
Great auto svc experience  
The technicians at Midas always do a great job, and the prices at Midas are always competitive. And they are trustworthy. I had brake fluid on my list after 24 months and they reminded me the manual says change it out after 36 months. That saved me money - and time. Much appreciated !
- Dan D.
always good service  
These guys have earned my trust. Always do a thorough check of my vehicles and document recommend service. Never any pressure
- Robert M.
Great service  
I have had my cars serviced at the Ogden Midas and have always walked away feeling good about the work completed at a fair price.
- Robert J.
Fast and efficient  
I made my appointment online and was able to get right in! And what I thought was the problem was not correct at all! They found the real problem and had my car finished within an hour!
- Heather Q.
Great service and knowledgeable staff  
I had to make an emergency trip to NY and needed an oil change. Not only did they change my oil, but noticed the rattle from my muffler and asked if I wanted it fixed. They explained how they would fix it and if that didn't work the next steps with the cost outlined. They had my oil change and muffler fixed within the hour!
- Jennifer V.
Volvo check up  
As always, friendly, reliable, honest service! Wouldn't take our cars to anyone else jc
- John C.
Choose Midas....Best in the business.  
Excellent Service. Timely. Efficient. Best products. My 2015 Jeep Patriot loves them! I do too!
- Linda Y.
Excellent service!  
I have never had a bad experience and find the technicians knowledgeable and trustworthy.
- Therese H.
Excellent Service  
Super accommodating and quick service. The wrong part was ordered and I thought I'd have to come back another day, I was NOT going to be happy. The owner was very nice, had me hang tight to see what he could do. Not only was he able to get the proper part but the repair was done in under an hour as promised to me originally. I'll be back for other services and I highly recommend.
- Rebecca S.
Oil Change  
Good work, reliable
- John C.
Oil change  
Best experience with Midas service done on time with quality work.
- Zeljko V.
Quality Repair  
I had originally said in my first review that this was a "Well Oiled Machine". By that, I want to say that this means to me that I have been EXTREMELY SATISFIED with every single visit I've had here over the past 25 years! I have ALWAYS been and ALWAYS will be treated very well here! So by that, a well oiled machine does not suggest any other interpretations! Shawn and crew are one of the best crews anywhere for your vehicle, period! I can't thank them enough!
- Roger G.
Fast, Friendly and Affordable  
I came in with no appointment for an oil change. They explained that all techs were currently with cars and that it may take 45 minutes before they could get to my car. I appreciated the upfront honesty. So i sat and waited and they had my car done within the hour. Affordable price and nice workers. i'll be using them again
- Charles Z.
Friendly  
My second visit here. They were approachable, friendly and honest. They didn't try to oversell. While waiting for service, I noticed they didn't try to oversell others who entered. Performed service in timely manner and prices wye fair, on side of costumer friendly.
- Conrad N.
Great Service  
Came in for an oil change and Rob let me know about a loose tie rod that should be replaced. I came back for that service several days later. Both times the work was done quickly and appeared to be very thorough. Rob, who was behind the counter, was informative and helpful without being pushy. I will be coming back for my next oil change.
- Graham O.
Wheel alignment  
Great service! Very satisfied.
- V K.
Quick and courteous!!!  
It's been more than 10 years since I had service provided by Midas. The Naperville, IL location was able to accommodate me at the last minute, provided me with alternatives to the type of service needed for my vehicle. I was out less than two hours. Staff very professional and courteous. Highly recommend this location! Thanks Midas!
- Gwendlyn B.
Par Excellent Service  
I wanted a quote for my car's A/C recharging and got a very reasonable one from Midas. The next morning I was at their garage per my scheduled appointment and not only did they recharge my A/C for a reasonable price, but also changed my windshield wipers and checked my car tires for safety etc. For my car problems this is where I will always be going. Kudos to your employees MIDAS.
- Naik A.
These guys are the Best!  
This Midas shop is my go-to place. Straight talk, accurate estimates, fast turn around, quality work, fair prices. And the place is immaculate, with free cold water.
- George M.
A Well Oiled Machine!  
Always top quality service every time. Just can't say enough good things about 'em. Sorry, the list would be too long.
- Roger G.
Always great service  
I have been taking my 2000 Ford Taurus to the Ogden Midas for about 15 years. Having limited finances and an older car, I really appreciate how they work with you to identify the most critical issues. They're always friendly, the prices are fair and they keep you informed about their progress. It's a pleasure to have such reliable and friendly service.
- Kathy S.
Over 25 years of great service  
For over 25 years we have serviced our vehicles at Midas in Naperville. The service has always exceeded my expectations.
- Dave O.
Over Fifteen years of great service  
I've had my cars serviced at this Midas for over fifteen years Shawn and his staff do great work and they our great to work with.
- Bill S.
I love the workers...  
I've visited this establishment twice now. Both times dealing with Mike the technician. An absolute sweetheart. He's always suggestive and helpful. Quality work and thorough while preparing your car. They advise the work that's needed but never pushy. I recommend this shop to all who takes good care of your car. Sit back, drink coffee and wait for service that isn't slow...they have the proud standard I look for in any customer service.
- Normita D.
Great Shop. 800 East Ogden Ave Naperville, IL 6056  
Great service, team, honest reliable. Thanks Shawn and team!!!!
- Tom D.
Excellent service  
These guys are the best!, I'm a female and I walked out of there completely satisfied with the time and Work they did on my car... They do NOT I repeat they do NOT push unneeded service on you. So woman I highly recommend going to This Midas for great great service.. I'd like to thank ALL the service techs. I've never seen a shop full of men work so well together. I'd also like to thank the two men who Took care of my car. The manage Mike and tech Mike, Thank you my car is running Great!!!!
- Sherry R.
Great shop  
I've been bringing my family's cars to this shop for a decade now. They set the hook after the first time I was told I really didn't need the work I brought the car in for and I've been taken good care of ever since. Great service and no botched jobs...hard to beat that.
- Alan D.
10
Write a review
We would like to hear about your experience at Midas.
Request appointment
Great auto service is only a click away.
Complete the online form to request a service appointment or call us for an inmediate appointment.
Thank you
---
We really appreciate your feedback!
Would you like to share your review? We've made it easy for you to share your review on Yelp or Google Places. No thanks, I'm finished.
Step 1
Use the button to copy the text of your review.
Step 2
Please click the Yelp or Google Places icon below, then click Write a Review. Follow the instructions to publish your review. To Paste the text on Windows use "control + v". On a Mac use "command + v"
Thank you
---
We really appreciate your feedback!
Would you like to share your review? We've made it easy for you to share your review on Yelp or Google Places. No thanks, I'm finished.
Step 1
Press and hold inside the review text to copy your review.
Step 2
Select the Yelp or Google Places icon below, then select Write a Review. Press and hold inside the review space to paste your review.
Thank you
---
We really appreciate your feedback!
Programs
ASE
Motor Assurance Program
Better Business Bureau Accredited Business
ASE Certified
Motorists Assurance Program
Amenities
WiFi
Pick-up/Drop-off Services
After Hours Drop-off
Coffee
Magazines
Online Appointments Available
Online Estimates Available
Online Tire Shopping Available
---
Community involvement
Operation Support Our Troops - America

Learn More

Drive Out Hunger: Food Drives

We host food drives to benefit our community food bank.

Learn More
---
Payment methods
The Midas Credit Card offers instant credit and easy terms to qualified applicants. Subject to credit approval. Minimum monthly payments required. See store for details. Get Details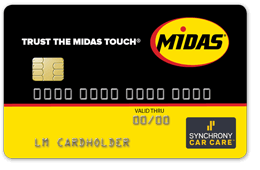 Join the Midas team at 800 East Ogden Avenue, Naperville, IL, 60563
Build your future with a leader in the automotive services industry...Midas.
Midas is one of the world's largest providers of automotive service, incluiding exhaust, brakes, steering, suspension, and maintenance services. Midas has more than 1700 franchised and company-owned Midas locations in the United States and Canada.
Midas is committed to earning our customer's trust by offerring them the expertise, value and reposiveness they expect... every time they visit us.
Positions at Midas
Automotive Technician
General Service Technician
Thank you!
Thank you for your interest in Midas. We will review your skills and experience and will contact you if your background matches the available position. If there is not a fit at this time, we will keep your information on file for any future openings.
Please Note: This employment opportunity may be with an affiliate of Midas International Corporation or it may be with an independent owner and operator of a Midas shop.
Midas Management at 800 East Ogden Avenue Naperville, IL 60563.
Sending Message... Please wait.
Apply at your local Midas