Rating:
37

reviews
Please wait, sending notifications
---
Thank you! Information about this Midas shop has been sent to you. We hope to see you soon!
Close Window
Sorry, your start location could not be found. Please try again.
Midas
lakewood

is your one-stop shop for brakes, oil changes, tires and all your auto repair needs.
Midas stores are owned and operated by families in your community dedicated to providing high quality auto repair service at a fair price. And their work is backed by our famous Midas guarantee* Whether you need an oil change or tires, factory recommended maintenance, or brake repair, your local Midas has you covered.
*See store for applicability and limited guarantee terms
Average Rating:
37

reviews
Oil change  
Fast and friendly. Didn't try to talk me into services I didn't need. Thanks!
- Judy B.
First Time Customer  
First time taking my car into this location. I gave them a high level overview of what was going on. They looked over everything on my car and gave me a list of things that needed to be done. I opted to only complete some of the recommendations and they did not pressure me to spend more money. They even rotated my tires for free! I will absolutely use Midas for all of my future automotive needs!
- Alex L.
Midas Touch  
I really like these guys down there they take the time to show you where you have problems they take you out there and when your vehicle is lifted up in the air and they explain things to you these guys do a **** of a job
- John L.
Good job  
They do a great job with my car show me the things that need to be done
- John L.
Great Customer Service  
These guys are great here! I've been a customer for 6 years at this location and I've always had a great experience.
- Shannon C.
Midas work done  
Yes , Great Job !
- Dale C.
Tire repair  
I discovered I had a flat tire close to the shop, came in, my first time here. They got me in right away and took great care of my car!
- Abigail L.
Great people, fast service.  
I've taken my car into this location for about the last six months. The people there are very knowledgeable and efficient at what they do, and the fact that this place always seems to be busy is a testament to that. I schedule my visits in advance now, knowing that the folks there will take great care of my car.
- Nick T.
More than Mufflers  
Where do you go to have a pipe bent in just the right way? I discovered the Midas store at Colfax & Simms. The service was quick. The work was perfect. I'll be back when I need a muffler.
- Fred D.
Excellent Service  
I highly recommend this Midas location. I had an issue with the fan staying on after I shut the car off after work and called store manager Don who told me to bring the car in right now and when I got there Ian (who is a Master Technician) looked at my car, explained what happened in a way that a non car person could understand.
- Kathryn W.
Great service  
LOVE the service
- John L.
So grateful!  
I picked this place because of the previous reviews and am SO HAPPY I did. From office management to the mechanics, everyone here is kind, respectful to each other (which speaks to the work environment) as well as honest. The mechanic was very professional, brought me in the garage to show me the problem, explain how he would fix it and with his obvious experience, the job got done well and quickly! My appointment was estimated to last between 12-2 and It did not last a minute longer. I'll definitely be bringing my car here from now on!
- Anik D.
Don is the MAN  
I brought my Subaru in for an oil leak, and was initially pretty bummed that it wasn't solved the first go around. I proceeded to bring it in again for another inspection (cost waived) and the leak was found. Don put it as his first priority that weekend and personally worked all day to have it completed for me to drive to work on Monday. The leak was slow, only happened when parked, and coming from a very small part that I simply paid for and was then on my way. I really appreciated his hard work- that's great service.
- Heather D.
I always recomend u to people i know  
I love the service I get from you very professional
- John L.
I like the service i get from Midas i always recommend them i have my family my friends  
There about the only garage I trust with my vehicle
- John L.
Tire Repair  
Outstanding service and great price!!
- Martin R.
great Service  
Had car in for first time service. Very easy to set appointment. Also, Service was exceptional, Very thorough in explaining to me issue needed for car. Never felt pressured . Thanks
- Paul R.
Handicapped and Happy  
I am a single, senior, handicapped woman who recently lost her normal maintence car facility of many years due to new ownership that provided a poorer quality of service. I went to this Midas for a routine oil change because of a coupon I received in the mail. The staff was very courteous and friendly and provided great service! The waiting area was comfortable and easily accessible for my special needs. I also returned to Midas the next day to replace the car battery per their diagnostic test results and recommendation. I trusted the work these guys did for this ricketty old gal and I will return to them for my future car needs.
- Pat D.
Recent service.  
I met Don for the first time and he was very dilligent getting me in and getting the service taken care of.
- Joe D.
Rick at Midas is "The Bomb Diggityist"  
Rick at Midas was the most helpful, caring and friendliest Assistant Manager I've encountered in a long time. I have come to Midas a couple of times now in the past few months for car maintenance. Today was for front brake issues. While talking to Rick about the cost of my repairs, he was helpful in getting me approved for a Midas Visa Card. In my experience the guys at Midas do great and honest work. I would highly recommend them for any of your car maintenance or repairs. Thank you very much for being so helpful and working with me. ????
- Brenda C.
Mustang and Ford Escape repairs  
We are very happy with the service we received changing rear seals on the mustang and the front brakes on the escape. Thank you to the team at Midas.
- Robert M.
Quick, clean, and accurate work  
Every service visit has been performed at the Way Colfax location and these guys have always done a great job with my Jeep. Last visit was to replace the front shocks and an alignment and I am very satisfied with the work performed. I always get treated with respect and the guys behind the counter are knowledgeable enough to understand my needs when I take one of my vehicles in. Great place and I recommended it to anyone with mechanical issues or needs.
- Enrique C.
Great service!  
Friendly and knowledgeable staff! Quick service
- Tara K.
Customer Service #1  
I have used Midas shops in the Denver area for years, mainly because of Greg Johnson and his positions with them. Now he is managing his own store, and his knowledge, with his staff provide great service and exemplary customer service. I witnessed how they took care of their customers in a friendly manner and with efficiency. I will continue to recommend this store and staff.
- David M.
Oil change  
My car was saying it was time for my maintenance to be done ( oil change ) so I took my car in to get it changed and after I talked with Greg the man at the front desk he explained to me several things I didn't know about my car. I am so happy that he was there vary smart guy. He took car of my problem and I would recommend this shop to every one that needs an oil change or any thing else that Midas does for cars. They could have said I needed this or that, but he was real honest with me and I will trust him for my next oil change.
- Nick V.
excellent service and understanding for guests  
I had a bad vibration up front, went to several places who charged for repairs but did not fix, kept being told to spend more, Midas took me on no notice, they found the Real problem ASAP and had the part fixed instead of charging for new, they truly stand by only spending what I needed not what they wanted. They realize take care of us today and we will be customers and spread good will for long time-Great Business Model Thank you
- Jeff P.
Always the best  
I went in the get a blinker bulb replaced because it was blinking fast... by the time I got there it was working. Rick (tall with a white beard) is so sweet, kind and handsome.. I may just break the blinker so I can go see him again. But really, the service at this location is outstanding and I always get reliable service. Thanks Rick xxoo Angie
- ANGELA S.
Unexpected and Appreciated Honesty  
I brought my car in because of a squeak in the left rear suspension. They put the car up on the rack and checked everything. They said there was nothing wrong, just some dirt was causing a bushing to squeak. They recommended I get the undercarriage washed. No charge! I'll be back when I really need it. It's so rare to find service and honesty like this! Thank you.
- Lee R.
saints  
After dealing with the ravings of lunatics (from buying cars from Car Hop) these guys made the rest of the day go well. They were so kind...and actually FIXED my car..unlike the other service shops Car Hop approves service at under warranty...I am a fan...thank you...appreciate you...
- stephanie s.
Amazing Experience 10 stars!!!!!  
I brought my car to Midas on Colfax ave in Lakewood Colorado because it would not start, the check engine light was on, and I was nervous. My grandchildren ride in the car and I need it to be operating properly and to be reliable at all times. Kevin and Brice were extremely helpful, and even more so, seirous yet lighthearted. They spent time to ask me about what the vehicle was doing, and they made sure to not only hear, but listen to and truly understand every aspect of, all of my concerns with my car. They got my car in and looked at, Kevin called me, this is when I got nervous. Kevin told me, what I was scared of hearing, my car needed a lot of work, and that this was the first step in the repair, and there may be other issues, but this needed to be done before anything else could be known. He then told me that he was very confident that this would repair it, and if not, if the engine could not be repaired, and had to be replaced, the work done today would be credited to, not added on, replacing the engine. Kevin was genuinely concerned about me and my vehicle. I could hear it in his voice, he actually cared about me not just himself! That is so rare these days. Kevin mentioned that he got into this business to help people, and he meant it! Kevin and Brice took the time to explain every aspect of everything to me. Brice explained the diagnostic process, exactly what was going to be done to diagnose, step by step. Kevin called me with the results, and without me even prying, or asking a question at all, Kevin explained what each part did and why that caused the motor to act that way. Kevin and Brice, both wanted to make 100% certain that I understood what my car was doing before, what parts were being replaced, why the parts were being replaced, why those parts failing caused the issues, and exactly what the repair would do. They even took the time to ensure that I knew why further work may be needed. I was so confident and clear about every aspect of the repair, and I could not believe how in depth their diagnostic process was. They actually took the time to figure out what the problem was and how to fix it! They even made a point to make sure I didn't spend money where I didn't have to. Kevin's exact words were "before you spend money on tires or a battery, let's make sure the car starts and drives." Never before have I had a mechanic be so upfront and honest with me. They kept me informed every step of the way. They got me approved for a credit card that I didn't end up using, but I will use it when I return next week for the tires that I need. They got my car fixed and had it running better then ever. Finally a mechanic I can trust! Thank you to Kevin and Brice and the whole crew. Thank you for ensuring I didn't spend extra money, thank you for your honest, in depth and personalized explanation, thank you for actually fixing the problem, and most of all, thank you for your concern. I have lived down the road from this location for 8 years now, and I have never gone there. This will be my ONLY repair shop from now on! These young men know customer service like no other, and like I said they focused on, and shared, MY concern. Kevin and Brice truly looked out for me. It's the holiday season and they ensured that I was able to keep as much money as possible. To have a mechanic tell me not to spend extra money until we all know it's worth it, was a mind blowing experience. All you ever here is mechanics trying to get you to spend as much as possible. Not here! Not them! Again thank you Kevin and Brice for your honesty, integrity, communication, and genuine concern for me and my vehicle. My grandchildren ride in this vehicle it feels so good to be confident in it again! I have been driving for over 40 years, and finally I found a mechanic I can trust. What a relief! What a true pleasure to have done business with these young men! Kevin even added some humor to lighten a stressful situation! He made me feel even better about everything! He called me a said "Eugine, do you want the good news or the bad news?" I said "good first" Kevin says "good news, the repair was a success the car runs and drives great! Bad news, you were right, you need a battery." I was so pleased that they got the vehicle repaired, and couldn't help but laugh right along with Kevin! I had mentioned to Kevin and Brice, when I dropped my vehicle off that I might need a battery. But before they put a battery in the car, and I spent more money, they wanted to ensure that the engine would run properly. I told them to replace the battery, while laughing. I told Kevin "that was the best bad news I had ever received!" I then thanked Kevin and Brice for everything, and told them I would be there in the morning to pick up my vehicle. Once again thank you to Kevin, Brice and their whole crew. What genuine, honest, and caring gentleman. I could not have dreamt of a better experience at a mechanic if I tried.
- eugine s.
To the Rescue  
Traveling out of the Denver mountains to Minnesota, my wheel bearing failed. I pulled into the Midas shop on Colfax at closing time and explained my dilemma. Once they saw the seriousness of my situation, they were able to have a part delivered in 10 minutes and ask some technicians to stay to install it. Back on the road in 45 minutes. Thanks to Thomas, Dave, Andy, and Kelly for getting us back to Minnesota safely.
- Bill D.
Customer Service  
Had an amazing experience with the crew, especially with my mechanic Ian who went out of his way to make sure that I was taken cared of. Finally I found a trustworthy mechanic who knows his stuff and has a kind heart.
- Rosemary K.
service  
Quick attentive service that identified an "easy fix" The heat shield was creating the rattling. He showed me, bent it back and sent me on my way at no charge. I was very happy for the honesty.
- Mimzy W.
super  
These are super people there.They explained all that they needed to do and why. I would have anyone to have there work done here. Thank you so much for the fine work you people do.
- Robert H.
Excellent repair work  
A big thank you for examining,replacing defective tire component. Your staff does a super professional job.
- Earl K.
First Class!  
I cannot thank the store manager, Rick Bauer, enough for his courtesy and generosity. I blew a tire on my way to work and went in hoping for a quick change to some spares I had in my trunk from a change to snow tires before winter. Understandably, he was booked solid and was unable to do anything immediately, but advised he would make sure he worked out the schedule to get it done by the end of the day, even though the day was already completely booked. I could not take him up on this generous offer, and instead asked if I could use the parking lot to make the change to my donut instead, which he allowed. He then proceeded to take time out of his busy day to assist me with the change. Not only assist though, he basically did it for me, free of charge. I just handed him anything I could to help. I am sure anyone can attest to the fact that a tire change is not a quick process with a standard tire iron and trunk jack but, with Rick's help, a quality jack, and powered socket, he had the tire changed out for me in less than 10 minutes, making me less than 30 minutes late for work, instead of at least an hour. He then let me know of some of the great deals that they currently have on tires, which I was not aware Midas sold and will be going back for on payday. This was all completely unexpected, and very much appreciated, as I am not aware of any shops, let alone shop managers, that would have gone out of their way to assist like Rick did. Midas Lakewood will be my go to for any future work needed, thanks to Rick. His card hangs firmly on the refrigerator.
- Jim P.
Great Service!  
The service was quick and excellent. Joe my mechanic was especially great and he changed the wiper blades and fixed the windshield washer fluid quickly so I could continue my trip cross country.
- Cindy C.
10
Write a review
We would like to hear about your experience at Midas.
Request appointment
Great auto service is only a click away.
Complete the online form to request a service appointment or call us for an inmediate appointment.
Thank you
---
We really appreciate your feedback!
Would you like to share your review? We've made it easy for you to share your review on Yelp or Google Places. No thanks, I'm finished.
Step 1
Use the button to copy the text of your review.
Step 2
Please click the Yelp or Google Places icon below, then click Write a Review. Follow the instructions to publish your review. To Paste the text on Windows use "control + v". On a Mac use "command + v"
Thank you
---
We really appreciate your feedback!
Would you like to share your review? We've made it easy for you to share your review on Yelp or Google Places. No thanks, I'm finished.
Step 1
Press and hold inside the review text to copy your review.
Step 2
Select the Yelp or Google Places icon below, then select Write a Review. Press and hold inside the review space to paste your review.
Thank you
---
We really appreciate your feedback!
Programs
ASE
Motor Assurance Program
ASE Certified
Motorists Assurance Program
Amenities
WiFi
Coffee
Magazines
Online Appointments Available
Online Estimates Available
Online Tire Shopping Available
---
---
Payment methods
The Midas Credit Card offers instant credit and easy terms to qualified applicants. Subject to credit approval. Minimum monthly payments required. See store for details. Get Details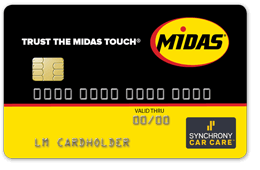 Join the Midas team at 11411 West Colfax Avenue, Lakewood, CO, 80215
Build your future with a leader in the automotive services industry...Midas.
Midas is one of the world's largest providers of automotive service, incluiding exhaust, brakes, steering, suspension, and maintenance services. Midas has more than 1700 franchised and company-owned Midas locations in the United States and Canada.
Midas is committed to earning our customer's trust by offerring them the expertise, value and reposiveness they expect... every time they visit us.
Positions at Midas
Assistant Shop Manager
Auto Shop Manager
Automotive Technician
General Service Technician
Thank you!
Thank you for your interest in Midas. We will review your skills and experience and will contact you if your background matches the available position. If there is not a fit at this time, we will keep your information on file for any future openings.
Please Note: This employment opportunity may be with an affiliate of Midas International Corporation or it may be with an independent owner and operator of a Midas shop.
Midas Management at 11411 West Colfax Avenue Lakewood, CO 80215.
Sending Message... Please wait.
Apply at your local Midas