Rating:
48

reviews
Please wait, sending notifications
---
Thank you! Information about this Midas shop has been sent to you. We hope to see you soon!
Close Window
Sorry, your start location could not be found. Please try again.
Midas
middletown

is your one-stop shop for brakes, oil changes, tires and all your auto repair needs.
Midas stores are owned and operated by families in your community dedicated to providing high quality auto repair service at a fair price. And their work is backed by our famous Midas guarantee* Whether you need an oil change or tires, factory recommended maintenance, or brake repair, your local Midas has you covered.
*See store for applicability and limited guarantee terms
Average Rating:
48

reviews
services  
I'm very Actifed we the services I receive from you guys. I always go with out an Appointment and you never said no. Also always take care of me before I esp. thank You for that
- Awilda L.
Excellent friendly service  
Thank you so much for all you do to take care of my car. I feel tremendous relief thanks to your knowledge and expertise.
- Augusta M.
Friendly staff, prompt service  
I appreciated the ease of scheduling my emissions appointment online. All staff were friendly and the service was quick and simple.
- Jennifer E.
Well done as usual  
It's very important to be able to trust your mechanic. We don't have the knowledge they do and can easily be railroaded into unnecessary expenses. I trust Gene and my local Midas implicitly. He took me under my car and showed me the area of concern (very legitimate) and wrote up an estimate. Everything was done as planned and the final bill was $55 less than the estimate. I'm sure the work was done very well. It always is. I'm very satisfied, as always!
- Brian K.
Electrical service  
Car died, towed to Midas, they brought it inside n checked system, charged battery n installed new alternator in about 1/2 day. Great service n great people work there!
- Peter G.
Very happy with there service  
Very honest professional team there I recommend and we be going back when needbe
- William S.
Mike's Signs  
Great service, work done on time, at a reasonable price.
- Mike S.
Great Service  
This Midas location does exactly what you ask of them in a timely manner. They will recommend additional services but are not overly pushy about it. Price is very reasonable, I did my research and based on the service, vehicle and region we are in they were very competitive.
- Andrew E.
Thank You, Midas  
I definitely would recommend MIDAS. I was completely satisfied with the work that was done on my emissions system problem. The technician was was prompt and efficient in locating the problem, and I had my car back on the same day. Everyone was courteous and accommodating.
- Robert F.
Great service!  
I would never use a different shop, always honest fair service. You are treated like your business is important to them.
- Judy L.
l.r  
excellent service as always
- Louis R.
always satisified  
I've been bringing our two family cars to this shop for the last year and always been quite pleased with the level, speed and friendliness of service!
- Abigail B.
Emissions Testing  
In out Always friendly and efficient
- Andy S.
Great service!  
I received great service as usual - thank you.
- Minna M.
Great Job  
Thanks to Gene, Ned and all the guys for a great job on the "tranny lines." So far I have had to further problems which is my ultimate aim when getting a repair. Thanks, Crystal, and all the guys!
- Lena C.
my recent Midas experience  
Wonderful as always!
- Gregory K.
Without doubt. They are good.  
They were fast
- Dave G.
prices are way to high to fix anything !!!  
prices are way to high to fix anything !!
- Carl L.
prices are way to high !!  
Prices to fix anything at Midas are way to high !!!!
- Carl L.
Very Good.  
I spent about 20 minutes,everything was done,Friendly people and fast service.
- Bimal m.
Just Fabulous  
I am somewhat car savvy and I love watching the interactions between Manager Gene with the newbies in the waiting room. He is honest and candid. The intent on his part is to do the best for his client. Very refreshing.
- William M.
Another excellent service  
I've been going to this Midas shop for 30 years or so. Always friendly, always excellent service. I learn early in my use if this Midas shop many years and a few cars ago that they were very trustworthy in identifying what I thought was a muffler tailpipe problem to just a missing set ***** on a muffler, $5 vs hundreds, I would have never known! Gene, Jeff n Crystal are wonderful!
- Peter G.
Excellent Quick Service  
The work was done efficiently and quickly. I'm really enjoying my new brakes.
- William N.
Excellent friendly service  
I recently switched from the car dealer service center to Midas and am really happy with their dedication to detail, friendly courteous staff and knowledge.
- Augusta M.
Easy In - Easy Out  
Crystal is great - always upbeat, efficient, and helpful!
- Tracy S.
Excellent service  
Air conditioner stopped working, found the hose was wear/cut by fan, replaced, purged system, back up in running. Always, honest about identifying problem n fixing it completely in a timely fashion. Over 30 years a satisfied Midas customer in Middletown, ct.
- Peter G.
Friendly and Honest  
You walk in to be greeted by Crystal, who usually remembers you and greets you with a smile. Gene will always tell you what is going on with your car and never tries to over sell you anything, if he tells you something is wrong then it is wrong, and he will honestly tell you what needs repair right now and what can safely wait.
- Judy L.
good service  
The service I received was very professional and timely. Would recommend the shop to other.
- Earline G.
Always fast, always professional  
I have never been disappointed in this shop. Very courteous, professional and FAST. I have been about five times for various reasons to this shop and I am pleased that they are such an excellent place to get my car fixed.
- Kent S.
Replace front pads and machine rotors  
GREAT SERVICE all around (and at a great price), including speed of service, accessibility/attention of the lead mechanic, and communication of work needed (and work NOT needed) and costs prior to doing the work. They were even willing to let me go on the test drive so they could drop me off at dunkin donuts while I waited for the work to be done and even picked me up there during the post-work test drive when finished!
- Richard M.
Regular services and big repairs. A great Midas shop.  
Fast and helpful as always. I've been coming to these guys for years and would highly recommend them
- Russ S.
Best Service in Middletown...  
The team in the Middletown location is the best! They are reliable, dependable and go out of their way to thoroughly check my car. This is the only place I will ever take my car.
- Minna M.
Oil Change  
fast and friendly
- Heather H.
Emission Testing  
In and out less than 20min.
- Andy S.
Life time costumer.  
Service is always great. The team will let you know what's wrong with your vehicle prior to fixing it. Everyone who works there provides total professionalism.
- Anthony V.
Always Awesome!  
They are the best, most thorough and kind workers. They always go above and beyond. Thanks Gene!
- Natalie S.
Excellent Service  
Service at the Middletown, CT Midas is the greatest!! I have never been disappointed or felt I was being taken advantaage of by the team.
- Yvonne W.
Great service  
Thabks
- Sam C.
Above and Beyond  
Gene helped me over the phone by researching a problem I was having with all sound in my Hyundai. He called me back within a couple of hours to talk me through a process that would help me reset my system and voila!! It worked. I was so grateful. Gene saved me time and money bringing my car to the dealership and he did this all on his own time and own dime. Thank you Gene...I have been bringing my car to Midas for all of my service needs since I got my Hyundai 7 years ago and I will continue to do so with all of my future vehicles. Thank you Gene and thank you Midas!
- Natalie S.
Always a Pleasure  
Gene, Crystal and staff are professionals who do an outstanding job. I have 100% confidence in them.
- Kathleen M.
Tires  
Great service! I had some wobbling in my steering which, when that happened before, it was my brakes, which Midas has already repaired earlier in 2016. I took it back to them, and , after checking,they walked me around the car, and I was running (3 tires) on steel threads. I was so grateful that they observed this and kept me safe, rather than my being on the road with essentially bare tires! Safety first with these guys! Thanks!
- Lena C.
car repair  
gene and his crew are very honest and trustworthy, I am very comfortable bringing my car to midas, service is excellent
- louis l.
excellent people and service  
I've been going to this Midas location for 30years and it has the same owner and manager. the desk person is always welcoming and very nice to customers. it is personal with them and I trust their diagnosis and ability to find and fix things correctly the 1st time.
- peter g.
yes  
Middletown Midas has a great experienced staff! Fixed my check engine light for a very reasonable price and passed emissions the first time.
- Richard d.
I will only go to Midas in Middletown  
I will only go to Midas in Middletown. Period.
- David S.
Trust and Integrity  
Gene and his team are the best. Gene has earned my trust and the rest of the family by providing the services that need to be done. On more than one occassion, he did less work than I thought we needed, or suggested to postpone a service because the car was fine and there was still time before the service was needed. In this case, brakes. It is this type of integrity, demonstated over and over, that makes Gene and his team so successful. We are fortunate to have a shop like this in Middletown, CT.
- Chris D.
The best repair shop in town  
Gene and crew always go the extra mile for me and my family. I have had about 75 oil changes on the same car over the past 11 years and my wife and kids too. Always bring to our attention to any items of concern without being too pushy.
- Tom Y.
SUPERB  
Gene is great - honest, dependable, courteous, and trustworthy. His staff reflects his excellence. A one-of-a-kind auto repair shop!
- Christopher B.
10
Write a review
We would like to hear about your experience at Midas.
Request appointment
Great auto service is only a click away.
Complete the online form to request a service appointment or call us for an inmediate appointment.
Thank you
---
We really appreciate your feedback!
Would you like to share your review? We've made it easy for you to share your review on Yelp or Google Places. No thanks, I'm finished.
Step 1
Use the button to copy the text of your review.
Step 2
Please click the Yelp or Google Places icon below, then click Write a Review. Follow the instructions to publish your review. To Paste the text on Windows use "control + v". On a Mac use "command + v"
Thank you
---
We really appreciate your feedback!
Would you like to share your review? We've made it easy for you to share your review on Yelp or Google Places. No thanks, I'm finished.
Step 1
Press and hold inside the review text to copy your review.
Step 2
Select the Yelp or Google Places icon below, then select Write a Review. Press and hold inside the review space to paste your review.
Thank you
---
We really appreciate your feedback!
Programs
ASE Certified
Motorists Assurance Program
Amenities
Polish
Magazines
Coffee
Television
Online Appointments Available
Online Estimates Available
Online Tire Shopping Available
---
Payment methods
The Midas Credit Card offers instant credit and easy terms to qualified applicants. Subject to credit approval. Minimum monthly payments required. See store for details. Get Details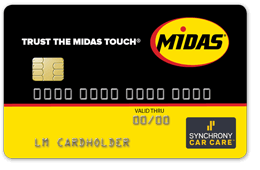 Join the Midas team at 380 Washington Street, Middletown, CT, 06457
Build your future with a leader in the automotive services industry...Midas.
Midas is one of the world's largest providers of automotive service, incluiding exhaust, brakes, steering, suspension, and maintenance services. Midas has more than 1700 franchised and company-owned Midas locations in the United States and Canada.
Midas is committed to earning our customer's trust by offerring them the expertise, value and reposiveness they expect... every time they visit us.
Positions at Midas
General Service Technician
Thank you!
Thank you for your interest in Midas. We will review your skills and experience and will contact you if your background matches the available position. If there is not a fit at this time, we will keep your information on file for any future openings.
Please Note: This employment opportunity may be with an affiliate of Midas International Corporation or it may be with an independent owner and operator of a Midas shop.
Midas Management at 380 Washington Street Middletown, CT 06457.
Sending Message... Please wait.
Apply at your local Midas