94-709 Farrington Highway
Rating:
101

reviews
Please wait, sending notifications
---
Thank you! Information about this Midas shop has been sent to you. We hope to see you soon!
Close Window
Sorry, your start location could not be found. Please try again.
Midas
waipahu

is your one-stop shop for brakes, oil changes, tires and all your auto repair needs.
Midas stores are owned and operated by families in your community dedicated to providing high quality auto repair service at a fair price. And their work is backed by our famous Midas guarantee* Whether you need an oil change or tires, factory recommended maintenance, or brake repair, your local Midas has you covered.
*See store for applicability and limited guarantee terms
Average Rating:
101

reviews
safety check  
Quick and friendly always, I take 4 vehicles a year to them. Never a problem.
- Richard N.
Godo is Awesome!  
Yes, definitely Midas in Waipahu Team are always courteous and friendly! ")
- Pleda S.
Fast Service  
Went in for a safety check and was told the wait time was an hour or more. However, it was all said and done in just less than 30 mins!
- Emerson L.
Service  
Yes, I definitely would by all means recommend everyone else including my family and friends, MIDAS is ??????????
- Solomon L & Yolanda A S.
Amazing!!  
Not only do they have super friendly staff they are quick and efficient!! I could have gone to the Honda Dealership to have my State Safety Inspection done for free but I didn't have time to schedule an appointment and wait. Stopped here for the first time after being recommended here by a friend and so glad I did. I got there at 0700 and I was on my way home by 0715. I will definitely recommend Midas Waipahu to EVERYONE!!!
- Ashley T.
Safety inspection  
Excellent fast and friendly service as always. Mahalo!
- Marvin T.
Safety check  
Considering the volume of customers, Midas performed a very speedy and efficient service.
- Floro D.
FAST and professional Safety Check  
Minimal wait time at the counter, very courteous and professional staff, was done in less than 15 minutes on a Saturday at 12 noon. Excellent!
- Terrill W.
Midas Waipahu  
I go to Midas in Waipahu because the customer service is a lot better than i receive at the Pearl City shop that's closer to my home. The workers are always friendly and very helpful with what-ever I need. I'll always return here as long as i drive. Mahalo.
- Darrell O.
Outstanding Staff & great service !  
Lisa, Robert, Lito and other Waipahu staff are just incredible. They are very friendly, makes you feel important and gets the job done. Every year I keep coming back for our safety checks, new tires and other maintenance for our cars. They are honest and will tell you what you need and if fits our budget. They are very prompt too with their schedule. Robert helped me with scheduling and he was on top of it when I came in. Lisa is always pleasant and makes you feel that you are OHANA. They even make good coffee. Again thanks to all the wonderful staff of Waipahu Midas, you guys rock !
- Jose E.
Great Quality Service Every time!!  
Great quality service every time!! Ashton and the Midas team does a great job and always welcomes us with a friendly smile and great customer service.
- Tonia G.
Oil change  
I have been a customer at this Midas location for a long time. The only car repair shop that I trust.
- Leonard G.
Great service  
They're quick and very friendly
- Ramona L.
Transmission flush  
I like going there because the guys always smiling and getting to know their customers. Always have a great experience there
- Gregory Y.
Quick and Easy  
I Love Waipahu Midas. It was quick and easy. I even got to use 2 coupons to save money!
- Chris P.
state safety check  
Friendly and quick.
- Richard N.
car service  
awsome service
- Margaret T.
Maintenance  
I really appreciate the ease of getting my vehicle's maintenance completed without an appointment and in a relatively short amount of time on a Saturday. The Waipahu shop changed the serpentine belt, brake fluid, rear differential fluid and power steering fluid in my 2008 Honda Element and I am pleased with the work completed.
- Ronny G.
Good service  
They provided good service
- Romel S.
Oil change  
Fast service, didn't have to wait too long, the services was done right after I pulled in the facility.
- Fausto J.
Safety Check  
Excellent service
- Eunice C.
Waipahu Review  
The staff are great. But I thought I was ripped off. I'll be shopping around next time. Thank you!
- Mary C.
Exhaust work  
You folks did an awesome job. Will recommend you to anybody that needs work done.
- Eric S.
(808) 744-3763  
We really appreciated the service you guys did, now we know where to go to service our cars, keep up the great work. Thanks.
- Taulia F.
Excellent Service  
Very friendly staff. Always makes you feel that you are in good hands.
- Chella O.
Service with a smile  
Everyone there is polite and approachable. Very easy to talk and ask a question without feeling intimidated. They call you by first name and they actually remember you the next time you come back to the shop, even if it is a year later. Just like a big extended family.
- Gary O.
Quick oil change  
Mr. Ancheta did an excellent job. Quick and efficient. Explained what my car needed and provided quoted. Will be back for next oil change. Give that man a raise and a free lunch
- Gian V.
Service with a smile😄  
They were super busy. But Lisa and Gary hustled out my safety check with less than an hour wait. Lisa is always so friendly and nice. Makes you feel like family!
- Mike S.
Safety inspection service  
I received excellent service from staff at counter. Also, my safety inspection was done quickly.
- Sandra D.
Happy customer  
VERY GOOD SERVICE AND THE EMPLOYEES ARE GREAT.
- Larry S.
Quick, Friendly Service  
Oil change, tire rotation and vacuum, quickly done. Thank you.
- Karen M.
Safety Check  
Really great service and customer service.
- Chester L.
Friendly, Quick Service  
My recent safety check was quick and staff was effecient. Lisa at the front desk is cheerful and helpful. Good experience, as always at Waipahu Midas.
- Melvin A.
Service  
I always get the best service when I take my vehicle in. The Waipahu location has an awesome staff.
- Janice L.
Review of Midas Waipahu  
Yes I would definitely recommend this Midas location for car service. I have been going to this location for several years now.
- Danilo L.
Oil change and safety check  
Very convenient to have both services at one location.
- Grace M.
Annual Safety and brakes inspection  
Saturday morning, no appointment required. Fast service, * 1 hour to complete both inspections.
- Rocky M.
Taking care of business  
Everyone was so cheerful and personable. I am always happy to be received by the young women at the front desk. The gentlemen who work on my car are always so happy and personable. Thank you so much for your help; especially during the busy holiday season. You were recommended by my family and friends. God bless all of you.
- Gayle J.
Very good  
??????Excellent
- Minerva L.
Great Service  
The friendly staff at Waipahu Midas is great. A day before I had to fly out for a business trip, my car didn't start. I called the shop and they were able to take me. They were courteous and professional. They fixed my car the same day and saved me. Thanks
- Don T.
Darnelle Jugran  
Always the best service at Midas Auto in Waipahu.
- Darnelle J.
very fast efficient and friendly.  
pricing was good for service and quick. done just as we wanted. will be back
- Mack H.
wonderfulservice  
fast and efficient
- Kathryn I.
Great customer service  
There were fast efficient and friendly awesome always do my oil change with them.
- Don H.
Oil Change  
Friendly Customer Service! & Service Was Fast. I was in and out! Thanks Midas Waipahu??
- Summer J.
Midas waipahu  
I have been coming here for 15* years and I only trust Gary and all the guys at Midas Waipahu. Robert brings a wealth of knowledge and spirited personality that keeps my friends and family coming back for all our needs. *martin*
- Martin B.
Midas Waipahu  
Gr8t service, comfortable & easy wait for my car. Coffee ain't bad either. Staff knowledgable & helpful. I bring All Our cars here.
- Caesar P.
Midas Waipahu Safety Check  
Fast, friendly, $20.09. Can't beat that.
- Laureano P.
Highly Satisfied  
Richard was very professional, courteous and helpful. He answered my questions thoroughly and knowledgeably. Yes, I will recommend this Midas location to my family and friends.
- Fawn P.
Awesome  
Employees were very friendly and service was fast
- Tenemane M.
Safety Check  
Terrific service, great attention, little wait time. Overall recommend to family & friends to come to Midas in Waipahu. See Aunty Lisa.
- Caesar P.
Service  
Waited in the office area for some time before someone came in to service me. There were a number of workers outside but none came to assist me. Also the explanation of synthetic oil and regular oil was confusing with synthetic oil costing twice as much with no obvious benefit.
- Ken M.
Safety check  
Great job
- Ronnie C.
State inspection  
Always fast and friendly service! Mahalo Midas!
- Marvin T.
yes  
very good
- Joseph N.
safety check  
Needed safety check for car from mainland. the friendly folks at midas explained the procedure *pre-check, register car with city and county, safetycheck sticker*. I was very satisfy how smoothly it got done.
- Richard N.
Great Service  
Your staff does a great job of servicing my company vehicle. I will be back for my next service. Mahalo!
- Christopher J.
A Lau  
Good fast friendly service
- Andy L.
Safety Inpsection  
The service was cordial and professional. The waiting area (next to the service desk) has ample chairs. While you wait there's a big TV screen for your entertainment. Overall, it was quick and pleasant experience.
- Allan A.
Excellent  
Got told I had to wait an hour and a half after making an appointment at another safety check place, told them to forget it. Came to Midas the next morning, in and out in under 15 mins. Bravo, very efficient and friendly service.
- Jon G.
Very Nice Service  
All the employees working at the Waipahu Midas were very nice. Although my safety inspection turned into replacing 4 tires (they said only 2 but I decided to replace all) and getting wheel alignment, they applied discounts to ease the "pain". I have a 2013 Subaru WRX. They called me midway through changing the tires saying I may need a camber kit, because they thought the ***** wouldn't be long enough, but in the end didn't need it (almost $200 more). Overall very satisfied. Although the price wasn't great, it was fair.
- Jonathan W.
Great, as always!!!  
I called ahead, Lisa let me know Midas was not to bust that afternoon. I was in & out in less than 10 minutes for a Safety Inspection.
- Judy H.
Customer Service  
From the office (Lisa) to technicians (Lito - mgr) have been great and always provide great customer service. It takes great people to provide great service.
- Bertram H.
Service/Customer Service  
Midas Waipahu have been my Ohana for so many years. They have great service from the front desk to the service area. They act fast in dealing with the services you need that is why I definitely recommend them to my family and friends.
- Angelo M.
Chevy Owner  
Employees very friendly and well trained.
- Ututoa I.
Satisfied customer  
Awesome place. Lisa and the people at Waipahu Midas are all very friendly and welcoming, and are very professional. Service was great, easy and fast. I highly recommend going to Midas for your car's needs and service.
- Ralph S.
Outstanding customer service  
Midas customer service has always been outstanding even since I started having repairs or safety inspection...
- Hilario L.
Andy Lau  
Greeted us as soon as we walked in to work office desk. Friendly smiles....quick and excellant service.... kept us updated on servicing of oil change & safety check.. Highly recommend this Midas location.
- Andy L.
Andy Lau  
Good friendly service.... excellent work.... Keep me updated as we were waiting . Highly recommend This Midas location
- Andy L.
Rating of service  
Very pleased with the service received from Midas - will certainly return! Thanks!
- Tatsumi T.
Outstanding  
Outstanding customer service. Job was done in a timely manner and staff were very accommodating and rendered professional result.
- Jay D.
Quick safety check  
Walked in and they completed the safety check within 10 minutes.
- Hal U.
Excellent Service  
I had a flat tire right before work and it was leaking fast. I tried two other businesses for repairs, both quoting me 3 hours before my car would even be looked at! Luckily, third time's the charm and once I arrived I was promptly greeted and serviced. When I am in need of car services, I know where I'm going to go first.
- Donald H.
Fast, efficient safety check  
I would definitely use the services of this Midas again. Thank you.
- Karen M.
Safery Check  
It was fast and easy. Awesome customer service.
- Joel F.
Annual Safety Check  
Excellent service!
- Ronald M.
Car Repair  
The service was outstanding. The car was towed into the facility and they got right on it and had the car repaired in two hours for a major problem.
- Phillip D.
Why A Customer Returns  
Your service department was very professional. Your service advisor , Robert was very polite and handled me like I was the most important customer while he listen to my problem and explained what he was writing up...Chris ,the mechanic came to the waiting area and brought me to the repair area to show me that my rear brakes didn't need to be replaced at this time and they were safe but showed me some other things that should be addressed which I had done....Honestly pays off for customer retention and over selling discourage people from coming back.....you have a happy customer.
- Edward M.
Service  
Service is good as usual and the coupon discount is encouraging however the speedee lounge needs thorough cleaning. Coffee and water dispensers are awfully dirty, you cannot recognize a new from used cups and whether the coffee has been sitting there overnight. I came early between 7 and 8 am. The whole area needs sanitizing all over....sorry, hope it helps.
- Justo T.
Yes, definitely  
Thank you! for your service on my 2007 Cobalt and 1994 Mustang. :)
- Pleda S.
Great Service  
In the past, I've utilized different car service/repair companies for oil changes. At those places, I have had to wait at least two hours (if I was lucky). Not at Midas! By the time it took me to walk across the street to the ATM machine and grab a quick snack, my car was done and parked in the lot below. I was so impressed and grateful for the exceptionally efficient and friendly service. This will definitely be my go-to place for my car needs. Mahalo!
- Nanglar W.
excellent  
excellent service. friendly staff
- Melvin K.
Oil Change  
Always good service and friendly also.
- Walter M.
Safety inspection  
Very friendly and helpful staff!!! Awesome service!
- Anastacia L.
As i visit your Midas center or shop. I am certain that your help for every client is very important  
You have done an excellent job for my car and thank you very much for everything.
- Carlos A.
Paul Shinagawa  
Awesome service and very knowledgeable mechanics. Everyone was very pleasant and friendly. Lito Bambilla is an outstanding manager.
- Paul S.
safety check  
Quick and friendly as usual.
- Richard N.
Emergency Tire Change  
My tire popped on my way home. I changed it to a spare tire & went on my way to Midas since the last few times I was there for a oil change & safety check - the wait time was half an hour or less. Unfortunately, not this time. I literally was there for a total of 3.5 hours with my kids. 2.5 hours was waiting for my car to be seen. The last hr was reviewing my car, quoting & mounting it on. I was Price quoted $299 (regular Price & lowest price right now per mechanic) per tire so unfortunately, I had to choose to only change the two front tires. Even with the bug 3, get 1 free promo...it would've been a thousand dollars which is unbelievable for a mom with four young kids.
- Chalaine R.
Great Customer Service and Quick Waiting Time  
My Visit For State Vehicle Inspection It's First Come First Serve ! There Were A Lot Of Customers Before Me To Service Their Vehicles So There's So Many Technicians For Each Line Of Service For The Vehicles That Needs To Be Service On So My Vehicle Wait Time Was Minimum Which Was So Much Appreciated Thank You Midas. Waipahu For Wonderful Customer Service and Great Work !!
- Jeffrey A.
Go Midas!  
What I can't fix myself, I take to Midas! This trip was only for a safety check. Fast, efficient ,painless. Counter man, Robert, was friendly and courteous. Helpfully pointed out I could download $5.00 off coupon for the service.
- Lawrence J.
Midas Waipahu  
Yes, great customer service from Lisa at the front desk to Godo and his team of good mechanics. Quick, friendly and helpful service.
- ValuedDavid Customer K.
Quick and courteous  
Speedee was the word that I would use to describe my experience at Midas. they catered to what I needed and got me out of there within half an hour. they change my oil but also filled up all the fluids and gave me a courtesy brake check. A job well done.
- Arnel B.
experience was okay  
On the plus side, the staff was very friendly and seemed enthusiastic. However, the specific concern I shared with the technician was not addressed. I had advised him that my low tire pressure light was on and he said he would check it. When I left, no issues were discussed with me but I noticed the light was still on. A brief review of what was done to my car would have been appreciated (e.g., what needs to be changed soon, when I should come back, etc.). The other issue I had with my experience was that it took much longer than I was told. The estimate was that it would be about 45 minutes. But I believe from when I dropped it off till when I was able to leave, it was about 1.5 hours. While the location and not having to make an appointment are appealing, I am not sure if I would definitely return.
- Robert S.
People you can count on!!!!  
Simply stated...everyone does their job well AND with aloha! You can trust these folks - no high pressure sales techniques, they don't break things so you have to come back later - if they tell you something is not right; it's the truth. Their quote is more than fair and accurate. They do it all: clean facility, fast service, fresh snacks, contingency planning for big problems that require you leave your vehicle, etc...they don't miss a thing. If you are looking for a reliable place to take your vehicle it is your loss if you don't at least give this business a chance. This Midas provides a chance to create a lasting relationship where you can finally ignore all the fears and anxiety that, sadly, are a part of auto repairs!!!
- Ronnie W.
Another Great Job !!!  
Midas Waipahu services our entire fleet of wheelchair accessible rental vans and personal vehicles since 2003. They always do a great job, even the odd or difficult jobs. Great Staff & Lisa is a real GEM. Mahalo, Access Aloha Travel
- Albert J. A.
The "Midas Touch"  
The "Midas Touch" is truly evident in the great service from the technicians to the front person behind the counter. Lisa, who works as the sales receptionist behind the counter is an awesome example of Aloha with the Midas Touch. She welcomes everyone with a sunshine smile and is very friendly towards all the customers. She is the "Midas Touch" as far as putting forth that kind of professionalism at Midas Waipahu. The great work done by their mechanics (Gary O.)and tech persons are to say the least above excellent. Keep up the good work Team Midas Waipahu and I will highly recommend you to everyone that is in need of the Midas Touch!
- Randall N.
Annual Safety Inspection  
I came in for my annual auto safety inspection and was pleasantly surprised at the super friendly lady at the counter and the professionals who inspected my car. The entire process was less than 15 minutes. I will recommend them to others and will be back next year!
- Bill G.
Awesome Customer service!  
I would like to mention that (if I remember this great workers name), but I think its Robert, he is a very professional and respectful worker, he has always been a awesome guy, very quick and knowledgeable worker.
- Dwayne H.
Awesome professional service  
We have relied on Midas Waipahu for the past 15 years to provide all of automotive service needs because they've earned our trust. We know we will get professional service with a smile at a price that is fair. We are confident that they will not try to charge us more than they should and they are honest people who will not sell us parts or services that we don't need. We feel so fortunate to have such a great auto service provider. We refer all of our friends and family so they can all benefit from the awesome service that Midas Waipahu provides.
- Aaron C.
Safety inspection  
Great job ,fast and done right. Thank I will be back with my other cars.
- Terry F.
Fast Friendly Service  
I want to thank all the staff and employees who gave me a very quick and awesome service to my 09 Scion this morning. Starting from the service writer Mr. Bourque to the first class mechanic tech's. Mr. Gary Oyama and Mr. Pascual, the speedy turn around of my vehicle was well appreciated, a big Mahalos to the Waipahu Midas crew!
- Randall N.
10
Write a review
We would like to hear about your experience at Midas.
Request appointment
Great auto service is only a click away.
Complete the online form to request a service appointment or call us for an inmediate appointment.
Thank you
---
We really appreciate your feedback!
Would you like to share your review? We've made it easy for you to share your review on Yelp or Google Places. No thanks, I'm finished.
Step 1
Use the button to copy the text of your review.
Step 2
Please click the Yelp or Google Places icon below, then click Write a Review. Follow the instructions to publish your review. To Paste the text on Windows use "control + v". On a Mac use "command + v"
Thank you
---
We really appreciate your feedback!
Would you like to share your review? We've made it easy for you to share your review on Yelp or Google Places. No thanks, I'm finished.
Step 1
Press and hold inside the review text to copy your review.
Step 2
Select the Yelp or Google Places icon below, then select Write a Review. Press and hold inside the review space to paste your review.
Thank you
---
We really appreciate your feedback!
Programs
Better Business Bureau Accredited Business
ASE Certified
Motorists Assurance Program
Amenities
Online Appointments Available
Online Estimates Available
Online Tire Shopping Available
---
---
Payment methods
The Midas Credit Card offers instant credit and easy terms to qualified applicants. Subject to credit approval. Minimum monthly payments required. See store for details. Get Details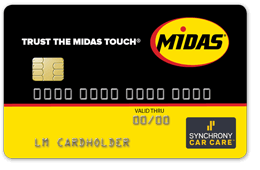 Join the Midas team at 94-709 Farrington Highway, Waipahu, HI, 96797
Build your future with a leader in the automotive services industry...Midas.
Midas is one of the world's largest providers of automotive service, incluiding exhaust, brakes, steering, suspension, and maintenance services. Midas has more than 1700 franchised and company-owned Midas locations in the United States and Canada.
Midas is committed to earning our customer's trust by offerring them the expertise, value and reposiveness they expect... every time they visit us.
Positions at Midas
Automotive Technician
Join the Team
Thank you!
Thank you for your interest in Midas. We will review your skills and experience and will contact you if your background matches the available position. If there is not a fit at this time, we will keep your information on file for any future openings.
Please Note: This employment opportunity may be with an affiliate of Midas International Corporation or it may be with an independent owner and operator of a Midas shop.
Midas Management at 94-709 Farrington Highway Waipahu, HI 96797.
Sending Message... Please wait.
Apply at your local Midas