Rating:
43

reviews
Please wait, sending notifications
---
Thank you! Information about this Midas shop has been sent to you. We hope to see you soon!
Close Window
Sorry, your start location could not be found. Please try again.
Midas
houston

is your one-stop shop for brakes, oil changes, tires and all your auto repair needs.
Midas stores are owned and operated by families in your community dedicated to providing high quality auto repair service at a fair price. And their work is backed by our famous Midas guarantee* Whether you need an oil change or tires, factory recommended maintenance, or brake repair, your local Midas has you covered.
*See store for applicability and limited guarantee terms
Average Rating:
43

reviews
Amazing Service  
The team at Midas is always very helpful. I have always received excellent service and my repairs are always complete in a timely manner. Thank you to Eric and the entire Midas team!
- Brittany S.
Amazing service  
My husband recommended I try this location because of the excellent work they have done on his car. My AC stop working the beginning of summer in Houston Texas is the worst.... not only did they get my AC working within the same day, the next week they rechecked it to make sure it's running well. My ten-year-old AC is now running like it's a brand new car. Thank you so much for the amazing work.
- Trisha H.
Quick and Professional  
Eric and his crew did a great job with my first visit!
- Tiffany C.
Fast and easy  
Easy and fast Eric was great
- Alex H.
Midas Brake Job  
Eric, and his team always do a great job. I can count on Eric to do what's required and do it right. They stand behind the work and provide excellent customer service.
- John B.
Amazing  
I am truly amazed at the customer service provided by not only the manager Eric, who makes you feel like family but the entire team, who included and educated me every step of the way. Plus, you can't beat the prices anywhere. You would regret not trying this Midas out.
- Stephanie V.
Great service  
I started going to Midas because it was close to where I lived and they provided better service than the Infiniti dealership. After I moved farther away, I continued to come to Midas because they provide great customer service, excellent work, and they possess a high level of integrity. I can trust them with my vehicle and trust that they do not recommend any unnecessary work just to make an extra buck.
- Tina D.
Great service  
In and out quickly with a tire problem. Friendly conversation and fair pricing.
- Steve K.
Brake pads  
All of the employees there were nice and very professional. They took time to explain all of the options that I had for service and payment. I will definitely be back to have my car serviced
- John S.
Great Service  
I have a restored 1979 Toyota Land Cryiser FJ-40. I chose to take it to Eric Marchand's Midas Shop, because of his reputation and the positive customer reviews. Eric and his team did an excelent job on my car. Just got it back with new master cylinder, new wheel cylinders, and new break pads. Drives like new now. Thank you very much Eric and team. I appreciate your good quality, professional, and friendly service. You are the best shop in town and I will certainly be back.
- Roberto S.
Midas  
Great staff, service!
- Keturah S.
Finke F150 Review  
F150 was missing. First coil replacement did not work. Second coil replacement worked very well. Truck now runs smoothly and accelerates well. Midas treated me very courteously. Costs were reasonable. I would recommend them.
- John F.
Amazing Customer Sevice  
One of the few that greet with a smile and will be honest with recommendations about the services needed! Would highly recommend them!!!
- Courtney Y.
Professional and reliable  
these are down to earth people. appear knowledgeable and experienced. clean comfortable waiting area. recognition of cost. I was shown what was wrong with my vehicle and the cost. will return again and will encourage my family and friends to do so as well.
- Dan D.
Excellent service  
As we have come to expect, the service provided by this Midas location was fast, affordable and professionally provided. Courteous staff is a big "Plus"
- Anne B.
Midas  
Great customer service awesome work I wouldn't go any where else very good people
- Cassandra A.
Great Service..!  
The staff was very helpful. They kept me updated regarding the progress of my repair. I would highly recommend this place to a friend..!
- Amir F.
Honesty & Quality  
Excellent service you can trust!
- Patrick B.
Always Good Service  
I never have an issue when I come here for an oil change. I'm always greeted with friendliness, and typically can get in and out in 30 mins or less. They're usually pretty busy, unless you go in the morning, but they always find ways to accommodate if they can't get you in right away.
- Donna R.
Great Auto Shop!  
The guys here provide great service, the prices are very competitive, and they give you an accurate time of when your car will be finished. I have recommended these guys to several friends and co-workers.
- John S.
Professional Service  
The husband and wife team know how to run a smooth shop. Looking forward to my next appointment.
- Chinh C.
Great work always  
I have had Mr. Eric work on my car for over 5 years, and I've never had to return my car for a second look. He treats all his customers as their family. He goes the extra mile. This company is different from others. Have a good day
- john l.
Awesome place!  
Amazing group of folks at this Midas. I always feel comfortable because they explain the process, recommend options, and work to get you back on the road asap. I wouldn't go anywhere else!
- Andrienne S.
Will definitely recommend ...  
Great service!!.. I was greeted with a smile and left with smile. Excellent customer service .. Professional and efficient.
- L B.
Good service  
I recently took my pick-up to Midas for an oil change. Not only did they greet me by name when I walked in, they remembered a problem I'm having with another vehicle. And, I didn't have to wait 1-3 hours for an oil change like I did at the dealer. Yes, I will go back to Midas.
- Robert R.
Overall great customer service  
Eric and his crew treated me with kindness and respect, they were very helpful and patient in helping me get my van fixed. I would recommend the shop to the people of Houston.
- Kaila W.
2005 Yukon Denali  
Eric and his crew were very professional and the work done was first class. There were no surprises on the final invoice and communication and updates were constant. We will utilize this Midas shop for all 3 of our vehicles in the future.
- Sheila G.
Excelente servicio  
Excelente servicio y atención.
- Diana G.
Good people  
I recently had my truck inspected by Midas. I was greeted when I walked in the door. Most places will acknowledge you. The folks at Midas knew my name. That means something to me. Everything went fast. The truck passed inspection with no problems. I actually prefer going here over the dealer. And, I used to enjoy going to the dealer!
- Robert R.
Excellent Customer service from beginning to end  
This was my first time here. I selected this location based on previous reviews and was not disappointed! They were knowledgeable and patient in answering all of my questions. i will be returning for future services.
- Ashleigh A.
Satsified  
I don't really do reviews but I can honestly say that I was provided with extremely good service at this Midas location.. The service guy Robert was very thorough with his explanation of what repairs were needed.. He made me feel very comfortable with having my car repaired and the pricing was extremely reasonable.. they didn't throw a bunch of words around to confuse the customer nor did I feel like they were trying to get me to spend any unnecessary money.. I can't believes at 38 yrs old I have never had any repairs done to my vehicle by Midas!.. I will be returning in the near future for any & and all repairs.. thanks a lot guys ????????
- Vincent E.
Excellent service as always  
I have been coming to this Mida's for 8 years now. Yes, I travel 50 miles one way because They are trustworthy and dependable when I lived in the area and continue to be since I moved away. Eric has always been fair and honest with me so I have tried the Mida's in my area. I just don't get that feeling of trust yet! Eric always goes over what needs to be done. Sometimes he will agree with his mechanic and sometimes he won't. Thank you guys for keeping my 2007 Chrysler running like new!
- Alexis P.
Awesome place ladies!!! Trustworthy  
My experience with Midas (Westheimer/DairyAshford) was a gareat experience. I was greeted with the office manager, Robert, a very pleasant man with lots of experience in customer service and shop organization. He kept me updated during the whole process of what was going on with my car and why the repairs needed to be done. He and Eric the manager explained it in a way you will understand and gave great examples. The owner Eric has a great gift in patience and well doing towards his customer, very easy to talk to, he made sure that I was taken care of properly, and made sure I got home and didn't have to sat around all day waiting for the repairs, they kept me informed while at home of any changes in the repairs and explained the changes. Toward the very end they test drove the car to makes sure every this was sufficient, explained how to better take car of my car, it was a learning experience. Ladies! this place is heaven, they are excellent! Their pleasant personality will make you feel so welcoming and taking care of. This was my first visit and I will stay in touch with them. I will recommend their service to family and friends because they won my trust, never have I felt so comfortable with a mechanic shop. I NEVER write a review on mechanic shops, if I could rate them higher than 5 stars I would, give them a 100. The next day the follow-up with a phone call to make sure everything still okay with the car and for me to let them know if I need them to feel free to call. Another thing, the people that walked in said the same thing I said when I entered the door..."you guys have great reviews, that is why I'm here" Believe me they lived up to all of the reviews and my expectation of getting the work done. Thanks Eric and Robert for taking good care of me.
- shirley n.
Awesome and trustworthy  
I have been coming to this Mida for about 7 years and can say there is never any pressure. They inspect my vehicle every so often and guide me to the things that have priority and the things that can wait.They are very professional and treat the customer as their priority. I purchased a home in Spring, Texas and still will travel the 52 miles to them. I have tried the Mida's in my area but just not the same feeling of trust. This Midas has always been honest and dependable. My vehicle now has 131k miles and still runs like new! Thanks Eric.
- Alex P.
Per normal - great job!  
Per normal the service was outstanding, honest, affordable, and the staff goes above and beyond what you would expect! Car maintenance and repair is never easy and is often unexpected; however, Eric and Jackie treat their customers like family and buffer the process with smiles and truth. If I ever need car repair, oil change, new tires or more....this is the place I go!
- Adrienne S.
Great Service  
The manager at Dairy Ashford is great and knows his cars. Affordable and the entire staff knows about cars. He also educated me about my car. I was referred by Jiffy Lube on Dairy Ashford. I hope he will always be around because he is my mechanic for life. God bless you. Connaelia
- connaelia m.
BLOWN AWAY!!!  
I came in to price a new catalytic converter and was blown away at it being $400 less than other places charged. Before any work was done, Eric took time to show me quite a few things I didn't know about my converter, like the fact that I have 2. I bought my 4Runner new in '02 and she's my 1st vehicle, needless to say, I'm emotionally attached to her. That being said, I don't trust anyone with her. That is until I had no choice but to! I couldn't have picked a better place than Dairy Ashford Midas! Eric and Jacqueline put my mind at ease immediately! In no time, I was taking care of my business. Respect, dignity and comfort is what you'll get from the time you walk in the door until you leave, not regrets, worry and an inflated bill! A simple thank you just won't do, you guys ROCK!!!
- Racheal L.
Couldn't have had better service anywhere else!  
I came in to this location to price work I already knew needed to be done. My brakes were completely shot, but my calipers were still in tact. Other places would have tried to take me for a ride, but I was given accurate information at a price that was better than expected. The service was nothing short of professional and the work done on my car was perfect! The chemistry between everyone there is flawless and I will no longer use anyone else! Thank you Eric, Jacqueline and the rest of the Dairy Ashford team for being understanding and all around awesome.
- Racheal L.
alternator  
Honestly I never do review s but I definitely appreciate the service that they gave me I came in because my alternator went out I spoke to Eric for an estimate he definitely gave me a hood price and it was fixed in a few hours after I dropped my car off Jacqueline saw me and my child walking to be bus stop and she offered us a ride and even picked me up when the car was finished I went to pay and realized that I was short 30$ and they gave me a couple days do get the remaining balance in I have been going thru a lot and I have had 5 vehicles other then this which is a 2007 trail blazer and NEVER had better service and my truck was driving like brand new
- keisha l.
Frank Stone  
Mr. Stone was great. I came in to get an oil change and it didn't take long at all. I will recommend others to his shop.
- Jessica I.
Great job  
Had work done on my 71 chevy truck at another Midas store, work not done in a professional way. Had to take it back for rework, still not done correctly. Call main office and they had me take it to Dairy Ashford store. Explained to manger who had talked to the main office and he had his employee fix my truck, and he did a great job. 100% satisfied.
- Kenneth H.
Brakes  
I took my 2011 Camero SS in for brake at 53,000 and was told the brakes were good. Ted didn't try to sell me something I didn't need. Customer for life.
- Mark R.
Honest, Fast and Complete Care  
I was in because my 2007 Honda had squealing brakes. I thought it was all the brakes. It was only one that had a cracked pad. I was there a total of two hours (when you think brakes, you think all day) and was able to finish my weekend. They were courteous and kept you up to date on where your repairs stood. I didn't have a mechanic before. I do now. Thanks!
- Glenda J.
10
Write a review
We would like to hear about your experience at Midas.
Request appointment
Great auto service is only a click away.
Complete the online form to request a service appointment or call us for an inmediate appointment.
Thank you
---
We really appreciate your feedback!
Would you like to share your review? We've made it easy for you to share your review on Yelp or Google Places. No thanks, I'm finished.
Step 1
Use the button to copy the text of your review.
Step 2
Please click the Yelp or Google Places icon below, then click Write a Review. Follow the instructions to publish your review. To Paste the text on Windows use "control + v". On a Mac use "command + v"
Thank you
---
We really appreciate your feedback!
Would you like to share your review? We've made it easy for you to share your review on Yelp or Google Places. No thanks, I'm finished.
Step 1
Press and hold inside the review text to copy your review.
Step 2
Select the Yelp or Google Places icon below, then select Write a Review. Press and hold inside the review space to paste your review.
Thank you
---
We really appreciate your feedback!
Programs
ASE
Better Business Bureau Accredited Business
ASE Certified
Motorists Assurance Program
Amenities
Arabic
German
Spanish
Chinese
French
Italian
WiFi
Pick-up/Drop-off Services
After Hours Drop-off
Coffee
Magazines
Online Appointments Available
Online Estimates Available
Online Tire Shopping Available
---
Community involvement
Make-A-Wish Foundation

Learn More

Drive Out Hunger: Volunteer

We regularly volunteer at our community food bank.

Learn More
---
Payment methods
The Midas Credit Card offers instant credit and easy terms to qualified applicants. Subject to credit approval. Minimum monthly payments required. See store for details. Get Details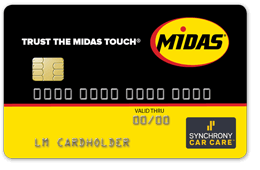 Join the Midas team at 2500 South Dairy Ashford, Houston, TX, 77077
Build your future with a leader in the automotive services industry...Midas.
Midas is one of the world's largest providers of automotive service, incluiding exhaust, brakes, steering, suspension, and maintenance services. Midas has more than 1700 franchised and company-owned Midas locations in the United States and Canada.
Midas is committed to earning our customer's trust by offerring them the expertise, value and reposiveness they expect... every time they visit us.
Positions at Midas
Automotive Technician
General Service Technician
Thank you!
Thank you for your interest in Midas. We will review your skills and experience and will contact you if your background matches the available position. If there is not a fit at this time, we will keep your information on file for any future openings.
Please Note: This employment opportunity may be with an affiliate of Midas International Corporation or it may be with an independent owner and operator of a Midas shop.
Midas Management at 2500 South Dairy Ashford Houston, TX 77077.
Sending Message... Please wait.
Apply at your local Midas