Rating:
59

reviews
Please wait, sending notifications
---
Thank you! Information about this Midas shop has been sent to you. We hope to see you soon!
Close Window
Sorry, your start location could not be found. Please try again.
Midas
the woodlands

is your one-stop shop for brakes, oil changes, tires and all your auto repair needs.
Midas stores are owned and operated by families in your community dedicated to providing high quality auto repair service at a fair price. And their work is backed by our famous Midas guarantee* Whether you need an oil change or tires, factory recommended maintenance, or brake repair, your local Midas has you covered.
*See store for applicability and limited guarantee terms
Average Rating:
59

reviews
All went well. The battery was to expensive, my son was upset l did not let him buy it.  
The workers were very helpful and pleasant they did all they could to make me comfortable and the dressing room was clean and set up very nice, one young man even bought me a bottle of cold water, and would not let me pay him. I would recommend this location to people. Job well done. Judy F Boudreaux
- Judy B.
Love these guys  
I have been going here for quite a few years now, these guys are always very generous, and helpful with any questions or concerns about my vehicle!
- Rachel R.
Grear visits  
Tim was efficient and courteous. Didn't try to sell me stuff I didn't need. I will be going back anytime I need services. Thanks Tom.
- Kerrie C.
Front disc brakes  
Great job and reasonable, thanks
- Richard B.
Honest, Polite, and Thorough  
I needed what I thought were new brake pads to stop my steering wheel form shaking upon deceleration. Turns out I just needed the rotors machined (or something like that) and the pads were fine. The man who helped me was very polite and very honest - didn't try to take advantage of my supposed female stupidity to make me get more work done than needed. The job was finished quickly and I am back to loving to drive my minivan. Finally, a place that is honest AND does good work. Thank you!
- Jill M.
Great shop  
Very professional staff, everybody knew what they were talking about and were very friendly and thorough. Quick and great service, will definitely revisit this shop.
- Kendall J.
Brake repair & Oil Change  
Tom and JT do a great job in keeping my pickup running like new. I would and do recommend them to anyone I hear complaining about crappy service they are experiencing at other places. I can't say enough good things about Tom or JT. I am very Blessed to know them.
- George C.
First Class All The Time from Midas Men  
The Men at Midas know what to fix and how to fix it. They've kept my 2004 Lexus running in top condition through this last service, a power-steering pump replacement. I highly recommend their automotive services. I've found none finer in the last decade for regular services (like oil changes) and special services (like pump or brake repairs/replacements). You will not regret meeting these Men at Midas.
- Barbara P.
Air Filter  
Some struggle trying to locate the difficult part but overall the problem is solved,
- Kam D.
i trust them  
they took me right away i trust them with my car they are very friendly and knowledgeable when i first got here in texas i found them i don't trust anyone else i've been going to midas for a long time
- Sandy C.
Great service  
Our van needed rear brakes badly and pads were grinding. Tom had it checked and explained all that they found and provided several options on what to do. I had it all done for a fair price and it was quick and painless. They. Are very professional and courteous. Been in business for a long time and I know why. Highly recommend them.
- John P.
Oil change  
The owner is fantastic. I only trust them to work on our vehicles. We drive 4.5 hours from Kerrville for oil changes and other service work. My daughter and son-in-law also use Midas.
- Neil W.
Midas visit  
Great service !
- Juan B.
Honesty & Integrity!  
I recommend this place to everyone needing evaluation or work done. I've been coming here several years and they are completely straight up with what you need to have done and don't try and upsale with service you don't need. They will discuss options and tell you the minimum you need to repair to keep safe and operational. Workmanship is excellent and they provide accurate assessment on time of delivery so you can plan accordingly!
- Chris C.
Elite customer service  
Been coming here for years. Service is what you expect if you are spending your hard earned money. The customer service is what sets this place apart. You get an honest assessment of your vehicle and you are treated like a neighbor.
- Christopher G.
Awesome!!! Fantastic!!! Honest!!!!  
I had taken my 2012 Lincoln hybrid to a scheduled appt on a thurs day for heater malfunction .... they called me after 5 to say my coolant was empty and not going to look at it till Tuesday.... got my car back took it to Tom ... within 2 hours issue assessed resolved and inspected and back on the road!!! Cost savings were substantial As well. Thank you!!!!!
- Sally G.
Excelente services  
Honest and excelente te service
- James P.
Outstanding Service  
Since moving to Houston last year, I have been taking both of my vehicles to this location. The pricing is great, but on top of that so is the service. When I walk in someone always greets me with great service. I recently took my vehicle in thinking that I needed breaks replaced, but they informed me that was not the case. I like knowing that I have my cars going somewhere that is not going to take advantage of me. I highly recommend this station because of the staff, price, and service provided.
- John S.
Midas Service  
Always do a good job. Highly recommend this shop.
- Kam D.
Recomendation  
Yes!! The Clean Waiting Room and garage. On time appointment!! The station ranks # 1 on my Angies list. Helpful in desire to help unrelated issued in locating part needing replacement to provide safe driving. Class act!!
- Martin H.
Amazingly helpful!  
I was down in TX from up north helping my niece with her move for her new job. I needed all sorts of automobile services in order to get her car registered in Texas. Tom and his crew were so helpful and managed to fit me in. Tom and his crew were so decent and helpful. If everyone in TX is that helpful - I am not concerned at all with my Niece being so far away from me! Thanks for taking such good care of us!
- Cindy M.
Very professional  
Very professional and service was quick
- Mark R.
Good Service  
Was in and out without a long wait
- Luis C.
Great Service  
Great Service!
- Jasmine D.
Excellent Service & Trustworthy  
I have been a returning customer to this Midas for over two years. The staff are knowledgeable and professional. My car had a code and after spending over three hours their team decided it was the computer, I need a rebuilt or new computer. They refused to charge me for the service even when I offered. They are very trustworthy, I highly recommended them.
- Winston J.
Great!  
The Midas in the The Woodlands is Great! J.T. and his crew is awesome! This group or professionals and gentlemen. JT accommodated me for an oil change when the internet booking did not interface with their system. The coupons are a convenience. At times you don't even have to bring coupons they will sometimes apply them without you telling them about the promotion.
- Alex L.
Great service  
Honest, helpful and very knowledgeable
- Josildo O.
Have always been completlly satisfied  
Always trust the maintenance suggestions and always performed at a fair price.
- Dean S.
Trustworthy service  
Tom has serviced all the cars in our family for many years now. His team are helpful, reliable and trustworthy! We highly recommend Midas!
- ise C.
Very happy  
Always very professional
- Steven T.
Wheel Alignment  
Awesome job! The team was engaged from time of arrival thru the time the vehicle was picked up. Great service - awesome value for the money (reasonable!)
- Gilbert C.
Great service!  
Thank you so much for your detailed work and kindness!
- Zhishuai Z.
TRUSTWORTHY AND RELIABLE SERVICE  
I feel good about getting my cars serviced here as I know I can trust them. I thought my daughter might need new brakes but really had no clue one way or the other. The fact that they said she didn't and that they were fairly new, told me that they were trustworthy. I would've never known one way or the other. Have been going back ever since.
- Melanie W.
Service review  
The customer service is always excellent!! I trust my cars with these guys and would recommend them to anyone.
- Wes K.
A great place  
I use this shop as often as I can for routine maintenance and repair. I find them to be honest and fair. They do a great job. This is the best service shop I've ever used.
- Rod H.
Great service.  
Good service, didn't wait for too long. Courteous personal. Explained what was done and what was needed.
- Teresa C.
Tom  
Outstanding, dependable,professional and quality for the price
- John D.
Excellent  
The service and friendly professional attitude of the staff was incredible
- Paul P.
Excellent service  
My air conditioner got some problem and I went to MIDAS to fix it. The service is quick and their charge is fair. I am very satisfied with the excellent service.
- Bin G.
Excellent  
Excellent excellent service. All the years I've been driving I've never come across a more competent garage.they're very pleasant to deal with an extremely fair.
- Julia/Andrew .
Amazing service  
First time here. Daughters car needed front brakes. Sat in lobby and was amazed at how Tom/JT handle each and every customer with care, courtesy, compassion, and fairness. This will become my repair shop from now on for every car need. Rare to find such honest and fair customer service.
- Chris B.
Already have.  
Great service, as usual.
- James C.
When You Want The Best  
When you want the best, most efficient service with competitive price, the men at Midas at 713 Sawdust Court, The Woodlands, should be on your list for auto maintenance. There are none better, in my opinion.
- Barbara P.
Toyota work  
the reparation of my vehicle was done on time and it is working very good. also the reminders are good to have me aware of my car's maintanence
- Doris T.
Always the best  
Had an insignificant door issue, and they fixed with care and concern, same as if it was a $1000 job. Quality people. Thank you
- John A.
Super bowl service  
We drive 280 miles from home to have Tom/JT and crew work on our 2002 Nissan Altima. Fantastitic service and honest clock. In 45 years of car ownership never had such fabulous service. They are the best of the best.
- Neil W.
THE "BEST"  
As alway's Tom, JT and crew are the "BEST"!!! I had someone close to where I broke down quote me $795.00 for the repairs. I had it towed to Toms Midas and the total repair was $277.00. That was a $500.00 SAVINGS!! Tom and crew are the most honest, proffesionals I have had a pleasure dealing with taking care of my vehicles. Thanks Tom, JT and crew. People if you dont believe the comments TRY THEM AND YOU'LL find out for yourselves.
- Welton M.
Excelente service  
Excelente service very honest and quality
- J P.
Excellent Service  
This is the best service I ever have gotten from a car service center. Tom & JT and his crew is up front and honest. When they service your vehicle, they diagnose the problem, tell you your cost, gives you any discounts available and tells you the time it will be ready. You can be assured that the quote will be correct (no hidden cost). And stands behind there work. I highly recommend this Midas location. They set the bar high for all other Midas's. Thanks Tom and crew!!!
- Welton (Garry) M.
Excellent Service  
This is the best service I ever have gotten from a car service center. Tom & JT and his crew is up front and honest. When they service your vehicle, they diagnose the problem, tell you your cost, gives you any discounts available and tells you the time it will be ready. You can be assured that the quote will be correct (no hidden cost). And stands behind there work. I highly recommend this Midas location. They set the bar high for all other Midas's. Thanks Tom and crew!!!
- Welton (Garry) M.
honest/trustworthy  
Tom is the most honest repair specialist I've ever met. Great service by very qualified technician. This store should be the model for all repair shops. Thanks Mr Tom.
- Patrick R.
Most Definitely  
I was very satisfied with the repairs, and they were done quickly and at a lower price than other shops.
- Edward S.
Excellent service at Midas  
As always at Tom's,he and his crew were kind,courteous and trustworthy. They provided reliable,timely service. I would recommend this Midas location to everyone I know.
- Carol S.
great job!  
Tom's crew always does an excellent job when working on the cars in my family. They are fast and reliable. We have been bringing our cars to this MIdas every since we moved to The Woodlands.
- Leslie M.
Awesome  
Tom and his staff are wonderful, wouldn't trust my van with anyone else.
- Lisa S.
Always courteous  
The problem was diagnosed and corrected in a short time. The car runs like new now. They never try to sell things you don't need but give you a thorough analysis of everything they find.
- Randy R.
Awesome*  
The folks at this Midas are friendly and give awesome customer service* Anytime I need anything they take care of it and I have never had any issues. They are fast, reliable and honest*
- Lisa H.
A satisfied client  
I am been taking my vehicles there for over 15 years,they stand behind there service and products and their work. I could not be happier
- Faye K.
Fast, Friendly, Thorough, Honest and Reliable  
We have been using this Midas for 20 years. I have never had to return my car after repairs. I am told in concise terms what is wrong with my car and what my choices are. I am also told if anything is wearing and will need repaired or replaced in the near future. This is the best repair shop I have ever used. Tom runs a top notch business.
- Teri D.
10
Write a review
We would like to hear about your experience at Midas.
Request appointment
Great auto service is only a click away.
Complete the online form to request a service appointment or call us for an inmediate appointment.
Thank you
---
We really appreciate your feedback!
Would you like to share your review? We've made it easy for you to share your review on Yelp or Google Places. No thanks, I'm finished.
Step 1
Use the button to copy the text of your review.
Step 2
Please click the Yelp or Google Places icon below, then click Write a Review. Follow the instructions to publish your review. To Paste the text on Windows use "control + v". On a Mac use "command + v"
Thank you
---
We really appreciate your feedback!
Would you like to share your review? We've made it easy for you to share your review on Yelp or Google Places. No thanks, I'm finished.
Step 1
Press and hold inside the review text to copy your review.
Step 2
Select the Yelp or Google Places icon below, then select Write a Review. Press and hold inside the review space to paste your review.
Thank you
---
We really appreciate your feedback!
Programs
ASE
Motor Assurance Program
Better Business Bureau Accredited Business
ASE Certified
Motorists Assurance Program
Amenities
WiFi
After Hours Drop-off
Coffee
Magazines
Online Appointments Available
Online Estimates Available
Online Tire Shopping Available
---
Community involvement
Drive Out Hunger: Food Drives

We host food drives to benefit our community food bank.

Learn More
---
Payment methods
The Midas Credit Card offers instant credit and easy terms to qualified applicants. Subject to credit approval. Minimum monthly payments required. See store for details. Get Details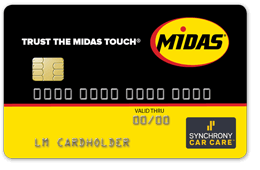 Join the Midas team at 713 Sawdust Court, The Woodlands, TX, 77380
Build your future with a leader in the automotive services industry...Midas.
Midas is one of the world's largest providers of automotive service, incluiding exhaust, brakes, steering, suspension, and maintenance services. Midas has more than 1700 franchised and company-owned Midas locations in the United States and Canada.
Midas is committed to earning our customer's trust by offerring them the expertise, value and reposiveness they expect... every time they visit us.
Positions at Midas
Automotive Technician
General Service Technician
Join the Team
Thank you!
Thank you for your interest in Midas. We will review your skills and experience and will contact you if your background matches the available position. If there is not a fit at this time, we will keep your information on file for any future openings.
Please Note: This employment opportunity may be with an affiliate of Midas International Corporation or it may be with an independent owner and operator of a Midas shop.
Midas Management at 713 Sawdust Court The Woodlands, TX 77380.
Sending Message... Please wait.
Apply at your local Midas