1602 Northwest Ft. Sill Boulevard
Rating:
31

reviews
Please wait, sending notifications
---
Thank you! Information about this Midas shop has been sent to you. We hope to see you soon!
Close Window
Sorry, your start location could not be found. Please try again.
Midas
lawton

is your one-stop shop for brakes, oil changes, tires and all your auto repair needs.
Midas stores are owned and operated by families in your community dedicated to providing high quality auto repair service at a fair price. And their work is backed by our famous Midas guarantee* Whether you need an oil change or tires, factory recommended maintenance, or brake repair, your local Midas has you covered.
*See store for applicability and limited guarantee terms
Average Rating:
31

reviews
Front suspension  
Midas performed admirably. The waiting times were short, the staff were friendly and the repair bill breakdown was easy to understand. The only thing I missed was an aftermarket alternative to the manufacturers parts. They did not offer that as an alternative when we know that in many cases, aftermarket parts can be beneficial and give a limited lifetime warranty. It doesn't always mean that they are less expensive, but if they promise to perform their intended functions better, I would have liked to know. The waiting area is always clean and inviting, even though they ditched the car magazines for hunting brochures, not a good alternative. And if you offer complimentary coffee, clean the coffee maker regularly. Last point, the communication between staff need to be improved. Twice we came with our cars with oil and filter in the back seat already yet that wasn't communicated to the mechanic and they put the shop's standard oil into my car instead. So if the shop manager fosters good, professional relationships between his employees, the employees are happy and can concentrate on the job at hand. So a little work to do at my local Midas shop having mainly to do with touching up customer service in the waiting area and treating your employees with respect which helps them to concentrate on flawless service and work.
- Martin B.
Thank  
Thank you to your management team for working with me and the providing excellent service.
- William G.
GUY WILLIAMSON  
BRAKES ARE STILL A LITTLE SPONGE, BUT THE WORK I FEEL GOOD ABOUT IT.
- Guy W.
Always does the best  
They truly have the customer in mind. They are good to let me know things and take care of our cars well. We will go to them for as long as we are here.
- Heather E.
Midas Service Review  
Outstanding service & excellent price. I have been using Midas since my move to Lawton 19 months ago. I will continue to use Midas. I'd definitely recommend Midas to friends and colleagues. Thanks for the outstanding service.
- Chun L.
Great service  
Great crew, very professional and a clean shop. Mr. Xavier Evans (Manager) took very good care of my Corvette. He was making sure while they were lifting my Corvette that the lift arms were in the right place and making sure nothing got damage. The X pipe installation went smoothly and he made sure everything was put back on properly. I will recommend this shop to all my friends and will continue to use it in the future.
- Rafael R.
X pipe installed on C7 Z06  
From the moment I spoke to the manager Mr. Xavier, I knew I was in the right place. His cordial and respectful approach are unmatched. The crew carefully lifted the Z06 and installed the X pipe in record time. Their friendly staff is second to none. I would definitely return to Midas in Lawton for any other exhaust installation. Great work guys!
- Pablo S.
Brake service  
I can't say nothing bad about the recent service on my brakes on the 2007 Volvo S80 AWD. It was done the same day, which is already a good thing. So swiftness of service was definitely a big plus. And the service warranty is a big plus as well. The only thing I would have done differently if I would own the company is, that I would have tried to give myself a little discount. I am a customer who comes back to Midas for every oil change for two vehicles for years, and we do oil changes frequently to keep the engine in good shape. So looking at my own service history, I would have offered a discount, just to show that Midas appreciates me as a customer who chose Midas for all vehicle related issues.
- Martin B.
Oil change & maintenance  
They always do an excellent job on my vehicle, which is why I always come back. Good job, guys!
- Diana S.
Great people- Excellent service  
These people are professionals in all areas of their business. I mostly worked with Mr Evans who truly understands customer service. They serviced my daughter's car while she was stationed at Fort Sill and I'm in CT. He handled our transactions over the phone and took excellent care of her car. She drove to CO with no worries. I appreciated their attention to detail and would recommend them to anybody. Thank you!
- Dan F.
My service at MIDAS  
The guys in the shop are so friendly and knowledgeable! Very polite and they helped me so much and answered all of my questions!
- Kelsey K.
Great job with friendly service  
They did an amazing job with my oil change and the staff specially front desk was very friendly.. only thing I suggest is walking the guests through what service was done( i.e. we change the oil, the filter, put air in tires, rotate the wheel) . Also if air filter was chaged or when is it recomended to be replaced..things like that. But other than that. They are amazing
- Alfredo L.
Recent experience  
I had come in for an oil change, tire rotation, and cabin filter replacement. Paid for everything and then pulled out of the parking lot to notice my tire pressure screen showed that the tire with the highest psi was still in the same spot so the tires were never rotated. My husband took my vehicle back up and they kindly fixed a simple thing, but just wish it was done in the first place to avoid more time spent dealing with something that should should have already been done. I must say that in the year we have been loyal customers, this is my only issue and it's such a minor one at that. Hopefully it will not happen again because we truly enjoy this location.
- Kristin S.
Excellent Service  
I was pleasantly surprised at the full range of service offered. They replaced my muffler system in less than the hour estimate. They said they can service my newly acquired BMW which will save me trips to OKC.
- Charles H.
Excellent job  
Three bolts on the muffler broke on the intermediate pipe and was told by the dealer that I had to buy a new intermediate pipe to just get the bolts so I went to Midas and asked them if they could fix it and they said we can have it done in 30 minutes and would only cost $40-$50. Ended up spending $46 and have my truck up and running again. Midas did a great job with their service and speed.
- Curtis Y.
Quick and honest  
Didn't play No Games told me just minor details was wrong. Didnt try to up sell me any products I didn't need or want.
- Christian P.
Experience at Lawton, OK Midas  
This was our first experience with Midas. The staff, Sean and Xavier were awesome. They did an awesome job taking care of us. Have been back already with another car and am just as happy as the first time. Thank you
- Belinda L.
Amazing  
Amazing job and did not take long at all. Nice employees
- Tiffany F.
Yes i would likely recommend your services.  
Completed repairs in timely manner and friendly staff .
- Darrell W.
Great job  
Very friendly staff very knowledgeable in what they do I recommend Midas to everyone I know or meet
- Jason T.
Brakes  
Went in for a preventative maintenance brake replacement, expecting to have both front and rear done. Was happy to hear that there was no need to do the rear and was told that "it would be a waste of money". Thanks for your honesty! Word of warning though, read the fine print on pricing.
- Renee J.
Thank You  
I am from out of town and had to get something fixed on the gsa I drove to Ft. Sill. The gentlemen at Midas were extremely helpful and polite considering I did not understand the process of using a fleet card. They worked quickly and sent me on my way. I would recommend them to everyone! Thank you Midas!
- Sean H.
Thanks  
Good job but felt unorganized
- Soulhiala M.
Great Service!  
Xavier (I hope I spelled his name right) and the mechanics on the Lawton, OK area staff take great care of my car needs. They are friendly and informative and always can squeeze me in when I have a car problem. I wouldn't pay for anyone else to service my car.
- Kim C.
Excellent Service  
As always, the service is stellar. On the rarest of occasions when something is done wrong or damaged, the shop has always corrected their error quickly with no cost to the customer. This is an exemplary Midas Shop.
- Troy A.
Great Individuals  
Everyone there is very knowledgeable and helpful, plently of options to choose from and they will assist you in which purchase you would benefit from the most, without putting a heavy burden on your wallet.
- Calvin C.
Great Service  
They do good work. They tell you ahead what the cost will be and keep to the quote. They are personable, friendly, and professional.
- Mel G.
1st timer!! Squeezed me in!!  
This was a great 1st experience. My 1st oil change with Midas. The owner was right there to greet me..ON A SATURDAY no less!! The staff was very courteous and explained everything that was done. The price was right!! I think I will use them forever!! Keep up the good work, guys!! I SALUTE YOU!!
- Tull A.
Carl T.  
I requested a brake evaluation after having my car looked at elsewhere. They identified exactly what was needed without trying to sell me unnecessary work. They were very professional and efficient. Did not have to wait long for parts or install. Rare to find that in this town. I will be giving them all my business from now on.
- Carl T.
Good service  
People were nice and relatively fast. My Nissan does have a skid plate cover that was left open and unsecure. If it had fallen off before I realized I'd be a bit more upset.
- Mahlon R.
Excellent customer service  
I HAD THE GUYS REPLACE MY MUFFLERS IN MY 2013 challenger. I dropped it off at lunch and told them I would be back about 3 pm to pick it up. It was done and ready for me to take. I drove down the road and noticed a taping sound. I turned around and headed back. I walked in and told them about the problem, he immediately got my car in and on the lift. The mufflers were sitting close together due to being aftermarket. Fixed the problem with a quick zip zap of the welder and I was on my way. They even pulled me in to show me what was done, and a quick look around for any other issues. Great customer service and courtesy. Had me back on the road with a bit more rumble and it was not very expensive. Thanks guys at Lawton Midas for your service!!
- Chris G.
10
Write a review
We would like to hear about your experience at Midas.
Request appointment
Great auto service is only a click away.
Complete the online form to request a service appointment or call us for an inmediate appointment.
Thank you
---
We really appreciate your feedback!
Would you like to share your review? We've made it easy for you to share your review on Yelp or Google Places. No thanks, I'm finished.
Step 1
Use the button to copy the text of your review.
Step 2
Please click the Yelp or Google Places icon below, then click Write a Review. Follow the instructions to publish your review. To Paste the text on Windows use "control + v". On a Mac use "command + v"
Thank you
---
We really appreciate your feedback!
Would you like to share your review? We've made it easy for you to share your review on Yelp or Google Places. No thanks, I'm finished.
Step 1
Press and hold inside the review text to copy your review.
Step 2
Select the Yelp or Google Places icon below, then select Write a Review. Press and hold inside the review space to paste your review.
Thank you
---
We really appreciate your feedback!
Programs
ASE
Motor Assurance Program
ASE Certified
Motorists Assurance Program
Amenities
Spanish
WiFi
After Hours Drop-off
Coffee
Magazines
Online Appointments Available
Online Estimates Available
Online Tire Shopping Available
---
Payment methods
The Midas Credit Card offers instant credit and easy terms to qualified applicants. Subject to credit approval. Minimum monthly payments required. See store for details. Get Details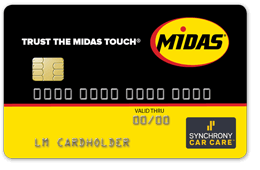 Join the Midas team at 1602 Northwest Ft. Sill Boulevard, Lawton, OK, 73507
Build your future with a leader in the automotive services industry...Midas.
Midas is one of the world's largest providers of automotive service, incluiding exhaust, brakes, steering, suspension, and maintenance services. Midas has more than 1700 franchised and company-owned Midas locations in the United States and Canada.
Midas is committed to earning our customer's trust by offerring them the expertise, value and reposiveness they expect... every time they visit us.
Positions at Midas
Assistant Shop Manager
Automotive Technician
Join the Team
Thank you!
Thank you for your interest in Midas. We will review your skills and experience and will contact you if your background matches the available position. If there is not a fit at this time, we will keep your information on file for any future openings.
Please Note: This employment opportunity may be with an affiliate of Midas International Corporation or it may be with an independent owner and operator of a Midas shop.
Midas Management at 1602 Northwest Ft. Sill Boulevard Lawton, OK 73507.
Sending Message... Please wait.
Apply at your local Midas