Rating:
55

reviews
Please wait, sending notifications
---
Thank you! Information about this Midas shop has been sent to you. We hope to see you soon!
Close Window
Sorry, your start location could not be found. Please try again.
Midas
london

is your one-stop shop for brakes, oil changes, tires and all your auto repair needs.
Midas stores are owned and operated by families in your community dedicated to providing high quality auto repair service at a fair price. And their work is backed by our famous Midas guarantee* Whether you need an oil change or tires, factory recommended maintenance, or brake repair, your local Midas has you covered.
*See store for applicability and limited guarantee terms
Average Rating:
55

reviews
Excellent Service  
I was impressed with the overall performance of the shop. They carried out the service on my vehicle and they have me as a committed customer. Bill Weekley
- Bill W.
Oil change  
Excellent service.
- Mohammed A.
perfect service  
the staff at Midas on Wharncliffe rd handled my service call with a seamless excellence.. as always.. Thanks
- Gord H.
Roy A  
Perhaps communication could be quicker and more accurate. Advised that something needed to be done and perhaps this was not as accurate as it could have been. No question my drivers mirror was an accident waiting to happen but the passenger side not as damaged as suggested. Appreciate consideration given on labor costs. I'll still bring my truck in for service
- Roy A.
Mike and the boys  
It was evident from the minute I walked in that I was in for a great experience. The shop was clean and nicely appointed, not unlike many other shops however mike and his crew make it much more. From offering sound advice to friendly discussions I watched as they balanced the needs of their customers with the various jobs that were ongoing. They remained positive and even when customers were upset or frustrated they kept their cool and always seemed to advocate on their behalf. The work was done quickly and without issue. I will definitely be back.
- Mike C.
My Visit To Midas  
I went to Midas because I had an exhaust system problem, and Midas I thought were exhaust/muffler experts (I didn't know they were now more than just mufflers). Well. the price went from $600 to $900, a pipe was needed that originally wasn't needed, and the wrong pipe was ordered; but other than that the washroom was spotlessly clean and the people friendly, even if they didn't have a clue about proper football. And the car runs better. So I guess all in all a happy ending.
- Geoffrey C.
Highly recommend  
My expectations were exceeded at Midas - They have excellent customer service and the mechanic explained the problem and work was completed efficiently - would definitely recommend Midas on Wharncliffe
- Janet R.
Great Service  
Service is excellent here. Maintenance costs are reasonable. Quick to make appointments. No long waits.
- Carrie B.
Great service and accomodation  
After not being able to get into my dealer for an appointment, I called Midas on Wharncliffe in London. The service, accommodation and personality from all of the employees was exceptional. I had a great experience and I will be returning in the future. Thanks again!
- Ashley M.
Trustworthy  
Great service and friendly staff that make sure you know (and see) exactly what they are servicing ahead of time.
- Dylan F.
Great Service  
My service advisor was awesome! Provided great service and got me in and out in no time!
- Lindsay B.
First time customer very impressed!!!  
I had an excellent experience with this location! From my initial call to the completion of the inspection! Everyone was so knowledgeable and friendly!! We definitely will return!! A special call out to both Michael and James for their professionalism and honesty throughout my experience!! Jen
- Jen M.
visit 1  
I was pleased with my visit to the Wharncliffe South store. the staff was friendly and explained all that needed to be done. Well done .
- Donna B.
Satisfied  
The staff was friendly and the prices were fair. I'm happy with the service I received.
- Joe G.
Great service  
I've always had a great experience with the staff and service.
- Paul N.
Excellent Service!  
I was in a tight spot. I was in London, 2.5 hours from home, on a Saturday, with the April ice storm just starting. The staff were courteous, helpful, sympathetic, and most importantly, fair. They recognized my unique dilemma and made every effort to solve my muffler problem quickly, without gouging me financially. it was much appreciated!
- Paul W.
Honesty  
I would highly recommend Midas on Wharncliffe Rd in London. They were polite, courteous, and honest to me about the condition of my vehicle. The mechanic pointed out the mechanical failings on my car to me and he did not encourage me to spend any unnecessary money on it. I will be purchasing another car in the near future and I will not hesitate to come back as a repeat customer. I will also recommend Midas to my friends and family for their honesty.
- Ted M.
Mike is a great service Manager  
Dan is a great mechanic Keep-up the good work
- Matt F.
Hands down greatest customer service!  
Midas on wharncliffe always has the greatest customer service. They go out of their way to make engaging small talk, also to make sure you're comfortable while you wait. They make sure your car is safe and let you know what needs to be done instead of scamming you into parts you don't need! Love them there!
- Jessica T.
Great!  
I am very happy with Midas. Glad that Kamal recommended me there, the hospitality there was very comforting. Trustworthy, will definitely be back and will recommend to Friends and Family.
- Fares A.
Great service!!  
These are my go to guys!!! Honest and reliable bunch.
- Jeanne M.
5 STARS  
Amazing customer service and they have do such a great job!
- Julie N.
Repair  
They my be a little more expensive then some other shops but always try and find you the best price and have a great and friendly staff who do there best to help you out
- George D.
Service  
My experience was knowledgeable and informative. I am pleased the parts are backed and under warranty by Midas. Price comparison and warranty values you really can't go wrong servicing a vehicle here.
- Laura M.
Great. Customer service.  
Thanks for keeping us on the road safely. Staff are great
- Chris B.
Very professional and courteous  
First time taking my vehicle for an oil change and I was impressed with the service and how nice they were. Will definitely recommend them.
- Georgina M.
Excellent Service  
I received excellent service on my first visit. Prompt and fixed my car issue at a reasonable cost. I will be back. Highly recommend this location.
- Carrie B.
Amazeballs!!  
Excellent customer service! The guys are great, never patronizing, never rude. They explain everything on my level and never try to force me into things that unnecessary. I feel very confident having my vehicle serviced here.
- Tayna A.
Great place  
I'm normally not a fan of places like this but these guys were awesome. They did a great job aiming my headlights and are super friendly.
- Josh H.
shop rating  
absolutely..... and already have
- Randy B.
Helped  
They are great. These guys helped me push my car into their garage when it broke down outside a near buy restaurant
- Nick C.
Roy A  
As always guys did a great job. I'll be back again
- Roy A.
Awesome Experience  
For years I took my cars to jiffy lube but they never check anything out on your car other than just doing the basic oil change. I like to know if something is starting to go on my car. So when the guys at Midas did my oil change they also put new screws in my skid plate (which I brought with me, because jiffy lube said there were some missing) and also let me know my back brakes were getting a little rusty, which I already figured I would need brakes soon but felt great when they let me know! I would definitely recommend this place to anyone :) Also no wait time they got me in that day. Thanks Midas
- Roseanne A.
Quick, courteous and helpful.  
Visiting friends in London the brakesin my car acted up horribly so I called Midas and Tony got my car in for service in 30 minutes, then had all of the repairs finished within 3 hours of my initial call. Tony was understanding, courteous, helpful, and honest, and he made what could have been a bad situation manageable. Additionally I met another empkoyee named Michael, and although the interaction was brief he was polite and thoughtful in his help as well. I would recommend working with Tony at Midas to anyone, nothing more can be asked in terms of treatment and service. Thank you Tony.
- John M.
Great service!  
Great service, super friendly, and easy to deal with!
- Kali S.
New Brakes  
Stopped in on Thursday due to strange dragging noise from wheel area of my car. The Mechanic, Paul, knew right away - just by looking that the brakes were wore down. Was able to get booked for 1st appointment Friday to have new brakes installed. This was great, heard "Flash Freeze" was going to happen. The work was done in a couple of hours. Thank you for your quick turnaround time. The service was friendly.
- Janet S.
Amazing!  
I would recommend this Midas location to anyone! The service was amazing.. the customer service was even more So! My vehicle needs were met and then some and attention to detail was of their main focus! It was a tad long of a wait however it was worth it! Will be going back for all my car needs!
- Meghan O.
Always friendly  
I did have to wait between 5 to 10 minutes for someone to come out and provide service. I could hear someone on the phone in another room but otherwise no one else was about. I like to keep my business local and this shop is just a few blocks from home. My last visit was a little worrisome - I had an appt. for an oil change and waited in the lobby for 1 1/2 hours, it's a long wait for an oil change :( This time with no appt. I did an oil change and wiper blade change and even though they didn't have the blade size I needed in stock they brought it in quickly. I like the staff here, they are always friendly and polite. They always offer a beverage and there are magazines and TV while you wait.
- Heidi M.
Knowledgeable  
Friendly, reasonable and knowledgeable. Cannot ask for more
- Marie C.
Tire change  
As usual everyone is very friendly, knowledgeable and professional.
- Nancy A.
Winter tire service  
The service that I received was fantastic! Thank you!
- Rebecca S.
Great customer service  
Its about building the trust. Everyone there has just been very accommodating. They want you to make the decision based on their assessment without any pressure or force. Sometimes it costs you more but in turn the peace of mind you get knowing that they've made sure your car is good to go is all worth it.
- Allan M.
such professionals!  
Amazing service by the front desk experts and Dan, licensed mechanic. Back for more later today! Appreciated that I was respected as a female customer with knowledge of my vehicle.
- Chris H.
My Midas Experience  
I can't say less than super fantastic in shop experience at this Midas store. So, here I am in London, ON (on a business visit) at noon on a Thursday after a long week away from home and my Mazda 3 start having problems with the gearbox change patterns. it turns out that a critter had started a nest under the hood while I had parked at the location I was visiting, shewing some wires. I managed to reach this Midas location and Michael (store Mgr) assisted me on my bisar situation. he immediately, asked to look at the engine and told me that hey will get it fixed. He called different dealers and parts shops and couldn't find the main cable needed to repair the car, at one point he mentioned that the dealer wanted $1700 for the cable and that might take up to 3 days to replace it (my face, just dropped!!). He said not to worry, he will get it fixed!. so, he arranged for me to pick up a used part at the wrecked car yard nearby and so I did. By the time i got back, he had asked his mechanic (good fellow, can't recall his name now) to attempt sodding the wires together, which was like surgery he mentioned, and by the time i got back from picking up the part the car was fixed!!! I was thrilled Until the time i had wrote this review the car had driven over 280km and no issues whatsoever. I'm not sure if Michael will read this but, I can say that not many garage shops "fix vehicles" all they do and suggest is "replace parts". Well Done Team Midas. Rest Assure that Midas will continue to be my preferred Garage repair shop for a very long time!! Thanks Pedro
- Pedro C.
Oil change  
Awesome job
- Mahmoud A.
WOW  
Exceptional from beginning to end. I will be back. I will tell friends and family too. Great job, Midas!
- Matt S.
Great Service!  
I came in for an oil change and the work was done very well and efficiently. The two people working on the front desk were very nice and helpful !
- Kevin M.
First class shop!  
Outstanding service! It was my first visit and they will be getting all my future business!
- Mark O.
Excellant Service  
You are made to feel welcome from the first step in the door ! Very professional service and shown exactly where the problems are. They explain the issue in everyday words that anyone can understand. Would recommend this station on Wharncliffe Rd. South to everyone.
- Mary H.
Feels like home  
Michael and Dan are just like old friends. I love their honesty and caring manner but most of all their skilful knowledge of cars.
- Genia C.
Always satisfied  
Mike, Dan and the crew at Midas always take care of their customers with highest level of concern. They don't pressure you to buy any parts your car may need, but do ensure you're aware of issues that may persist. I'll continue returning to Midas for all my car needs.
- Melissa D.
Excellent Service  
The service at Midas on Wharncliffe is amazing! The team there is extremely trustworthy and professional. They explain everything to you in detail so you feel confident in the service you are getting and the work that they do. The customer service is the best out there and I don't trust my car to anyone else. I actively recommend this shop to my friends and family!
- Katrina W.
Great service  
John and Michael are great. We always get friendly, knowledgeable service with easy to understand explanations for everything they are doing.
- Ed H.
great customer service  
Just went in to Midas on Wharncliffe for a $29 oil change and had the best customer service that I've ever experienced at an automotive facility, and that includes dealerships. If you want to be treated fairly go here!!
- Alex S.
MIDAS TOUCH.........  
First thing that strikes you is the open space, clean, and bright. Next Michael with his friendly ' hello ' and smile. Been to other Midas before, and I must say this is the TOP , the service was SUPER, the people working there where PROFESSIONALS, and what to say of the owners.... great people, glad I came in and had my car checked, because there where small things they pointed out that could have gotten to BIGGER problems if I had not taken care of them. Overall on a scale of 10 these gentlemen get a 11
- Anthony S.
10
Write a review
We would like to hear about your experience at Midas.
Request appointment
Great auto service is only a click away.
Complete the online form to request a service appointment or call us for an inmediate appointment.
Thank you
---
We really appreciate your feedback!
Would you like to share your review? We've made it easy for you to share your review on Yelp or Google Places. No thanks, I'm finished.
Step 1
Use the button to copy the text of your review.
Step 2
Please click the Yelp or Google Places icon below, then click Write a Review. Follow the instructions to publish your review. To Paste the text on Windows use "control + v". On a Mac use "command + v"
Thank you
---
We really appreciate your feedback!
Would you like to share your review? We've made it easy for you to share your review on Yelp or Google Places. No thanks, I'm finished.
Step 1
Press and hold inside the review text to copy your review.
Step 2
Select the Yelp or Google Places icon below, then select Write a Review. Press and hold inside the review space to paste your review.
Thank you
---
We really appreciate your feedback!
Programs
ASE
ASE Certified
Motorists Assurance Program
Amenities
WiFi
Pick-up/Drop-off Services
After Hours Drop-off
Coffee
Children's Waiting Area
Magazines
Online Appointments Available
Online Estimates Available
Online Tire Shopping Available
---
Community involvement
Drive Out Hunger: Food Drives

We host food drives to benefit our community food bank.

Learn More
---
Payment methods
The Midas Credit Card offers instant credit and easy terms to qualified applicants. Subject to credit approval. Minimum monthly payments required. See store for details. Get Details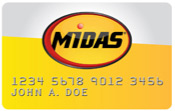 Join the Midas team at 456 Wharncliffe Road S, London, ON, N6J 2M9
Build your future with a leader in the automotive services industry...Midas.
Midas is one of the world's largest providers of automotive service, incluiding exhaust, brakes, steering, suspension, and maintenance services. Midas has more than 1700 franchised and company-owned Midas locations in the United States and Canada.
Midas is committed to earning our customer's trust by offerring them the expertise, value and reposiveness they expect... every time they visit us.
Positions at Midas
Automotive Technician
Customer Service Representative
Join the Team
Service Advisor
Thank you!
Thank you for your interest in Midas. We will review your skills and experience and will contact you if your background matches the available position. If there is not a fit at this time, we will keep your information on file for any future openings.
Please Note: This employment opportunity may be with an affiliate of Midas International Corporation or it may be with an independent owner and operator of a Midas shop.
Midas Management at 456 Wharncliffe Road S London, ON N6J 2M9.
Sending Message... Please wait.
Apply at your local Midas