Rating:
58

reviews
Please wait, sending notifications
---
Thank you! Information about this Midas shop has been sent to you. We hope to see you soon!
Close Window
Sorry, your start location could not be found. Please try again.
Midas
danbury

is your one-stop shop for brakes, oil changes, tires and all your auto repair needs.
Midas stores are owned and operated by families in your community dedicated to providing high quality auto repair service at a fair price. And their work is backed by our famous Midas guarantee* Whether you need an oil change or tires, factory recommended maintenance, or brake repair, your local Midas has you covered.
*See store for applicability and limited guarantee terms
Average Rating:
58

reviews
Superb Service  
Excellent service- fair price! Never pushy about getting those "extra" things done that add up $. Friendly staff nice facility. Highly recommend this shop.
- Michael C.
Air conditioning  
Fix reinstated cooling but not well enough to handle 85 degree temps.
- James D.
Best Brake Work Ever  
Caldwell and Mike are the best at letting you know what needs to be done on your car and how much it will cost before taking the action. I love knowing what my car needs in advance and appreciate their concern for my safety and maintenance of my car. If you need tire, brake, muffler service - this is the place to go and these are the guys to see!!
- Donna F.
Superior Service Always !  
Mike and his crew are AMAZING !! Being a loyal customer for over TEN years my husband and I would bring our car's to No other mechanic . I can not say enough about their knowledge of ALL auto repairs no matter how big or small the job is. Whether it be my Mercedes or my husband's Chevy. The team is always courteous , professional, providing prompt service and a detailed explanation of the services preformed even in a language I can understand ! Fair pricing on top of the superior service. Very honest and trustworthy . I have been driving for over 40 years and we have seen our share of mechanics. We are blessed to have Mike Cannito and his crew for ALL of our automotive needs. Thank you Mike and Crew ****
- Melissa M.
Subaru check- up  
Another excellent job by Mike & the boys
- Brendan S.
Done right  
I do most of my own car work, but I had my wheels balanced on my 2007 Chevy 3500 Duallie at your shop. Not only was it done properly as evidenced by the smooth ride at highway speeds, but the tires were inflated to spec and the wheels were torqued with a torque wrench carefully on the hubs. This level of detail does not exist in most commercial shops where they will usually just put the lug nuts on with an impact gun so when you try to get them off with a lug wrench, you're out of luck. I appreciate the attention to detail in doing the job right.
- Tony C.
Major mechanical work - changing Timing Belt and accessory hoses.  
Fantastic service, courteous, prompt, and knowledgeable. I would recommend to anybody ...friends and all.
- Charles M.
Fuel System Magic  
My old car's fuel system developed some leaks. The guys replaced the rusted parts and fabricated custom brackets to put everything back together. Great!
- Dan Z.
Great Job  
Fast, great quotes, and excellent job. Thanks for all your hard work.
- Kevin N.
Excellent Service  
The mysterious noise was discovered and resolved. I could not be happier with the service provided.
- jack K.
Quick and easy  
Took my car for the oil change immediately and was finished really fast.
- Joe N.
5 stars plus  
Mike and his staff are outstanding in every way. I have been a very satisfied customer for over 20 years. I rate them 5 stars plus.
- Sara k.
Saved Our ***  
We were in the middle of a job when the brakes started to go. Mike and Caldwell fixed it quickly, reliably and at a fair price. Could not ask for more.
- Frank S.
Best Shop In Town  
Mike and staff did another great job when my check engine light came on last week! I would never go to any other shop. If you need quality care for your car, this is the place to go. Very clean, courteous and comfortable.
- Kathleen M.
Great service  
The service was fast and professional, the employees are very friendly.
- Sara R.
Top Service  
Mike is the best Honest gives you 3 options to go with and you can to do the repair. Wonderful service.
- James J.
Going above and beyond...  
The technician at my Danbury Midas couldn't rotate my tires recently because a lug nut had seized up since the last rotation and oil change. Even though they may not have been the cause of the problem, Mike offered to fix it anyway, without cost! This is a level of service not often found elsewhere. It makes a big difference. I appreciate it. Thank you, Mike!
- Ken B.
Excellent service  
Excellent service from the time i walked into the shop until the care was finshed. quality of work was top notch and I will be using them again if ever needed.
- Gerald D.
Fair Prices Exceptional Staff  
They were able to fit my car in for an oil change and tire rotation on a busy saturday. Fair prices and great service. Really appreciate it!
- Richard T.
Great service  
Keep up great work
- Lynwood W.
Excellent Service!  
I am very impressed with the excellent service at Midas of Danbury. Everyone I deal with is honest, courteous, and helpful, and their prices are very fair. Beyond that, the facility is immaculately clean...and the coffee is great, too! I highly recommend them.
- Anne S.
Excellent service  
Very very happy with the service I received from Midas. Very very helpful staff especially the Manager Michael. Thank you Mike for all the help you provide me and my wife. God bless you.
- Valued Customer D.
Best Ever!  
Mike winterized my car, got me a great price on new tires and battery and I am completely confident in the work he did. I have been going exclusively to Midas since 2011 and would never consider any other shop. They are the best and everyone from Mike and Dawn to the mechanics are the nicest people. As a single lady, I depend on Mike to keep my car in top shape. You cant go wrong with this Midas.
- Kathleen M.
Perfect as usual  
Please ignore anyone who would ever have anything bad to say about this shop. Mike and his crew do an amazing job. They're knowlegible, funny and care about what they do. I will never go anywhere else.
- Dan U.
Exhaust system  
Mike and the mechanics did a fine job fixing the exhaust system leak and the bill was cheap great work great price merry Christmas to midas and family Thank you happy new years
- Adam K.
Work on my Subaru Forrester  
As always great work would not expect anything less from Mike and his crew . It is nice to have someone like that taking care of your vehicle
- Brendan S.
1st visit $aved $1000 MIKE ROCKS!  
I can see why this place has not one negative review less than perfect. Another business closest to us gave us an estimate over $1,500. Our mechanic friend estimated $700. Mike gave us an estimate of $600. WOW! He explained everything in language I understood. If he noticed I didn't quite understand, he was kind enough to make an analogy. In addition to $aving us so much money, he also topped off all fluids, cleaned the corroded battery connection cable, and checked for any necessary maintenance or repairs. All we need are 2 new tires in back which we knew about. He didn't pressure us into buying today, but did recommend very soon because of the winter season. HONEST, patient, efficient, courteous, professional, on time, top notch customer service that I've NEVER seen in my life, seriously ! And even a thank you letter inside with the invoice. IMPRESSIVE. This manager Mike Cannito needs to be running the show for ALL MIDAS locations! I'll drive to the next town over during rush hour any day to go to this location. That's how happy we are. We will be back :)
- Becky & John F.
Love Midas ❤❤  
Yes I would recommend this location. I always use this location and have been using them for many years. I appreciate there loyalty and expertise.
- Monica C.
Honest, quality work!  
I don't think I can say enough about Mike and his team. They do quality work for a fair price. They explain things in a way that makes sense to me because I know nothing about cars. They have been working on my car doing routine oil changes and addressing anything else that has come up for the past seven years. I wouldn't trust my car to anyone else. Thank you!
- Kathleen P.
Winter ready  
Mike winterize my car, sold me new tires and batteries, fixed my muffler that was still under life time warranty, did my oil change, filter change and I can now drive with confidence in any winter storm.Ike is the best and I would never go anywhere else. Any problem is corrected the first time and they work very fast.
- Kathleen M.
Great Service  
I want to thank Mike the manager at Midas in Danbury for the exceptional service, it felt like he was a friend as he explained the estimate and the final bill after the work was completed. he even took the time with my daughter to explain what was done to her car. The work was on time, under budget and Mike stayed in contact with me during the day. I never had to wonder what was happening to my car. Thank You!!
- allen h.
Midas - Main Street Danbury Ct *  
I would not take my car anywhere else. Mike is fantastic. He and his team are so professional and courteous. The problem is always explained in detail , in a way I can understand. The work is always done right the first time. They are very fair . I have been servicing my car and my husbands car there for over 10 years. We would not go anywhere else. They are the best ! Thank you , Melissa M.
- Melissa M.
Outstanding service  
Have been a customer since 2000. I won't go anywhere else.
- Edward M.
Great place/ Talented  
I've been to this Midas repair shop many times over the years. Long story short.. these are the most talented people in their field. They really try to help you without costing a fortune. I pass a lot of other repair shops to get to this Danbury shop because I know they will do a great job and try to keep the price down..
- Kevin L.
Excellent  
The technicians at Midas r very professional and honest.
- Julius D.
Brakes  
Great team... we will miss you Dawn!
- Robert C.
Trustworthy service  
Thoroughly inspected my car. Performed only necessary service. Did not over-charge. Cheerful and courteous. I trust this Midas location completely, and will continue to bring my car here.
- Victoria F.
Professionalism at its best  
Mike and his crew, are diligent and trustworthy. The workmanship on our cars, always first class. My husband has been going to Midas with Mike at the helm for more than 19 years. Characteristics of all the mechanics, Mike and Dawn manning the front desk: Courteous, friendly. Hometown attitude.
- Elizabeth & Dom R.
I found a gem!  
I went to Danbury Midas for the first time a few week ago. The best auto repair experience I have had in many years! It's a 25 minute drive for me, but I'll happily return whenever I need repair work.
- Mike B.
Great Job  
once again Midas with Dawn & Mike and the crew do a great job repairing my wife car . 4 brand new tires and alignment ,oil change she is good to go ,Tnxs again guys
- Brendan S.
The Best,  
Mike and Dawn are the best.
- Dave M.
Major car service  
I had oil change, alignment, diagnosis And other components of major service done in a very efficient and timely fashion. Great staff lead by Michael and dawn. Ipe
- Ipe G.
Car  
I had gone to Midas to have my car worked on and Mike and his team were just amazing. Very friendly and the price was great. I would definitely take mh car there again and recommend them.
- Jason A.
Regular customer  
I like using Midas in Danbury, they're friendly and helpful and always help me save money on standard repairs, like brakes, belts, etc. The quality of work appears to be excellent also.
- Brooke M.
Great job on my Subaru  
Again a great job done on my Subaru . Ready for the Summer . Mike & Dawn always do the job right . Need a air filter no problem
- Brendan S.
quick turn  
being able to schedule an dependable appointment in addition to professional service is so helpful and refreshing . set up for 1130 on a friday, but when i saw lots of cars on the hoists it looked like a long wait. Amazingly . 20 minutes later, at 11:50 I was on the road again after an electrical fix . And treated like a king by Mike and Dawn.
- jack s.
Exceptional service  
Dawn and her staff were very knowledgeable and extremely transparent about the repairs that my truck DID NOT need....greasing the U-joint was all that was needed and no charge for that!!! The mechanic put the truck on a lift and showed me what was causing the rough sound. I can trust that if I'm not around, my wife can go there and not get bamboozled...."M'am you car is low on on headlight fluid....that'll be a small charge of $250." ...been there.
- J B.
Best service & repair ever  
fully agree with the reviews.Exhaust was leaking into the cab of my pickup truck.Not good. Mike,expertly did a very difficult repair and Dawn was amazing. The cost was more than fair. I was very lucky to have called experienced professionals. I will be back and will tell others .
- jack s.
Yes  
Once again . Mike & Dawn do a great job . This was my wife car so they take great care of it . Found some small things that needed to be done after the tough winter . Always bring my cars to Midas
- Brendan S.
Integrity  
As usual, the only place I will go for repairs is here at Midas in Danbury. They take the time to find the problem and do the right thing. Mike and Dawn continuously will keep you updated on the status of your car. Example, Mike called me a t 8 o'clock one evening to let me know how they were progressing. It went in for brakes and an engine light. We thought the engine light was fixed, but they are tricky. It turns out after I brought it back because the light came back on, that the one part that was bad was causing it to identify another part to be bad even though it was not. They did the right thing without me asking, and charged me for the part that did need to be replaced and refunded me for the part that did not. They easily could have had me pay for both, but they did not. Integrity is doing the right thing even if no one is there to see it. This they did. They have a great team there. Thanks again.
- Jarett F.
Honest & personable  
I found Midas when looking for a shop to repair a rotted flange on my exhaust. While inspecting the problem, mike found some other issues with it & was concerned about problems down the road. I was very impressed with his honesty that I had them replace the system from the converter back. I've been taking mine & my wife's car there ever since. I also enjoy the personality of dawn she has a very professional attitude & a great sense of humor. They are also very accommodating I had to leave my vehicle for an extended time one visit & staff member Robbie loaned me hiis personal car for the day. They really mean when they say trust the Midas touch.
- Richard B.
Honest & personable  
I found Midas when looking for a shop to repair a rotted flange on my exhaust. While inspecting the problem, mike found some other issues with it & was concerned about problems down the road. I was very impressed with his honesty that I had them replace the system from the converter back. I've been taking mine & my wife's car there ever since. I also enjoy the personality of dawn she has a very professional attitude & a great sense of humor. They are also very accommodating I had to leave my vehicle for an extended time one visit & staff member Robbie loaned me hiis personal car for the day. They really mean when they say trust the Midas touch.
- Richard B.
Excellent Customer Service  
Couple reasons for my review: 1) I was sitting next to an older woman having my oil changed. Mike Cannito approached her to let her know that they found a problem with her car (some water leaking into the car somehow) and they fixed it. When she inquired about the cost, Mike told her she didn't need to pay. That's great customer service because I'm sure she'll come back for any other car needs. 2) The woman behind the counter (I can't remember her name) was incredibly pleasant with the 3-4 different customers that she serviced. I commented to myself that her pleasant disposition made everyone leave with a smile. 3) Really quick, reasonably priced service with a smile. 4) Very clear facilities (and I've seen some doozies). Overall, great experience at the Midas Danbury!
- Albert H.
Very honest and professional  
Even though its not close to my home I have taken my car here a few times, including for one major repair. I find Mike and Dawn to be very honest and profession. They are not pushy and don't try to upsell additional repairs or services as most shops do. They just provide honest recommendations. So well worth the trip!
- Tom G.
The Best  
You can't beat Mike and Dawn. They are the best.
- David M.
simply the best  
I have been taken my cars to Midas since a good friend of the family recommended them some 5 years ago . We are so happy with Mike & Dawn and all the crew who work there . we had a difficult problem over the holiday season and it took a few days to correct but the crew lead by Mike fixed it to our satisfaction . we are so grateful for those expert mechanics .
- Brendan S.
Not Bad  
I had divorced my independent mechanic and need a quick exhaust fix. With my extended family is in the auto repair business (FYI..my family lives 600 miles away) and therefore I had an idea of the parts & labor costs prior to the estimate. Their estimated price was inline with expectations (*/- $75). Dawn at the front counter was very pleasant, friendly, upbeat. I would have no issues with returning.
- Jay M.
They care.  
We bring our two family cars in regularly for routine service and whenever anything doesn't seem "right". Mike Cannito and his crew do everything to satisfy me that they overlooked nothing and we can drive with confidence.
- David R.
10
Write a review
We would like to hear about your experience at Midas.
Request appointment
Great auto service is only a click away.
Complete the online form to request a service appointment or call us for an inmediate appointment.
Thank you
---
We really appreciate your feedback!
Would you like to share your review? We've made it easy for you to share your review on Yelp or Google Places. No thanks, I'm finished.
Step 1
Use the button to copy the text of your review.
Step 2
Please click the Yelp or Google Places icon below, then click Write a Review. Follow the instructions to publish your review. To Paste the text on Windows use "control + v". On a Mac use "command + v"
Thank you
---
We really appreciate your feedback!
Would you like to share your review? We've made it easy for you to share your review on Yelp or Google Places. No thanks, I'm finished.
Step 1
Press and hold inside the review text to copy your review.
Step 2
Select the Yelp or Google Places icon below, then select Write a Review. Press and hold inside the review space to paste your review.
Thank you
---
We really appreciate your feedback!
Programs
Better Business Bureau Accredited Business
ASE Certified
Motorists Assurance Program
Amenities
Online Appointments Available
Online Estimates Available
Online Tire Shopping Available
---
Payment methods
The Midas Credit Card offers instant credit and easy terms to qualified applicants. Subject to credit approval. Minimum monthly payments required. See store for details. Get Details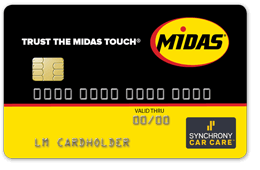 Join the Midas team at 350 Main Street, Danbury, CT, 06810
Build your future with a leader in the automotive services industry...Midas.
Midas is one of the world's largest providers of automotive service, incluiding exhaust, brakes, steering, suspension, and maintenance services. Midas has more than 1700 franchised and company-owned Midas locations in the United States and Canada.
Midas is committed to earning our customer's trust by offerring them the expertise, value and reposiveness they expect... every time they visit us.
Positions at Midas
Automotive Technician
General Service Technician
Join the Team
Thank you!
Thank you for your interest in Midas. We will review your skills and experience and will contact you if your background matches the available position. If there is not a fit at this time, we will keep your information on file for any future openings.
Please Note: This employment opportunity may be with an affiliate of Midas International Corporation or it may be with an independent owner and operator of a Midas shop.
Midas Management at 350 Main Street Danbury, CT 06810.
Sending Message... Please wait.
Apply at your local Midas