Rating:
50

reviews
Please wait, sending notifications
---
Thank you! Information about this Midas shop has been sent to you. We hope to see you soon!
Close Window
Sorry, your start location could not be found. Please try again.
Midas
sun city

is your one-stop shop for brakes, oil changes, tires and all your auto repair needs.
Midas stores are owned and operated by families in your community dedicated to providing high quality auto repair service at a fair price. And their work is backed by our famous Midas guarantee* Whether you need an oil change or tires, factory recommended maintenance, or brake repair, your local Midas has you covered.
*See store for applicability and limited guarantee terms
Average Rating:
50

reviews
great service  
I am never going back to a dealership if I can help it, you folks do so much better. Looking forward to being your customer for a long time.
- Brad N.
Midas Oil Change  
Was preformed wail we waited checked our brakes and recommended to have them replaced. thank you
- Stephen C.
Honda Oil/Brake light  
Tony and his staff always do a great job of servicing our family cars.
- David K.
oil change  
Oil change great, in and out in an hour. Not bad. Price great.
- Joe Q.
Excellent service  
I like the professional service I get...
- Tony M.
Midas Santa Fe Dr AZ  
As usual , another great customer experience with Midas in this location. Tony is always professional and willing to help. He is very knowledgeable and very honest and trustworthy. His staff Paul and Mary are great and the service personnel too.
- Celso R.
Quality customer service  
The Midas team at Midas Sun City was, as always, professional. Prompt courteous service is their standard. Thank you Tony and team.
- Michael N.
Outstanding service  
Tony and the rest of his shop do an outstanding job of taking care of my family's vehicles, and if a problem arises, they are quick to resolve it.
- John C.
Awesome!  
Tony and Mary are the best! They have a life-long customer. In all my years I have never met a more honest and caring company.
- Jeff F.
Great Service!  
I know I can always count on great service from MIDAS!
- Gerri J.
Recent repair at Midas  
As always, my car was repaired quickly and at a fair price. Best car service place ever! The AC was not working and it is truly needed here. Now it is working well and we are happy.
- Ginger G.
mark cannard  
Great job
- Mark C.
Outstanding Exhaust Replacement Service  
This will be my only place for service on my Ford from now on. The professionalism and quality of work was above my expectations. Well not totally, as this specific shop had been recommended to me. Now I understand why. Cost was much lower for similar service at other shops. I was in and out in a half day for a large job. This was a busy place. A great place.
- David C.
Lorna G  
They are the best. Their honest and not out to take you for a ride. I trust them with my cars. Our whole family uses Midas. Thank you Tony.
- Lorna G.
Great Service every time  
I've chosen Tony and his team at Midas for the last 10 years. Never disappointed.
- Jill W.
Bonnie P.  
I had one of the best experiences ever. I was in the hospital and Tony had my Hummer repaired and delivered to the hospital so I would have a way to get home. I highly recommend Midas as it seems to me that they will go out of their way to help!
- Bonnie P.
Awesome as allways!  
Awesome as allways!
- Jeff F.
Great Service  
I have been coming to this location for over 2 years since they fixed my breaks. Always receive great & professional service!!
- Millie W.
Oil change  
Great service and welcoming feeling. Tony is friendly. Mary, too. Got 2 discounts! My lucky day.
- Jean E.
Brakes and tires  
Excellent service, Tony and the crew did a great job on our car. Good value for the money, recommended for your auto service needs in Sun City, they do everything.
- Tim W.
Great place for all of your automotive maintenance needs.  
They worked me into the busy schedule to handle an air conditioning problem. I am in Arizona and air conditioning is essential. Also changed my oil. All personnel extremely friendly and accommodating.
- Kathryn L.
Great as usual  
As usual with Tony and his wonderful crew my service was quick and efficient. I love this place and even though I have to see them when something is wrong it is like seeing family after a time apart. I recommend Tony to anyone that is looking for great service and great mechanic work. Thanks Tony, Mary and the rest of the guys!!
- John C.
Ahead of schedule? What?  
I have taken my car here a few times for routine things and been very happy. Last week my car started over heating so I stopped in here (Wed) in a panic! It was later in the day so I just assumed they wouldn't be able to look at it until the following morning. Within about 30 minutes they were able to tell me what was wrong with it. Unfortunately it needed a fairly expensive Kia (hybrid) part that had to be ordered, then Kia called back and said it was on back order. Ugh! Oh well, what can you do? Anyway they said the part would be in Sat at the earliest, more likely Mon. I got a call on Fri saying the part came in early and it would be done Sat. They called me Sat AM saying it would be ready by noon and it was! I was able to turn in the rental car I had 2-3 days early! Amazing! These guys are great! Honest! No upselling! ?
- Sandy S.
Service  
My family and I have been going to Tony for almost 20 years and they have always taken care of us.
- Derek J.
Another Great Customer Experience  
Tony again provided the best service, not to mention his people skills, professionalism, wide knowledge and giving service options. He has always been honest and fair in pricing and car maintenance recommendations. This is why you always see his customers happy and thankful after the service.
- Celso R.
The best  
I've been going to the sun city location for over 10 years now and I wouldn't go anywhere else. Even though I don't live close to it any more it's worth the drive. Tony always takes care of his customers. The staff is friendly and I never have to worry what they are tell me is necessary or not.
- Leaha G.
My shop  
I highly recommend this shop. I moved to AZ almost 2 years ago now and this has been my shop since day one. The people are the best, the service is second to none. They are as trust worthy as they come and have proven it to me time and time again. Since coming to AZ I have moved twice and had two different cars and these guys have seen me through ever trouble. Even though they are not the closest shop to me anymore I will continue to drive over 25 minutes to them rather then go anywhere else. Tony and the whole crew here treat you like family! Thanks guys! Keep up the great work!
- Hayden P.
oil change etc.  
i made an appointment on line. everyone was so professional and nice! Gave me positive feed back on my Toyota Corolla! Thank you!
- Donna F.
Trustworthy  
I trust these guys to do the job right. They stand behind their work and are always pleasant and courteous.
- Debra L.
Trustworthy and considerate  
I will go out of my way to get my oil changed or brake service at this site. I feel that I am getting correct information and service on my car. This is very important for a single, retired woman.
- Kathryn L.
Excellent Service  
I have brought 3 different cars in for service. Tony and his team are always very nice and they only recommend the service needed. On 2 different occasions, they showed me that the service recommended by the dealer was actually not needed. I am very impressed with their honesty and integrity!!
- Buddy B.
This Midas shop has my trust  
This was the third shop I tried since coming to the valley. It is the first shop found to be honest and respectful. I have been using this shop for over two years without any problems. Tony, the owner, is available to listen to any questions, explains the work and is a pleasure to do business with. Honest and competent work will always gain loyal customers. I am so grateful to have found this auto service company.
- Ginger G.
Best shop ever!!!  
I have been a client of Tony and his crew for a long time but my last experience with them just showed how special they are! My transmission went and they repaired with their usual quality service and timely manner. Unfortunately I was dealing with a serious family health issue at the time of repairs and Mary and Tony were great about everything and helped us tremendously at the time. I want to thank Mary and Tony for the love they showed us and we highly recommend their shop to everyone we meet. This isn't only a special shop but these are special people and that makes the experience even better. So thank you Tony, Mary and the entire crew there...we love you!!
- John C.
Good service, but things can improve  
This location has always given me AWESOME service and I will always come here to service my vehicles. However, there are some areas where they could improve: 1. Computer system. they have my old vehicle listed in their computer system. I have repeatedly asked to have it removed but it hasn't. 2. Pot Holes/ Building. There are too many pot holes in you drive way and the outside of the building needs painted. Fixing these things would show your customers that the management team had pride in their business. I truly hope you will have them fixed. Thanks!
- Ty B.
Thanks  
I am a long time customer and as long as Shane and Tony are around, I will continue to give them my business.
- Joel G.
annual checkup  
I feel I have finally found a place that I trust to not take advantage of a single woman! The staff has always been extremely helpful in every way. Special thanks to Tony.
- J G.
Fantabulous!  
A great service team in a blend of harmony and professionalism. When you have your vehicle serviced at Midas, 9958 Santa Fe Dr in Sun City, you don't have to open the hood for anything until your next appointment.
- Angel M.
Excellent Customer Service  
This was my first time at this Midas and the customer service & professionalism given by Shane was stupendous. He was so thorough on explaining and showing the problems on my car, that it made me feel how honest this place really is!! THANK YOU!!
- Irene N.
Outstanding Service  
Shane and his crew are the best. Outstanding service and quick turn-around. THANKS!!
- Dan H.
check up  
I was made to feel very special & not just another "customer" Even thought it is quite a distance I wouldn't hesitate returning for any service.
- june g.
Par Excellence  
Great Service, Great Staff *Affable, Honest, Knowledgeable and Professional*and Highly Recommendable
- Celso R.
Auto Services  
Tony and his team of professionals provide outstanding services, expertize and honesty. They all work diligently to earn their customers loyalty. I know as they have earned mine*
- Harry C.
Awesome  
On a scale of 1*10 the rating is 10* as always. Courtesy, and service. Went back 8/1/12 for new tires. 10*
- Linda J.
Amazing Rapport with their Customers Won me over **  
I have had a few poor experiences at other Midas's until I tried one last time and went to the one in Sun City. WOW* Is all I can say* I sat in the lobby *had no appointment* I watched Shane with all the customer's his rapport was amazing he knew their names about their families and was genuine in his dealing with all of them. In addition, shortly after Paul came in another wonderful worker very friendly and concerned about making sure I was taken care of. I will definitely be back* Thanks guys*
- Trish S.
Outstanding Service  
My highest compliments to Shane Raines and his team at Midas for an outstanding customer experience and superior automobile service. Shane resolved two troubling issues with kindness and competence. He and his skilled technician Dan worked diligently and quickly to get me back on the road immediately at a very reasonable cost. Becky handled the paperwork cheerfully and professionally. I will definitely return to the Sun City Midas the next time I need any attention to my Jeep. Thank you Shane and Midas.
- Bud R.
Excellent Service, Great Staff*  
Will continue to recommend this shop to everyone. We always get excellent service. Staff is knowledgeable, honest, courteous and always willing to help. Kudos especially to Tony * Shane.
- Celso R.
Great group of guys  
The staff are friendly and honest. They explain things in a way anyone can understand which is very helpful.
- Richard R.
MIDAS SERVICE  
Tony and his friendly professional staff exemplify what customer service is all about. They have earned my business and loyalty with courtesy, honesty, and integrity. I highly recommend them to all of my family and friends. Give them a try and you will see what I'm talking about!
- Harry C.
Thanks so much!  
I can't say enough about this Midas location. I have referred many family and friends to them, and will continue to do so. They are courteous and extremely fair priced. It means a t knowing that I have a place to take my car that I can trust!
- Jami G.
Some of the Best  
The team at Midas Sun City are some of the best I've met. Honest, caring and reliable. Always willing to go the extra mile and make things right.
- Jill W.
10
Write a review
We would like to hear about your experience at Midas.
Request appointment
Great auto service is only a click away.
Complete the online form to request a service appointment or call us for an inmediate appointment.
Thank you
---
We really appreciate your feedback!
Would you like to share your review? We've made it easy for you to share your review on Yelp or Google Places. No thanks, I'm finished.
Step 1
Use the button to copy the text of your review.
Step 2
Please click the Yelp or Google Places icon below, then click Write a Review. Follow the instructions to publish your review. To Paste the text on Windows use "control + v". On a Mac use "command + v"
Thank you
---
We really appreciate your feedback!
Would you like to share your review? We've made it easy for you to share your review on Yelp or Google Places. No thanks, I'm finished.
Step 1
Press and hold inside the review text to copy your review.
Step 2
Select the Yelp or Google Places icon below, then select Write a Review. Press and hold inside the review space to paste your review.
Thank you
---
We really appreciate your feedback!
Programs
ASE
Motor Assurance Program
Better Business Bureau Accredited Business
ASE Certified
Motorists Assurance Program
Amenities
WiFi
Pick-up/Drop-off Services
After Hours Drop-off
Coffee
Magazines
Online Appointments Available
Online Estimates Available
Online Tire Shopping Available
---
Community involvement
Make-A-Wish Foundation

Learn More

Drive Out Hunger: Food Drives

We host food drives to benefit our community food bank.

Learn More

Drive Out Hunger: Volunteer

We regularly volunteer at our community food bank.

Learn More
---
Payment methods
The Midas Credit Card offers instant credit and easy terms to qualified applicants. Subject to credit approval. Minimum monthly payments required. See store for details. Get Details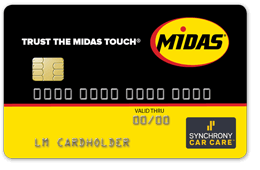 Join the Midas team at 9958 Santa Fe Drive, Sun City, AZ, 85351
Build your future with a leader in the automotive services industry...Midas.
Midas is one of the world's largest providers of automotive service, incluiding exhaust, brakes, steering, suspension, and maintenance services. Midas has more than 1700 franchised and company-owned Midas locations in the United States and Canada.
Midas is committed to earning our customer's trust by offerring them the expertise, value and reposiveness they expect... every time they visit us.
Positions at Midas
Assistant Shop Manager
Auto Shop Manager
Automotive Technician
Thank you!
Thank you for your interest in Midas. We will review your skills and experience and will contact you if your background matches the available position. If there is not a fit at this time, we will keep your information on file for any future openings.
Please Note: This employment opportunity may be with an affiliate of Midas International Corporation or it may be with an independent owner and operator of a Midas shop.
Midas Management at 9958 Santa Fe Drive Sun City, AZ 85351.
Sending Message... Please wait.
Apply at your local Midas