Rating:
50

reviews
Please wait, sending notifications
---
Thank you! Information about this Midas shop has been sent to you. We hope to see you soon!
Close Window
Sorry, your start location could not be found. Please try again.
Midas
lower burrell

is your one-stop shop for brakes, oil changes, tires and all your auto repair needs.
Midas stores are owned and operated by families in your community dedicated to providing high quality auto repair service at a fair price. And their work is backed by our famous Midas guarantee* Whether you need an oil change or tires, factory recommended maintenance, or brake repair, your local Midas has you covered.
*See store for applicability and limited guarantee terms
Average Rating:
50

reviews
I highly recommend Midas in Lower Burrell  
Midas in Lower Burrell is where I go to get my oil changed . You just can't beat the speed and you also a number of other services on top a quality oil change. That's the most bang for your buck.
- Josh G.
Excellent!  
Midas and Ken have always done such a fantastic job. Friendly atmosphere and great prices. Thank you!
- Toshua J.
Efficient  
I had my brakes & rotorz replaced. I was happy to have that done especially since I didn't know how bad they were till I saw them.
- Morgan R.
Excellent service  
Love this location! Ken and the crew is always happy to help!
- Jackie G.
Midas in Lower Burrell  
That Midas is the best by far. Ken and Justin are the nicest most helpful guys. They will take the time out of their busy day to assist with questions. I have been dealing with this Midas for years and always refer them to other people because of these 2 guys. This company is very blessed to have have these to guys as part of their team. Thank you Rebecca Price
- Rebecca P.
OUTSTANDING AND INSPIRATIONAL  
Midas is all of my cars' Primary Care Physician. From my many trips to Midas with my old Toyota Echo to these few new ones with my almost new, Chevy Cruze LT, every one has been positive and productive. Midas staff had even been of great help to me in finding this new reliable car. This latest visit was for a replacement tire. The young man, Joseph, who did the work was a true professional in every sense of the word. His work was fast and efficient, but not rushed. His explanation of services was understandable and complete. What I thought would be hours of waiting after a long night at work, ended-up being a very short, but thorough and excellent, repair. On top of this, the price was more than fair and the warranty is great as well. Thanks Midas Lower Burrell for ALWAYS/ALL WAYS being a service, which I can count on. My hat is off to whoever does the hiring for this particular branch. For finding the best personnel, their success rate is 100%.
- Thom G.
Excellence  
Wonderful experience. The manager was very friendly and helpful. He went out of his way to explain everything in detail. The staff was very courteous. The waiting room was comfortable and surprisingly clean with very good coffee. I will definitely return. With this garage, the Customer definitely comes first in Customer Service...Thank you Midas
- Matt H.
Law Office owner.  
Ken, the manager at Midas in Lower Burrell, is a great coordinator. He schedules you quickly, gets you out very fast and provides great service. They are also very reasonable with their prices. I would highly recommend.
- Gino P.
Awesome staff  
Kenny and the team are awesome!! We have all of our vehicles serviced at this center and are 100% satisfied. Will never go anywhere else!
- Michael O.
Great  
They did exactly what I went in for and no more and did a great job. It's much easier when an appointment is made for your vehicle.
- Tom L.
Wonderful and Efficient Service  
They get you in and out and also let you know what's coming.
- Danielle W.
Amazing service!!!  
Your car is in expert hands. Also, they will even let you know of repairs coming down the pike. I wouldn't take my car anywhere else.
- Danielle W.
Awesome!  
Ken and the guys are on top of things. Awesome service
- Edward M.
Top notch😊  
Great service. Ken provides great customer service
- Gloria M.
exhaust repair Great service  
I sent my son to get his intermediate pipe replaced.The manager was friendly and did a great repair at a reasonable price.I would go to them again.The car is very quit now .I am a happy customer.
- william m.
Dog friendly service  
Ken and his team treat you like old friends, welcome your pets, and get the job done efficiently! Why go anywhere else?
- Carol H.
Oil change and free assessment  
Last Saturday 11/11/17 I had my oil changed, tires rotated and the air in my tires checked because my tire pressure light was on. Perfect visit and I paid less than $20. Also 2 days later, I stopped in because my car was idling low. Turns out it wasn't due to my oil change (loose oil cap/filter not replaced properly), but a sensor went bad. Not only did they do the assessment free of charge, but sent me to my dealer to see if my warranty would cover the work, which it did. Midas could've robbed me for $500/ $600, but Ken was honest with me. I always here customers talking to Ken while I'm there, and he handles every customer as honestly as he does me. Big thanks and peace of mind!
- Morgan R.
Terri L  
Great
- Terri L.
Amazing  
It is nice to know I have Ken in my corner. I had to bring my car in this a.m. instead of going to work due to my check engine light and my car idling low. My car was assessed free of charge and because my warranty may cover the repairs for free, Ken told me to find out, and if I had any questions at all, to just ask him. He also said to keep him posted on what the dealership tells me. I'm a nervous wreck, but relieved I have Ken as my mechanic.
- Morgan R.
Inspection service  
Very knowledgeable and fast service. Appointment was available at my convienance and ready for pickup on time after inspections completed. Would recommend their services.
- Brian K.
Car inspection  
I love this midas. They are always fast with my service. Always treat me with respect. I will continue bringing my vehicle for all my repairs.
- Michelle R.
Great service!  
I have made two visits recently and have been very pleased with the service both times. Their recommendations seem honest. They seem to also go above and beyond, such as automatically fixing my tire for free because it had a ***** in it during my oil change. Highly recommend!
- Leah U.
Brake lines replaced  
New brake lines were replaced in one day. This is the second time I needed this service for a different set of brake lines. I trust in the service that Midas does for me.
- Patrica B.
My Visit  
I have never had a bad experience, Ken is a pleasure to talk to and very knowledgeable about your autos needs.I don't know anywhere else I would go for my auto needs.
- Bob M.
???  
I was disappointed that the clerk charged me more than I have ever paid before on multiple visits, yet he had no explanation for the increase...?? In fact, he said that's what I shoulda been paying all along? But the work was timely, and no issues, as usual..
- Ron H.
EXCELLENT!!!!!  
My husband and I always come to KEN to get our cars serviced!! We don't trust anybody else! Always always courteous service, fast, and just knowing that is one less thing to worry about is awsome!!!
- Lisa S.
Alwayz pleased  
I'm alwayz well taken care of and treated with respect. I also have a coupon mailed to me for each visit. Cheapest place with the best service for everything!
- Morgan R.
excellent  
Ken and his crew did a fantastic job.
- Allan B.
Inspection  
I made an appointment to get my car inspected. I was told it would take about an hour and a half. I arrived as scheduled, sat down, and I was done before the hour was up!! Awesome!!
- Tina T.
First Time  
I was very pleased with my first time at this Midas location! I went there for the $19.99 oil change offer. I was impressed with the price and the fact that I didn't have to wait hours! Within 40 minutes from start to finish I was out the door! WOW!
- Tina T.
Great job!  
Ken and his crew always do a great job taking care of our vehicles! They are our preferred choice for car repair!
- Patrick D.
Whatever a review title is.  
Great service, great people or I wouldn't be a long-time customer!
- Sharon M.
The only place I bring my car  
This shop is amazing they always are very accommodating and honest which I like being a young adult and female. This is the only place I bring my car.
- Carlie K.
1972 Mustang Exhaust  
These guys were my local heros today. Fixed the exhaust rattle and tuned the Carb for get this FREE!! The reviews were apot on and the shop has the nicest mechanics in Pittsburgh!! Off to the car show tomorrow thanks to them!!
- Gary K.
I love this store  
This location is great. The staff are friendly and get you in an out. I will continue on going back for all my repairs.
- Michelle R.
excellent service  
Customer service is above and beyond here. Justin and Ken are always extremely nice ands very informative every time I am there. I actually live a half hour away, and there is another location closer to me....but I travel to this location because the customer service is outstanding. Car problems are always a hassle, but here it is hassle free. Thanks for the excellent ongoing customer service.
- Jennifer m.
Friendly and Knowledgeable Service  
Ken, the manager, is always friendly and knowledgeable. He makes you feel right at home. Justin, the Asst. Manager, also is very friendly and "knows his stuff". Both are very, very helpful and explain everything thoroughly! I recommend their services to everyone looking for a pleasant experience!
- Jack R.
Great People  
Just recently moved here and received excellent customer service. I will always come here for any service not included in my warranty .
- Gloria M.
excellent  
Always friendly, helpful, honest and knowledgeable. I always recommend them and never go anywhere else.their entire staff is five star.
- rob k.
New tires and oil change.  
Outstanding service from Tony on my car!!! Ken and Justin went out of their way to adjust my bill and make things right!!! They are the greatest!!! They are an asset to the Midas company, all 3 of them!!! I only go to see them for my car and it's repairs. They make you feel like family and I will always respect them and go only to them for my car repairs. Thank you so much for having such excellent employee's, it's deeply appreciated. Sincerely, Selma J. Shipman.
- Selma S.
ALWAYS EXCELLENT!!!  
I bring my car and my mother mother brings both of her cars. So We bring 3 cars yearly for All our inspections and maintenance needs because we can always rely & depend on Ken and Justin for Great Quality Work & Service for the Best Price!!!
- Terry B.
Excellent!!!  
I've been going to Midas for a few years now and they always take great care of my vehicles. Fast and efficient! Rest easy Terry! ??
- Brooke H.
very quick  
they get you in and out fast, I would want my friends and family to go there. nice people
- miki j.
ABOVE AND BEYOND  
I have lived in, and did business in, Lower Burrell, PA for almost 15 years. Oftentimes, my biggest complaint with these establishments, is that there's no real concern for customer satisfaction. It seems that most of these businesses have never heard the old adage, "The customer is ALWAYS right"! This is so NOT the case with Midas. In short, I was treated like royalty. And therefore, they have my forever-customer-loyalty!!! The Manager, The District Manager, Justin, Terry, and all the rest provide consistent A - #1 Service!!!!! It seems that to balance-out all of this high praise, I should have, at least, one negative criticism. Yet, simply stated, "I do not". The service was flawless.
- Thom G.
Brake Lines  
Called and Justin was very professional and friendly, had the car towed to Midas Lower Burrell, they showed me what was needed and and checked every thing else. These guys were great and very professional. I appreciate good service like these guys give and would recommend Midas Lower Burrell to family and friends before anywhere else.
- Roger R.
love this place  
always professional and quick on service.know how to treat customers
- elaine z.
Great bunch of guys  
I have never had any problems with Ken & his staff. Cody, Terry, Justin are very professional, they always explain what needs fixed. I wouldn't take my car any were else. If I have a question or problem they always I can count on them
- Sharon C.
Outstanding service as always  
We have been using Midas for all or auto needs since we moved here in 2008. Even if it just an oil chage they check our vehicles over top to bottom and make sure they are safe and running to peak effenciency Wouldn't go anywhere else.
- john r.
Great Crew  
Ken and Terry are awesome. The entire crew is very professional and knowledgeable. My wife, me and my mother in law feel very comfortable taking our cars there because we know the job will get done right.
- Rob S.
Elaina  
Great staff ;) especially Cody. He's always been very helpful . Thanks guys .
- Elaina C.
10
Write a review
We would like to hear about your experience at Midas.
Request appointment
Great auto service is only a click away.
Complete the online form to request a service appointment or call us for an inmediate appointment.
Thank you
---
We really appreciate your feedback!
Would you like to share your review? We've made it easy for you to share your review on Yelp or Google Places. No thanks, I'm finished.
Step 1
Use the button to copy the text of your review.
Step 2
Please click the Yelp or Google Places icon below, then click Write a Review. Follow the instructions to publish your review. To Paste the text on Windows use "control + v". On a Mac use "command + v"
Thank you
---
We really appreciate your feedback!
Would you like to share your review? We've made it easy for you to share your review on Yelp or Google Places. No thanks, I'm finished.
Step 1
Press and hold inside the review text to copy your review.
Step 2
Select the Yelp or Google Places icon below, then select Write a Review. Press and hold inside the review space to paste your review.
Thank you
---
We really appreciate your feedback!
Programs
ASE
Motor Assurance Program
Better Business Bureau Accredited Business
ASE Certified
Motorists Assurance Program
Amenities
WiFi
After Hours Drop-off
Coffee
Magazines
Online Appointments Available
Online Estimates Available
Online Tire Shopping Available
---
---
Payment methods
The Midas Credit Card offers instant credit and easy terms to qualified applicants. Subject to credit approval. Minimum monthly payments required. See store for details. Get Details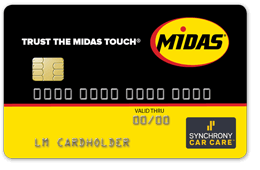 Join the Midas team at 3300 Leechburg, Lower Burrell, PA, 15068
Build your future with a leader in the automotive services industry...Midas.
Midas is one of the world's largest providers of automotive service, incluiding exhaust, brakes, steering, suspension, and maintenance services. Midas has more than 1700 franchised and company-owned Midas locations in the United States and Canada.
Midas is committed to earning our customer's trust by offerring them the expertise, value and reposiveness they expect... every time they visit us.
Positions at Midas
Auto Shop Manager
Automotive Technician
General Service Technician
Thank you!
Thank you for your interest in Midas. We will review your skills and experience and will contact you if your background matches the available position. If there is not a fit at this time, we will keep your information on file for any future openings.
Please Note: This employment opportunity may be with an affiliate of Midas International Corporation or it may be with an independent owner and operator of a Midas shop.
Midas Management at 3300 Leechburg Lower Burrell, PA 15068.
Sending Message... Please wait.
Apply at your local Midas