Rating:
47

reviews
Please wait, sending notifications
---
Thank you! Information about this Midas shop has been sent to you. We hope to see you soon!
Close Window
Sorry, your start location could not be found. Please try again.
Midas
san antonio

is your one-stop shop for brakes, oil changes, tires and all your auto repair needs.
Midas stores are owned and operated by families in your community dedicated to providing high quality auto repair service at a fair price. And their work is backed by our famous Midas guarantee* Whether you need an oil change or tires, factory recommended maintenance, or brake repair, your local Midas has you covered.
*See store for applicability and limited guarantee terms
Average Rating:
47

reviews
great job  
thanks for fixing my headlight switch
- Jaime P.
Truck Repair  
Doug was great working with! Great Service, great prices!
- John C.
You bet your "sweet bippy" I would!!  
Electrical problem was isolated and fixed quickly. The "Midas Touch" was all over this one. Great ownership and very knowledgeable/caring employees.
- Tony A.
2000 Toyota 4Runner - U-Joint  
Once again, the folks at Midas diagnosed and repaired our vehicle on time and for a reasonable price. Always friendly and honest.
- Cody B.
Another great fair job  
Can't say enough good things about how well Doug's group treats us and how diligently and fair they fix our car issues. I've used them for over 20 years...the best auto mechanic experiences I've had compared to many others. Thanks Doug
- Jac Y.
Exhaust  
This location is outstanding. The team is honest, friendly, and had great customer service. Lee their Custom Exhaust Specialist was an expert and truly knows his craft. I would recommend this location to anyone that is looking for honest mechanics
- Jimmy H.
Excellent, excellent service!!!!!!!  
Doug, the Owner, and Chris, the Service Manager, are beyond men of integrity! They service my Mercedes with excellence. We are very grateful to them and their Crew!!
- Judy R.
Great Service  
Great service. Chris, Lee and Doug always take care of my cars!
- Walker R.
The only auto shop ill ever go to!  
Beyond satisfied with my experience. I always have anxiety taking my car into shops, but here, these guys were kind and understanding, they tell and even SHOW you what the issues are with your car and try to work with you financially. Service didnt cost an arm and a leg! Car was fixed early next day! If i need sevice again, i definitely will return here
- Desiree C.
Great job as Always  
You do what needs to be done. This car is a 2005 and my daughter drives at college and it has always been maintained by Doug and his people since I bought it.
- Michael D.
Always Perfect  
Doug at Midas always does an amazing job for our vehicles. There is never a doubt that he will do the best job and with total honesty.
- Maureen F.
Expert Problem Solvers  
I would highly recommend this Midas to anyone that wants quality, honest service at a competitive price.
- Ed Z.
Oil Change  
Absolutely! In and out pronto..did not even get a chance to read ESPN the Magazine in the waiting room and heard "Mr Tony your car is ready" which gave me plenty of time to go have a "cold one" at Texas Roadhouse just down the street. Gotta luv it!
- Tony A.
Great experience  
Even though they were backed up and short handed, they were able to work me in during the holidays and take care of the necessary items on my son's '08 vehicle. They don't try to oversell.
- Alan P.
Excellent Service and Work  
I've been bringing cars to Doug and his crew for over 10 years and have never been disappointed. They fixed our family minivan up good as new and got my wife back on the road. They always give you an honest price and tell you what your vehicle needs, and in some cases, what it doesn't need. I also use them for 2nd opinions on repairs and will always go with their opinion/expertise.
- Royce S.
Mazda miata  
Fantastic as always
- Michelle F.
brakes  
Got new brake rotors and pads from Amazon and self installed. Rotors were out of round. Midas charged normal nominal fee to turn down rotors. brakes work great. Always fair...never excessive. The best auto repair I've ever used.
- Jac Y.
review  
The men who work here are always honest and do a fantastic job and in a very timely manner.
- Pam T.
Always Excellent Service  
I've been dealing with this Midas store for 10 years or more now. They have always been great, professional and never a disappointment. Doug, Chris and the crew are top notch and I have sent friends to them for work
- Royce S.
Excellent job. Oil service  
Thank you
- Alfonso L.
Struts and Engine mount  
Had issues with our 2011 Acadia. At75k Miles it blew a strut and Lee found 2 broken motor mounts. (Don't buy an Acadia!). Dropped off on Saturday morning and had it back that afternoon. Lee does a great job of explaining the issue and showed the bad parts with an explanation of why they needed to be replaced.
- David R.
Great honest service  
I've been taking cars to Doug and his crew for 14 years. Everything has been perfectly done without exception.
- Steven K.
Way to go 281 and Thousand Oaks team  
Doug and team are quick, thorough and so friendly. They answered all my questions and gave me options!
- Maureen F.
F-250 Service.  
As usual your staff did a great job. Very happy with your service.
- Salivador M.
Bell Electric Says the Day.  
What an awesome man. Valentine owner of Bell Electric saved the day!! I will be a customer for life!!!!!! I can say "Valentine and Bell Electric truly care about the customer ". Great person doing great work.
- Triple F.
Excellent, ethical, caring service  
Doug's team at Midas does an excellent job, and they communicate well. I found their prices completely fair, and they concluded the car needed LESS work than another shop had suggested. We will be loyal customers!
- Nancy M.
Thanks!  
Everyone at Midas takes such great care of us and we truly appreciate it!
- Michelle F.
Excellent service with integrity!!!  
I greatly appreciate Midas at 16337 San Pedro in San Antonio. Whenever I need anything done on my car, Midas is my first call at 210-495-0880. I trust them 100%. They have serviced my car for many years with excellent service, kindness, honesty and knowledge. The owner, Doug, and his entire staff are top rated in my book!! I thank them BIG TIME for ALL the many ways they have blessed me with superior work to my car. Plus, they have worked on several of my friend's cars. Thank you for the GREAT work you have completed in their cars, too!!!
- Judy R.
Consistent excellent service  
This is the only place i take our cars. Over the years they have consistently deliver good repairs and excellent service at competitive prices. Highly recommended!!
- Diana G.
Great Customer Service  
No one likes to have mechanical problems, but this Midas location eases the pain! This is the ONLY car repair place we trust with our cars. The customer service is excellent, the repairs are reasonably priced, & they only do what is necessary to resolve the problem - no high pressure sales tactics! The staff is always professional & their work is first rate & completed in a timely manner. You can trust this Midas location to treat you & your vehicle in an excellent manner!
- William H.
Only what's needed  
Check engine light on with several bad sounding codes. Car sputtered and would die at idle then not start. But all that needed fixing was a couple of vacuum hoses. $65 and back on the road.
- Jac Y.
Excellent Service  
I had a repair on my truck and I had more problems with the repair job so I took it back to be serviced again. The mechanics continued to look for the problem until they corrected it. I was given excellent customer service. I will recommend them to my friends who need automotive work.
- Manuel J.
Only car shop I take my car to!!  
This is the only car shop I take our cars to!! Service is always excellent and I trust them. I like that they make a diagnosis and tell me which things I need to do right away and what can wait. They always recommend the repairs considering my family's safety, comfort and budget, and I appreciate that. Keep the good work Midas!! Thank you Doug!!
- Diana G.
"Total Trust"  
Just call me "Total Trust Tony". I have been "Midas-ized"! Owner Doug, his awesome Mechanic Chris along with the rest of the "GUYS" just do it (no I don't work for Nike)at fair and reasonable prices. I am kinda sorta a Honda owner to the max and have always owned 3-4 of them at a time but have resisted servicing them at the always expensive dealerships. Instead I had them serviced by Honda certified mechanics who worked on them and Acura's until I discovered the "Midas Touch". Doug's group is located at the San Pedro location on the feeder road at 281 & Thousand Oaks in front of Hollywood Park..Give them a try and check them out. I switched and you will too!
- Tony A.
Honest guys  
The guys here have always been straight forward and honest with me. I trust my car in their hands.
- Erik G.
The truth  
Hi we came to San Antonio for a family meeting and my sons car had broke down. He had it towed to Firestone to get it fixed the quote was $ 1600 for the repair due to a fuel leak. We were arriving in town a day later. And my son was told that he had to move the car of there perimeters. He hat it towed to my daughters home. Were we meet. The next day I was trying to find out were the gas leak was so I can get my son mobile again. And find a repair shop. I carefully started the car and no gas dripping or smell. I test drove the car around the block and and no leak. Next I drove the car to Firestone to show me there finding and I did not get a clear answer. About the gas leak. I was told tthe tec was no here today. I fell like there were pulling a fast one. I asked my son to explaine what happens he said that he had an oil leak and the car stopped. I saw the oil under the car and Firestone did not show any thing on there report. I asked the employee why there was no info he said that they had two of the same cars and it might got mixed. I was tolded to come back the next day. Unfortunately we are short on time. I chose to go to Midas an get a second opinion. The manager (Antony) promised me to help us an run an inspection with out letting his team know of the previous event with Firestone. They confirmed that there was no gas leak. And thy took care of the oil leak . The car is save to drive. I want to thank the Midas team for the service. I believe they went beyond there duty to help my son. Also a friendly team and great customer service. Any question was answered fast and truthful. My son is going to be a Midas customer and I will make sure all my kids know were to go if they have car problems. Thank you very much. The culebra location rocks. 11227 culebra rd San Antonio tx. 78253 210 688 9542. Ask for Antony
- Oliver B.
A * Service  
Number one in my book. When our cars need service, Midas is the place to go. Dug is terrific and Chris does excellent work!! Gilbert Enclave of Hollywood Park
- Gilbert L.
Best yet  
I brought my car in for some suspension work. Shop was professional and quick to get job done. Highly recommend.
- Mark M.
Awesome Customer Service  
I had gone to a competitor for oil change they could not open my hood referred me to Midas that was close by. My oil light flashing I drove into Midas after they had closed told the incredibly nice man Bubba my situation they immediately got the hood open and changed my oil and they were closed WOW!!!!! I have never had this kind if service EVER! Will definitely use again recommend highly!
- diane s.
BEYOND Excellence!!  
We trust impeccably Midas. All credit goes to Doug, the Owner, and Chris, the Service Manager!!! This 13827 San Pedro Avenue location ROCKS with excellent professional care! Doug has insured we get the BEST service and his ENTIRE staff are AWESOME! Call (210) 490-0086 for your next car repair!!!
- Judy R.
Electrical/Battery  
This Midas location is trustworthy and knowledgeable when you need your vehicle repaired. I trust the advice and reliable work.
- Wardell H.
A* Service!!  
Best overall customer service I have ever received... first time customer but rest assured I will be taking all my vehicles to the Midas located at 16337 San Pedro for service & maintenance going forward. Specifically, their custom exhaust specialist Lee Whitley is beyond knowledgable, very professional, & provides a level of service that is second to none. I recommend this location to anyone who is looking for a reliable, trustworthy shop to support their vehicle needs.
- Don G.
Don't take your car anywhere else!  
They always do a great job at Midas and work hard to get their customers in and out as quickly as possible.
- Beth P.
I'll be back whenever I need services that they offer  
The shop at 16337 San Pedro San Antonio, TX 78232 does what they say they will do. I had the catalytic converter in my possession and only needed to have it installed. I expected to be told that they only installed their own products...NOT SO! They quickly gave me a quote to install the catalytic converter and stuck to that (very reasonable) price. I had an appointment and they were running about an hour behind. It was worth the extra hour. This is a great shop and I highly recommend it.
- Dale B.
Awesome service*  
Once again I took my car into Midas. The gentlemen who work there are friendly and helpful. We have been taking our cars to this location for many years, and they never cease to impress me. I appreciate their honesty and integrity. They have always taken great care of me and my family's cars. I would highly recommend them for any type of service.
- Jennifer D.
Header Installation  
I asked this shop to install my own stainless steel headers on my 2000 Toyota Tundra. Lee, the exhaust man at this shop, got the job done quickly and professionally and I am very pleased with this service. I had been getting routine maintenance at a competitors shop nearer to my home but because of the excellent service I received at this Midas shop I will be bringing my pickup to this shop for anything they can provide. Big Thanks to all at this shop*
- Stanley P.
Great mechanics  
I have had nothing but good experience with this place:excellent mechanics,fast high quality service,short wait,reasonable prices. I'll definitely continue using these guys' services.
- Olga B.
10
Write a review
We would like to hear about your experience at Midas.
Request appointment
Great auto service is only a click away.
Complete the online form to request a service appointment or call us for an inmediate appointment.
Thank you
---
We really appreciate your feedback!
Would you like to share your review? We've made it easy for you to share your review on Yelp or Google Places. No thanks, I'm finished.
Step 1
Use the button to copy the text of your review.
Step 2
Please click the Yelp or Google Places icon below, then click Write a Review. Follow the instructions to publish your review. To Paste the text on Windows use "control + v". On a Mac use "command + v"
Thank you
---
We really appreciate your feedback!
Would you like to share your review? We've made it easy for you to share your review on Yelp or Google Places. No thanks, I'm finished.
Step 1
Press and hold inside the review text to copy your review.
Step 2
Select the Yelp or Google Places icon below, then select Write a Review. Press and hold inside the review space to paste your review.
Thank you
---
We really appreciate your feedback!
Programs
ASE
Motor Assurance Program
ASE Certified
Motorists Assurance Program
Amenities
Spanish
WiFi
Pick-up/Drop-off Services
After Hours Drop-off
Coffee
Magazines
Online Appointments Available
Online Estimates Available
Online Tire Shopping Available
---
Payment methods
The Midas Credit Card offers instant credit and easy terms to qualified applicants. Subject to credit approval. Minimum monthly payments required. See store for details. Get Details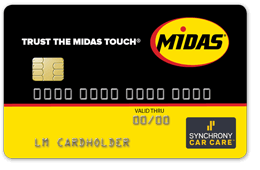 Join the Midas team at 16337 San Pedro, San Antonio, TX, 78232
Build your future with a leader in the automotive services industry...Midas.
Midas is one of the world's largest providers of automotive service, incluiding exhaust, brakes, steering, suspension, and maintenance services. Midas has more than 1700 franchised and company-owned Midas locations in the United States and Canada.
Midas is committed to earning our customer's trust by offerring them the expertise, value and reposiveness they expect... every time they visit us.
Thank you!
Thank you for your interest in Midas. We will review your skills and experience and will contact you if your background matches the available position. If there is not a fit at this time, we will keep your information on file for any future openings.
Please Note: This employment opportunity may be with an affiliate of Midas International Corporation or it may be with an independent owner and operator of a Midas shop.
Midas Management at 16337 San Pedro San Antonio, TX 78232.
Sending Message... Please wait.
Apply at your local Midas