Rating:
47

reviews
Please wait, sending notifications
---
Thank you! Information about this Midas shop has been sent to you. We hope to see you soon!
Close Window
Sorry, your start location could not be found. Please try again.
Midas
north syracuse

is your one-stop shop for brakes, oil changes, tires and all your auto repair needs.
Midas stores are owned and operated by families in your community dedicated to providing high quality auto repair service at a fair price. And their work is backed by our famous Midas guarantee* Whether you need an oil change or tires, factory recommended maintenance, or brake repair, your local Midas has you covered.
*See store for applicability and limited guarantee terms
Average Rating:
47

reviews
Great service  
Thus far i have had wonderful experience here. There honest helpful friendly and timely. I would recommend them as well as go back. I have had them do my exhaust brakes oil changes u joint tie rod end as well as a few other things. There price is very comparable to competing companies. I like that they are honest and don't tell you something is wrong when its not.
- Tabatha C.
5 stars.  
5 stars.
- Mallory S.
service  
I was early and they took me right in, I was also quoted a different price and they changed it to the price I was quoted.
- Cheryl P.
excellent management  
If it weren't for Mike, manager of the South Bay Road shop, the many people who bring their cars to Midas there wouldn't. He makes it what it is, which is a busy shop. People keep coming back because of how he manages the shop in general, the mechanics, the quality of their work, how the shop stands behind the work, and how all customers are treated with respect (including women), politely and honestly. So many companies just don't get that. And word of mouth IS very powerful. That's why this shop does so much business.
- Marilyn R.
Excellent!  
I started with this Midas shop when I worked down the road. I retired, and it's now 30 miles away, but I still buy my tires there and have much of my work done there as well. Mike Richter runs a great shop and I trust him implicitly. I highly recommend this particular Midas.
- Teri A.
Very professional  
Our whole family uses this Midas. Even as we move to different areas of Central NY we srill continue to travel to this location. Mike makes sure we are always taken care of, gives us any discounts possible (even if we didn't notice we had some available).
- Catlin C.
Amazing Service!  
I keep meaning to write this review. These guys are wonderful! Myself and my family have been coming to this location for years, and service is always the best. Mike is an exceptional manager, always going out of his way to make sure his customers are taken care of. All of the staff is friendly and trustworthy. Wouldn't take my car anywhere else!
- Kristen V.
Service  
Always fast efficient service
- Ron K.
Never disappointed ever. That's why I keep returning every time.  
My car is getting up there in age, so I was very pleased when my oil change and inspection were done in the usual speedy and professional manner. It's always a pleasure to do business here.
- Eric K.
Good service, but slow  
Dropped my car off for an oil change with an appointment at 5:30 Friday, wasn't ready until 10:30 the next morning. Great guys, quality work, but I usually end up waiting far longer than planned here.
- Justin L.
Oil Change  
I like that Midas is right around the corner from my workplace, they know me when I arrive to drop-off or pick-up the cars I take for service there, and they are knowledgeable of what needs to be don on my cars, if anything. Nice people doing good work. Just what I like in a car service company.
- Chris G.
The best  
I had wrong time for appt to have oil changed they fit me in right then. They answered questions I had and even checked something I was concerned abt. This was my 2nd oil change there and neither time was I pressured to make additional purchases. Suggestions were made and I appreciated that. Thankyou Midas .
- Dawn N.
always a good experience  
I have been taking my car there for the past 6-8 months for anything from tires, oil and other repairs. They are courteous, honest and affordable!
- Timothy W.
Great job!!!!  
Mike and his team always do well!!!
- Raisa V.
Service  
Always very professional and dependable.
- Debra S.
WORKERS  
I BRING MY CAR TO YOUR ESTABLISHMENT BECAUSE OF THE FRIENDLY PEOPLE.
- Jane S.
GREAT SERVICE  
KNOWLEDGABLE STAFF. MANAGER WAS NICE AND LISTENED TO MY ISSUES INSTEAD OF BLOWING ME OFF LIKE I WAS CRAZY.
- Anne B.
Always a great job  
They are fantastic and fast!!!!!!
- Jamie M.
Excellent Service  
Midas changed my oil in no time at all and were polite and courteous.
- Roberta H.
Great Service  
Have been coming here for years. Mike and the guys are very straight forward and always have time to answer my questions. Would not go any where else for service!
- Bridget C.
Always Excellent  
The guys at Midas have taken care of all my cars for years and they are fantastic every time.
- Mary G.
As usual very excellent service.  
I had engine trouble on the day I needed an oil change and Mike squeezed me in to have one of the mechanics look at it. When the problem was located it was fixed quickly (same day) AND I was able to drive to work that night. The service there is always top rate.
- Eric K.
Best repair shop in CNY  
This repair shop is the best!!! If you want an honest mechanic and top quality work done on your car, this is the place to go. Ask for Mike or Chad-they are the two best mechanics I have ever worked with and I would trust my vehicle's repairs to no one else.
- Noelle F.
Good place, not always fast  
Manager is always friendly and helpful. Not always fast though, generally in here at least an hour for an oil change even with appointment.
- Justin L.
stranded in Syracuse  
Getting off the Thruway at 930 am on 8/12/17 I was worried about 300 miles from home and not familiar with the area. I pulled into Midas the first repair shop my GPS gave me the lot was full I parked my 08 Ford Ranger and went into the reception area Mike asked what I thought was wrong and I explained that my brakes that were 3 months old just felt weak. he asked if I was going to N.H. he noticed my plates and I told him yes and I had to cross the mountains in Vermont . I asked if he could look at it before the end of the day, he said He would have it on a lift in twenty minutes, what a relief. In a hour and a half mike came outside to talk to me i was on the phone, I hung up and he told me the issues with my truck and said he could have it fixed in another hour. Fair ,honest and integrity were the first words that came to mind when I called my wife to let her know I would be back on the road for Sunday morning. I got home 1:30 Sunday afternoon no problems all the way home . Haveing properly working brakes are always important. not being taken advantage of when traveling is also important. Thank You Mike and your crew, I hope the tip I left was enough for the shops lunch. A very happy traveler , and a very gratefull one. If I ever have trouble in Syracuse again I will be back.
- Matthew W.
Great service!!  
As always Mike is very kind and professional. His Team gave to my car a very quality service.
- Raisa V.
Go to Midus Mike  
I and my family and friends have been going to Mike the Manager for over 10 years! Most important : you will not be sold products or Services your car does not need! which will save you thousands of dollars over time. true honest repairs fixing what needs to be fixed .....and building long-term customers is how Mike has built a loyal following.
- David p.
TIRES  
EVERYONE AT THAT LOCATION IS VERY PLEASANT. I HAVE COMING THERE FOR SEVERAL YEARS AND FIND THEY ARE ALWAYS HELPFUL
- Jane S.
Mike Richer is the most honest service manager ever!  
I'm very hard to please and I'm notoriously tough on auto dealers and mechanics. I have been going to Mike at the South Bay Road Midas for nearly a decade and he runs the most honest shop I have ever dealt with. Everyone there is very polite and repairs are always done very fairly. Mike intuitively understands that it is better to have me as a long term client than just a one off. I highly recommend this shop to anyone!
- Brian K.
Midas Mike is the Best  
Honest, reliable, affordable!!!
- Kevin P.
Great customer service  
I have been taking both of our trucks to Midas now for almost 2 years. The service is great, and everything is always complete in a timely manners. The techs are professional and courteous, and the manager always goes the extra mile to make sure that we are happy with the work. I would definitely recommend this branch to anyone who needs quality work done at a fair price in a timely manner.
- Hutch H.
Great Service  
The guys showed me the problem with my car and were able to replace and repair my car quickly and correctly. Thank you for your friendly service and excellent work.
- Glenn R E.
Barb Williams  
I have been going to this Midas for years. Mike and his staff are awesome.
- Barbara W.
Pleasantly Surprised  
I called this morning to set up an appointment. They said that they would fit us in if we could drop it off. We took our car in to be checked out because of a rattling noise when the car was running. Dennis, the manager, called me back a little while later and said that we were all set. The heat shield had come off and was causing the noise. He then said that there was no charge. I couldn't believe it! I have never brought a car in to be fixed and had such a great experience. I am sure that there was some labor and minimal parts involved, but Dennis and his crew took care of us. Thanks Midas of Camillus for a great experience. We will be back for all of our maintenance needs in the future!
- Paul Z.
yes  
excellent service
- Fred S.
GREAT KNOWLEDGE AND SERVICE!  
THE WHOLE STAFF, AS USUAL, WENT ABOVE AND BEYOND TO DIAGNOSE AND FIX MY PROBLEM.MANAGER MIKE RICHER,CHAD AND STAFF ARE TOP NOTCH, FAST, AND KNOWLEDGEABLE,AND I RECOMMEND THE SOUTH BAY ROAD MIDAS TO ANYONE NEEDING REPAIRS.VERY PROFESSIONAL.
- Shirley and Tim G.
Great service!!!!!  
Mike is very professional and friendly...nobody take care of my car like Mike's team..
- Raisa V.
TRUSTWORTHY AND AFFORDABLE.  
I have been a customer at this location since 2004. If Mike ever moves, I will follow because he is a solid knowledgeable professional who 'walks the walk'. Chad and all the service people are well supervised and well trained, and it shows in the quality of their work. Upcoming repairs and suggestions have allowed me to plan preventative maintenance and my van is closing in on 140,000 miles and it still purrs like new. I would recommend this repair shop to my Italian mother in law, and anyone who knows anything knows you do not mess with anyone who has mastered the "wooden spoon discipline".
- DON D.
satisfied customer  
I have gone to Midas for several years and have always received great service. Everyone that works there is friendly and helpful. Mike, the manager, has been superb over the years. He's honest and straight to point with what's wrong with my vehicle. I highly recommend anyone to visit this location!
- Jacqueline D.
Great Service!  
I have been taking my SUV to this location for 3 years. Always have great customer service and attention. The guys explain to me what is going on with my vehicle and help troubleshoot. I haven't returned to the dealer since my first visit! I recommend Midas to anyone who asks!
- Teri L.
Fabulous  
Great experience. Mike provided fabulous, friendly, attentive, honest and concerned customer service. I will be returning to this Midas Shop and highly recommend to others.
- Nancy C.
Good Experience  
I booked an apt. online. Brought my car in on a Friday night. Service was great. They called me to tell me what they found. Chad couldn't have been more helpful. I felt that the price was fair compared to all the other tire stores I called. It definitely was a good experience. thank you.
- Marcia C.
Trust my cars to Mike!  
No matter what vehicle (3) I bring to Mike at Midas I know he will treat me fair, do the repairs that are needed, review everything with me and makes me feel confident and safe. He takes the stress out if automobile repair. His shop is always well kept, waiting area is clean, and all if the crew is very well mannered and courteous.
- Rose R.
Great Job  
I brought my car in for an oil change and inspection. The work was done quickly and they were very thorough. The manger Mike was great, he was very personable and kept me updated on what was happening. When the service was completed he explained what they did and what needed to be done soon. It was nice to be in the company of such a pleasant person. I will definitely go back to this Midas for servicing in the future, with any luck Mike will still be there ;0*
- Karen T.
Coil Replacements  
The repair was completed well and within a very efficient amount of time (overnight). I appreciate how fiscally responsible to their customers. I don't take my car anywhere else.
- Rose R.
2000 GMC c3500 Dully truck repair  
The reason for this review is for people to know where to shop. When I call Midas in North Syracuse the representative named Chad answered the phone and helped me to locate 6 tires for my truck. The price was right and the work done through the shop was great and come to find out Chad was the tech. who worked on my truck. The bill was a great deal even with the extra work that was needed. I have to say that meeting the manager Mike and working with Chad has been a great experience and great customer service.
- Marc R.
We will NEVER go anywhere else  
This place was a gold mine find. I've never met a manager more honest and trustworthy than Mike R. He really works with you to get your car fixed safely and understands that finances play an important role in getting things done. He has always stood by the work of the shop, which is first rate quality. Trust is the most important thing in car repairs for us. We have been going to car repair places for over 40 years and FINALLY found Mike at Midas, who is quite frankly, the ONLY person I trust*
- Linda B.
10
Write a review
We would like to hear about your experience at Midas.
Request appointment
Great auto service is only a click away.
Complete the online form to request a service appointment or call us for an inmediate appointment.
Thank you
---
We really appreciate your feedback!
Would you like to share your review? We've made it easy for you to share your review on Yelp or Google Places. No thanks, I'm finished.
Step 1
Use the button to copy the text of your review.
Step 2
Please click the Yelp or Google Places icon below, then click Write a Review. Follow the instructions to publish your review. To Paste the text on Windows use "control + v". On a Mac use "command + v"
Thank you
---
We really appreciate your feedback!
Would you like to share your review? We've made it easy for you to share your review on Yelp or Google Places. No thanks, I'm finished.
Step 1
Press and hold inside the review text to copy your review.
Step 2
Select the Yelp or Google Places icon below, then select Write a Review. Press and hold inside the review space to paste your review.
Thank you
---
We really appreciate your feedback!
Programs
ASE
Motor Assurance Program
Better Business Bureau Accredited Business
ASE Certified
Motorists Assurance Program
Amenities
WiFi
After Hours Drop-off
Coffee
Magazines
Online Appointments Available
Online Estimates Available
Online Tire Shopping Available
---
---
Payment methods
The Midas Credit Card offers instant credit and easy terms to qualified applicants. Subject to credit approval. Minimum monthly payments required. See store for details. Get Details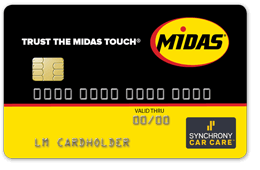 Join the Midas team at 5453 South Bay Road, North Syracuse, NY, 13212
Build your future with a leader in the automotive services industry...Midas.
Midas is one of the world's largest providers of automotive service, incluiding exhaust, brakes, steering, suspension, and maintenance services. Midas has more than 1700 franchised and company-owned Midas locations in the United States and Canada.
Midas is committed to earning our customer's trust by offerring them the expertise, value and reposiveness they expect... every time they visit us.
Positions at Midas
Auto Shop Manager
Automotive Technician
General Service Technician
Thank you!
Thank you for your interest in Midas. We will review your skills and experience and will contact you if your background matches the available position. If there is not a fit at this time, we will keep your information on file for any future openings.
Please Note: This employment opportunity may be with an affiliate of Midas International Corporation or it may be with an independent owner and operator of a Midas shop.
Midas Management at 5453 South Bay Road North Syracuse, NY 13212.
Sending Message... Please wait.
Apply at your local Midas