Rating:
63

reviews
Please wait, sending notifications
---
Thank you! Information about this Midas shop has been sent to you. We hope to see you soon!
Close Window
Sorry, your start location could not be found. Please try again.
Midas
toronto

is your one-stop shop for brakes, oil changes, tires and all your auto repair needs.
Midas stores are owned and operated by families in your community dedicated to providing high quality auto repair service at a fair price. And their work is backed by our famous Midas guarantee* Whether you need an oil change or tires, factory recommended maintenance, or brake repair, your local Midas has you covered.
*See store for applicability and limited guarantee terms
Average Rating:
63

reviews
Great service  
The work was explained clearly and done promptly. The service was friendly and helpful.
- Lana N.
Winter tires swap  
Can't believe I used to go to Canadian Tire for tire storage / swap. Not only these guys at Midas are extremely nice and friendly, but they are on time and provide better advice and rates. I definitely recommend.
- Greg T.
Excellent service  
This particular location on Danforth is great. They keep you informed about your car, do a really good job and finish the work in the time they tell you or shorter. With tire changes just make sure all the bolts are on tight. I keep coming back and would definitely recommend them.
- Britt M.
Consistent service  
Been going to Midas Danforth for a few years now. Curtis is always on top of things for me. Keep up the good work!
- Vicky M.
Exhaust replacement  
I recently had my exhaust system replaced. Even though the replacement was expensive I appreciate the service rep that communicated what had to be done. As well, a call was also made once the servicing was completed.
- Rick J.
Excellent service!  
Would definitely return for future service!
- Michael M.
Excellent, as Always!  
I can't say enough about Craig and the team at Midas on Danforth. Quick and courteous!
- Chris H.
Great Service  
As always the team at Midas Danforth have exceeded our expectations. On budget and on time.
- Diane W.
Stuck with a hole...  
Had a flat tire leaving my office... crawled up danforth ever so slowly...desperately looking for someone/somewhere to help. I rolled into Midas just about 6pm. The lights were OUT! But, I caught a glimpse of a young fellow (Tom is his name) who just shut out the lights. He saw me or heard me check the door. He came to my Rescue. He opened the door, (keep in mind the shop was CLOSED) and I explained my dilema. He told me that I could leave my car there, and that they would look at it in the morning! Oh gosh, I was thrilled beyond words. Living east of the City and it was dark, I didn't know what I was going to do. There I left my keys, and the very next morning they checked over my tire and was told that I need a new tire. No problem. The tire was ordered the same day and pickup was a great time as I was finished work by then. I want to thank Tom for coming to my rescue. You don't often see this kind of help these days, people finish their day and clock out! The world needs more people like TOM! Thank you to everyone who took care of my car! PS - They have a great door greeter too! NOAH!!
- Correen D.
Great Service  
Went in for some exhaust work. Very timely service and fair prices. Would recommend for sure.
- Mark A.
Happy  
Went for an oil change- great customer service. I will return for other services.
- Me H.
Happy customer  
Thumbs up!!
- Abdullah Z.
New Tires  
Courteous. Good service. On time. Thanks
- Greg M.
Excellent service  
I was so happy about the service that I received and people I met. I will come back.
- Ben L.
mike n  
Service was very good. Called back with pricing when they indicated they would. Tires were installed few days later per my appointment. Even went back in to have bolts tightened. They noticed another problem with the car and indicated it could be fixed with a future visit. Was very impressed.
- Mike N.
Very pleased  
This was my first time getting work done at Midas. Everyone I interacted with was nice and provided all the information I wanted.
- Katie D.
As promised  
They received my car on schedule, gave me a thorough quote by email, and did the work as promised without delay.
- Darryl E.
First experience  
This was my first experience with this Midas location and was pleased with the service and the friendly manner of staff when speaking on the telephone . I appreciated the clear, concise explanation of what needed to be done to my care before the work was started.
- Debra M.
great service  
First time customer. Reviews are excellent and still they went above my expectations. Will definitely be a repeat customer in the future.
- Chris D.
New Winter Tires  
Curtis and Ashley were friendly and attentive. Curtis even followed up to remind me about the Goodyear tire rebate. I was able to obtain an estimate, have the tires ordered, and have them installed in less than a week in the busy winter season. I would recommend this location to anyone.
- Chris P.
Easy and Straight Forward  
It was great bringing my car to Midas. The lady on the phone was very kind, helpful, and gave me all the information I needed. Definitely will come back.
- Mateo T.
Great Work  
The staff was very friendly and knowledgeable. My van was only brought in for an oil change but because of my experience there i will definitely bring it back for more repairs as well as recommend this location to my friends.
- Cory H.
Lighting the Way!  
My brake lights (both) had burnt out. Appointment started on time, very quickly changed the lights and off to work I went. Great service, good coffee and I was even welcomed by a very well behaved dog :)
- Stewart B.
Excellent Service  
It was easy to schedule an appointment online. The staff were very friendly and helpful. Craig has done a great job in helping me source the right products for my needs. Definitely recommend!
- Chris H.
Amazing Service!!  
I stopped into the Midas location on the Danforth for the first time and the workers here are professional and courteous. The workers were willing to go above and beyond with their service to ensure that their customers are fully satisfied. Highly recommended.
- D S.
Service  
Awesome service
- Calvin B.
Great Service  
I store my off season tires and just had my winter tires mounted. Great service as always
- Laurie C.
Great service  
The staff are knowledgable, polite and efficient. The work was done on time, and the technician explained everything to me.
- Paul M.
Engine Issue  
My engine light came on so took it to Midas for a check. Craig got me in almost immediately for a diagnostic check and Curtis (as usual) did a thorough check. They told me what the issue was (nothing urgent) and that the car was safe to drive. I trust these guys completely - always honest with me. Great service.
- Erin W.
Best Service in Ontario  
I have been at Midas Danforth a few times. Each time they have given my car a complete diagnostic and they have never up-sold me anything. They've fixed issues and suggested some scheduled maintenance items to keep an eye out for the near future. As a female who isn't familiar with car mechanics, it can be daunting to walk into an all male environment where trust is key on issues I cannot confirm myself. They are extremely friendly, cost effective and the waiting room is comfortable, clean and has complimentary beverages. Two enthusiastic thumbs up.
- Ilona U.
Great Service at Fair Prices  
Great service, fair prices. Cant ask for more. Craig and his team run a tight ship. They'll be getting all of my car service business going forward.
- Patrick C.
Yes  
Found Midas staff friendly, knowledge and efficient.
- Dolores R.
Speedy service  
Always a good experience at Midas
- Andrew P.
Great service as always  
I brought both my cars in for the winter maintenance package last Friday. I was pleased to get 2 last minute bookings as I only called that morning, dropped both cars off in the morning and both were ready after that afternoon. Fair pricing and excellent service and no attempts to upsell me on anything.
- Adam E.
Oil change  
I have gotten both of my vehicles serviced at this Midas location and I have never had an issue. The appointments work for my schedule and the service is fast and easy.
- Paul E.
Joey N  
My visit was efficient, speedy and affordable.
- Marguerite N.
Great Service  
On time, done well and super advice. What more can you ask of your mechanical advisors. Stew
- Stewart B.
Service  
Great follow up service and full explanation of work needed made me feel comfortable with the Craig. Wrong number on file above.
- John D.
Excellent Service  
I am always anxious to take my car to a new mechanic as you hear horror stories of dishonest mechanics and whatnot. To my great relief this location was honest with me about the work on my car and they did a quick job with excellent customer service. I would trust my car to them again.
- Aaron M.
Danforth store in Toronto  
Tom did an excellent job of replacing the pump for the windshield washer. Thank you, Tom.
- Judy R.
Speedy  
Rusted tail pipe was fixed up faster than estimated and for a good cost. Thank you!
- Andrew L.
Excellent customer service!  
Friendly Staff
- James M.
Awesome  
Terrific service. On time and very helpful. Very pleasant receptionist. Will be back!
- Francine B.
Excellent service, great people and clean shop!!  
Been going to this location of Midas for quite sometime now and been nothing but satisfied with the services starting from the receptionist to tge mechanics to the manager (Curtis) to the owner (Craig) and not to mention the storekeeper Noah (Craig's dog). What I think would make thevisits even more perfect is having a loyalty program for the returning regular clients like myself who passes about 3 other Midas locations just to go to this particular shop. Love the Midas on the Danforth. Keep up the good work guys!
- Abdullah Z.
Finally found a mechanic I can trust  
Since my mechanic moved to Brampton 3 years ago I've been taking my car to different places for service till I found Midas at Danforth and Woodbine. Very professional service, front desk staff is very polite and the place is so clean one would think it's anything else but an auto repair shop. No pushy sales tactics. Would recommend it to anyone in a heartbeat.
- Dritan S.
Honda Ridgeline Oil Change/Tune-up  
I took the Honda Ridgeline to Midas on Danforth west of Woodbine for an oil change and tune-up. I had an appointment for this work. The staff took the vehicle in right away and completed the work within the time period they committed to. They also pointed out some work that would have to be done and provided an estimate at that time. I was very satisfied with the work done, the courtesy of the staff and the adherence to the time commitment.
- Curtis M.
VERY SATISFIED WITH MY FIRST ENCOUNTER WITH MIDAS  
Couldn't have been happier with the customer service offered and the top notch work done on my Volvo. Thank you!
- Evan A.
Fast service & fixed my problem  
My first time at this Midas location -- I had a bothersome "tire squealing" noise that I needed taken care of before a road trip ... I got an appointment right away, they diagnosed the problem (tire alignment, nail in back tire) and finished the repair within 2 hours. Excellent service -- I'm relieved to have found an auto shop I can trust! Thanks
- Anne K.
Thorough and friendly.  
I always get friendly service at Midas.
- Andrew P.
GREAT SERVICE  
MIDAS ON DANFORTH ARE THE BEST AUTO REPAIR CENTRE . IT IS A CLEAN PLACE. GOOD PRICE. SERVICE DONE ON TIME. THE RECEPTIONIST IS SO PLEASANT . SO PLEASURE TO TALK TO HER ON PHONE AND IN PERSON. AND SHE IS CUTE. AND SHE IS ASHLEY. CURTIS AND CRAIG ARE GREAT.THIS IS MY AUTO CENTRE FOR GOOD.
- ROGER R.
Thank you  
The whole experience was pleasant. Tom did a superb job on my Corolla for which I am very grateful. The facility was comfortable and clean. The receptionist, Ashley, was both friendly & helpful. I have recommended your facility to friends. Thanks & especially, Thanks Tom!
- Judy R.
Great job again!  
Great service and no surprises - just what I like. Curtis is awesome at telling me what needs to be done, what should be done and what can wait.
- Carine H.
Lovely people  
I got courtesy pickup and drop off, not too pricy.
- Roger A.
Friendly and thorough service  
Ever since Craig took over this location, it's been a major improvement in terms of transparency, professionalism and friendliness. Excellent staff and highly recommended!
- Andrew L.
Most courteous on planet  
Creig and this boys know how to look after you. Thanks guys
- Chris G.
Great Service  
I had a problem with a warranty issue a few weeks back and it was remedied by the Mr. Pitman (owner) and Midas Corporate. I returned and had my brakes front and back replaced and got a synthetic oil change. The service was great, on time and under the estimated cost. In addition I have over 100K on my vehicle and the Service Manager Curtis recommended 8K verses 10K for the next oil change due to the age and mileage of the vehicle. I feel it is important to complain when you are not satisfied and as well as compliment when you are, this is a compliment, professionally handled and very happy with the outcome. S2 Berry
- Stew B.
Above and Beyond  
My car wouldn't start. After deducing that I likely needed a new battery, Craig far exceeded my expectations by offering to send a mechanic to my home immediately to replace it! Tom installed the new battery within 5 minutes and my car is good as new! Thank you SO much for your phenomenal customer service. I will definitely be using Midas Danforth from now on.
- Brittany B.
A real focus on customer service  
I've been taking my car to Craig/Curtis and the gang for the last year and I'm really impressed with the changes he's made, with the service of all the technicians and the discounts/coupons are much appreciated. I will be a long-time customer and the dogs are a nice touch too. Danny H. East York
- Danny H.
Great Service  
It was surprise to see a new owner at The Danforth Midas-but was so nice to see the "old gang" of maniacs and a couple of new ones. The service was top notch before but little subtle changes has made that much better. Hooked again!!
- Davis M.
Great Service  
New muffler, oil change and tire change - went smoothly more or less as anticipated. Great service. We'll be back.
- Mark P.
Try it, great service, good price  
New owner, amazing service, respect: you are part of the decision, you see your car and the work they do, they are on time, one line appointment fast response, free Wi-Fi while you wait, space to work, great team work. Try it, I been there for different requests and I will return as they are professional for your car. CK
- Chantal k.
Great Work again  
This was my first visit to Midas on the Danforth since the ownership change. The new look is great, the service remains fantastic, and the same mechanics who I've worked with for years (especially Curtis) and trust remain there, which makes it an easy recommendation.
- ADAM E.
Always great  
Jeff and Curtis at Midas at the Danforth in Toronto always provide great, fairly priced service on both my family's cars, and also provide good honest advice on the maintenance of our cars.
- Adam E.
10
Write a review
We would like to hear about your experience at Midas.
Request appointment
Great auto service is only a click away.
Complete the online form to request a service appointment or call us for an inmediate appointment.
Thank you
---
We really appreciate your feedback!
Would you like to share your review? We've made it easy for you to share your review on Yelp or Google Places. No thanks, I'm finished.
Step 1
Use the button to copy the text of your review.
Step 2
Please click the Yelp or Google Places icon below, then click Write a Review. Follow the instructions to publish your review. To Paste the text on Windows use "control + v". On a Mac use "command + v"
Thank you
---
We really appreciate your feedback!
Would you like to share your review? We've made it easy for you to share your review on Yelp or Google Places. No thanks, I'm finished.
Step 1
Press and hold inside the review text to copy your review.
Step 2
Select the Yelp or Google Places icon below, then select Write a Review. Press and hold inside the review space to paste your review.
Thank you
---
We really appreciate your feedback!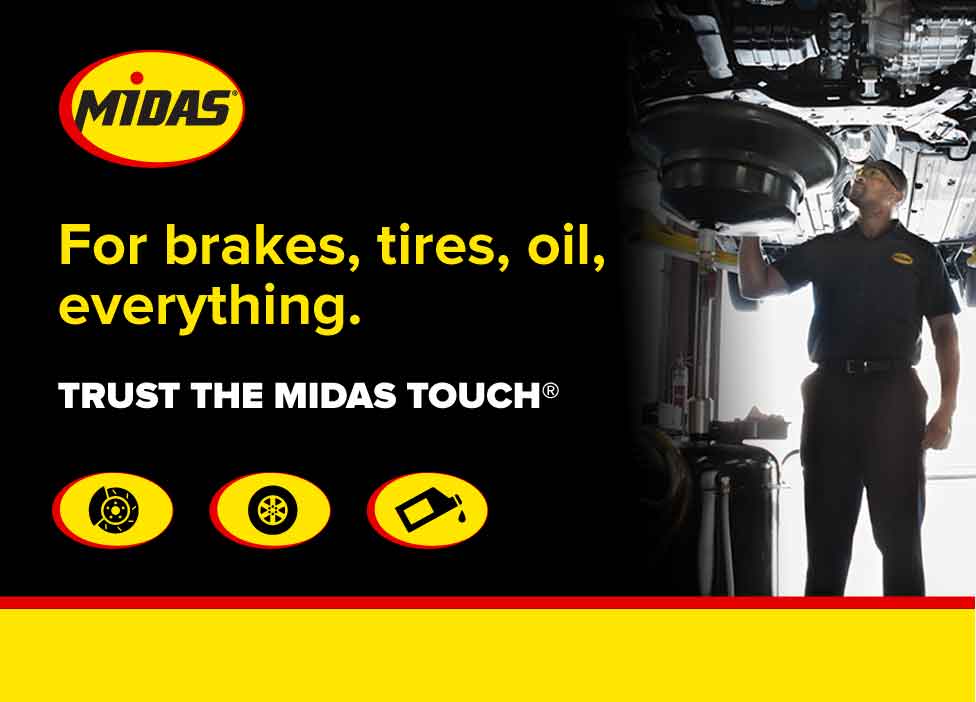 Programs
ASE Certified
Motorists Assurance Program
Amenities
Italian
WiFi
Pick-up/Drop-off Services
After Hours Drop-off
Coffee
Magazines
Online Appointments Available
Online Estimates Available
Online Tire Shopping Available
---
Payment methods
The Midas Credit Card offers instant credit and easy terms to qualified applicants. Subject to credit approval. Minimum monthly payments required. See store for details. Get Details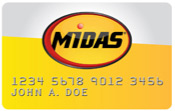 Join the Midas team at 1873 Danforth Avenue, Toronto, ON, M4C 1J5
Build your future with a leader in the automotive services industry...Midas.
Midas is one of the world's largest providers of automotive service, incluiding exhaust, brakes, steering, suspension, and maintenance services. Midas has more than 1700 franchised and company-owned Midas locations in the United States and Canada.
Midas is committed to earning our customer's trust by offerring them the expertise, value and reposiveness they expect... every time they visit us.
Thank you!
Thank you for your interest in Midas. We will review your skills and experience and will contact you if your background matches the available position. If there is not a fit at this time, we will keep your information on file for any future openings.
Please Note: This employment opportunity may be with an affiliate of Midas International Corporation or it may be with an independent owner and operator of a Midas shop.
Midas Management at 1873 Danforth Avenue Toronto, ON M4C 1J5.
Sending Message... Please wait.
Apply at your local Midas