Rating:
13

reviews
Please wait, sending notifications
---
Thank you! Information about this Midas shop has been sent to you. We hope to see you soon!
Close Window
Sorry, your start location could not be found. Please try again.
Midas
salt lake city

is your one-stop shop for brakes, oil changes, tires and all your auto repair needs.
Midas stores are owned and operated by families in your community dedicated to providing high quality auto repair service at a fair price. And their work is backed by our famous Midas guarantee* Whether you need an oil change or tires, factory recommended maintenance, or brake repair, your local Midas has you covered.
*See store for applicability and limited guarantee terms
Average Rating:
13

reviews
Decent Customer Service / At best ok car service  
I took my 2002 Subaru Forester in expecting to get the head gaskets replaced * my knock sensor (due to previous dealership diagnosis) They weren't sure I needed the head gaskets replaced (In the end they came to conclusion it wasn't needed so I only got my knock sensor replaced * my winter tires switched off to my all season tires) 1: They left tools on top of the roof of my car which I didn't know they did until I was at full speed on the freeway going 75 mph and they flew down the front of my windshield. Thank god they didn't fly backwards into someone else's car. A screwdriver going through another cars windshield doesn't sound ideal to deal with. I've never even thought I had to check for things like that. 2: They did not keep me updated at all on the progress of the diagnosis of my car. I had to continuously call because they never reached out. 3: They said my car did not leak anything when they had it overnight.... Literally as soon as I pull in my garage after getting back up to Park City and place a brand new flattened cardboard box under my car it dripped some type of liquid. 4: They claimed to have cleaned the bottom of my engine off to see into the Head Gaskets but when I got it back and looked under my car it looked exactly the same (caked on liquid *oil or coolant* ) / they claimed to have driven my car up the canyon to see how it did and they said it had no issues. (The gas gauge would've been a lot less if they actually did take it up the canyon) So it leads time to believe they lied about both of those things. 5: My car now is having new issues since the day of bringing it back home. It keeps slipping gears / jumping to high gears when trying to accelerate from a stop. It also seems to be having issues just speeding up in general that is just a problem that is getting continuously worse. Also my car has had a horrrble shuddering problem since December (I recently replaced the rear suspension * ball joints * a tie rod which is what I thought was the problem) Once I reached parleys canyon going up the shuddering only during acceleration at higher speeds *40mph** started up again. Which takes my back to issue 4. They would've felt it if they actually drove it. I'm tired of being lied to. I just want someone to take the time to actually fix my car without wasting my time. Car problems are no joke and also cost endless amounts of money. I am giving 3 stars because they have a shuttle service and were able to take me back up to Park City from their shop in SLC and replacing the knock sensor obviously made the check engine light turn off so that's one thing I don't have to worry about deciphering (whether it was the knock sensor or a new issue). Overall slightly disappointing that after all the time spent with my car it actually came out slightly worse.
- Autumn S.
Ford Fusion  
Kayla Va'a kv
- Kayla V.
Really good service!!!  
I will be sharing how amazing everything was with my family and friends!! Thank you!!!!
- Kirchy B.
Great Service  
Had my brakes done and received excellent service. However, I experienced a manufacturer defect on the new brakes and went back in for the repair. I received EVEN BETTER SERVICE on my second visit. These guys are great.
- Brian S.
Breaks and tires  
I've been here for new tires and breaks on two separate occasions. I received fast and friendly service. Great prices and honest assessments . I recommend Midas on main to anyone .
- Gary M.
123  
123
- debbie m.
thank you  
great service.. very professional manger even picked me up from work to take me to the shop thank you so much for what you did for me
- Scott Q.
Wonderful Service  
Had an issue with our van while driving across country. They were able to get us in fast and the service was great
- John C.
Midas Mel  
I just had to take a second to leave a review for my new friend Mel, who made taking my car to a mechanic actually enjoyable rather than dreadful! I found this Midas via a Google search upon needing an oil change, tire check, brake light change, and (surprise!) new tires. I made an appointment the evening before, and on Saturday morning at 0900, arrived to drop off my car. Mel greeted me at the front desk, and was nothing but welcoming. He already knew who I was and what I was interested in having done based on my online appointment form. He told me he'd give me a call when everything was done, and offered to drive my car around the corner for an emissions inspection. Mel called me about an hour and a half after I dropped off my vehicle, and let me know all the work I had requested had been done. He stated that my rear tires were bare enough that they shouldn't pass inspection, but left the decision up to me as to whether or not I wanted to try to get it inspected anyways, or put new tires on the back. This actually didn't surprise me as I vaguely remembered making a mental note about this issue a few months this ago. He already knew that he had the tires I was currently using in stock, and what the price to me would be. He also quoted another cheaper option similar to the tire I was using, so that I was aware of my options. I went with the tire I had previously used, and Mel called me back about an hour later to let me know the tires had been changed. Again, he offered to drop my car off for emissions testing, pick it up, and then call me when it was done- all with a positive and upbeat attitude. At no point did I feel like he would rather do anything else. What a relief to feel like he truly cared about me as a customer! When I accepted his offer, he let me know that he would take it down immediately, and would call me when it was complete. He called me back about 15 minutes later regarding the location of my current registration, which I then realized was with me. I told him not to worry about it, and that I'd take it to get inspected myself. I arrived about 15 minutes later to pick up my Ford Focus, and Mel had everything ready for me. True to how he'd been when I dropped of my car, once again, Mel was friendly, and kept right up with my sense of humor. He offered down to earth, realistic advice to me, and when I introduced him to the friend I'd caught a ride with who was interested in hearing his opinion on her CRV after hearing me talking about him all day, was enthusiastic about walking outside with us to take a look at the 'problem' areas she mentioned. He provided her a very specific, "high limit" quote that was well under previous quotes, so that she knew what her worst case scenario would be cost-wise. He even offered up a little home advice for cleaning residue off her car battery so that we wouldn't have to pay $15 for 'my guys to use a fancy, red, high-end cleaner' to do the same thing. It only took about 5-10 minutes, and my friend had made an appointment with him the coming week to have the work done. Mel is the first mechanic I've ever had stand out to me as an honest, hardworking, and very real guy. It wasn't hard to tell that he is EXTREMELY knowledgeable in his line of work, and passionate about getting to know and keep his customers happy. Who else willingly volunteers to drop off and pick up your car for emissions inspections?! Pro tip? A bottle of Mt. Dew won't hurt your mechanic/customer relationship ;) I owe him a thank you one for sure when we drop the next car off next week... couldn't have asked for an easier and more stress-free experience.
- Kayla W.
Frustrating!  
We were frustrated with our service at Midas. We had asked them to one job & they discovered additional issues, which we understood. We wanted them to do the first part & then check with us, so we could see if the additional work needed to be done to actually pass our inspection. Apparently there was a "miscommunication" and $200.00 extra later, the additional work was already done. We were frustrated that they didn't listen to us and cost us money we didn't need to spend. We have had other good experiences with Midas in the past, but not with this store.
- Steve G.
Honest with integrity  
I took my trooper in for an evaluation. I needed an expert opinion on a job that was performed By another service company. As it turned out the service Was not performed at all! Midas wrote a compelling letter to my financial institution. Professional and knowledgeable. I have reffered this Midas to all my acquaintances.
- Linda C.
Great Personalized Service  
This is simply the best Midas I have been to. Very clean, very honest and great service. I do not hesitate at all in referring people to this Midas. Just ask for Mel!
- Guy T.
Poor quality of work  
Took over 2 hours for an oil change and tire rotation. Stripped oil pan plug. When taking ouy the car manual unhinged the glove box and left it dismantled on the floor. I won't be going back with either of my cars
- Ben H.
10
Write a review
We would like to hear about your experience at Midas.
Request appointment
Great auto service is only a click away.
Complete the online form to request a service appointment or call us for an inmediate appointment.
Thank you
---
We really appreciate your feedback!
Would you like to share your review? We've made it easy for you to share your review on Yelp or Google Places. No thanks, I'm finished.
Step 1
Use the button to copy the text of your review.
Step 2
Please click the Yelp or Google Places icon below, then click Write a Review. Follow the instructions to publish your review. To Paste the text on Windows use "control + v". On a Mac use "command + v"
Thank you
---
We really appreciate your feedback!
Would you like to share your review? We've made it easy for you to share your review on Yelp or Google Places. No thanks, I'm finished.
Step 1
Press and hold inside the review text to copy your review.
Step 2
Select the Yelp or Google Places icon below, then select Write a Review. Press and hold inside the review space to paste your review.
Thank you
---
We really appreciate your feedback!
Programs
Motor Assurance Program
ASE Certified
Motorists Assurance Program
Amenities
Spanish
WiFi
Pick-up/Drop-off Services
Magazines
Online Appointments Available
Online Estimates Available
Online Tire Shopping Available
---
Payment methods
The Midas Credit Card offers instant credit and easy terms to qualified applicants. Subject to credit approval. Minimum monthly payments required. See store for details. Get Details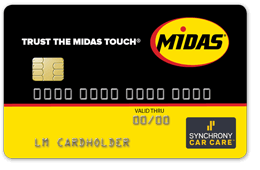 Join the Midas team at 902 South Main Street, Salt Lake City, UT, 84101
Build your future with a leader in the automotive services industry...Midas.
Midas is one of the world's largest providers of automotive service, incluiding exhaust, brakes, steering, suspension, and maintenance services. Midas has more than 1700 franchised and company-owned Midas locations in the United States and Canada.
Midas is committed to earning our customer's trust by offerring them the expertise, value and reposiveness they expect... every time they visit us.
Positions at Midas
Assistant Shop Manager
Automotive Technician
General Service Technician
Thank you!
Thank you for your interest in Midas. We will review your skills and experience and will contact you if your background matches the available position. If there is not a fit at this time, we will keep your information on file for any future openings.
Please Note: This employment opportunity may be with an affiliate of Midas International Corporation or it may be with an independent owner and operator of a Midas shop.
Midas Management at 902 South Main Street Salt Lake City, UT 84101.
Sending Message... Please wait.
Apply at your local Midas