Rating:
53

reviews
Please wait, sending notifications
---
Thank you! Information about this Midas shop has been sent to you. We hope to see you soon!
Close Window
Sorry, your start location could not be found. Please try again.
Midas
halifax

is your one-stop shop for brakes, oil changes, tires and all your auto repair needs.
Midas stores are owned and operated by families in your community dedicated to providing high quality auto repair service at a fair price. And their work is backed by our famous Midas guarantee* Whether you need an oil change or tires, factory recommended maintenance, or brake repair, your local Midas has you covered.
*See store for applicability and limited guarantee terms
Average Rating:
53

reviews
Good service  
The work was done on time the way it was supposed to be done at a reasonable price, breaks and oil change
- David G.
Bonnie Boutilier  
Great service
- Bonnie B.
Careful Service  
As always Midas Halifax serviced my wife's Toyota ensuring it was working properly and especially ensuring it was safe to drive. Mechanic Ken found a suspension part was showing signs of wear and replaced it to avoid any risk of a part failure on the road. Counter folks Dave and John were helpful, knowledgable and pleasant as always.
- Tom M.
Great service  
My daughters car broke down in Halifax, I live in Moncton. The staff at Midas treated her with courtesy and professionalism. Thanks for doing a great job and giving us an outstanding experience.
- Donna G.
Amazing service, will definitly be back  
mechanic and the gentleman behind the counter were great, explained the whole everything in detail so I could understand, did great work and will definitely be back for everything I need done on my car and truck, highly recommend this place to anyone
- Sean O.
Awesome Service  
Quick, accurate and honest. I highly recommend Midas on Robie St.
- Peter G.
Stellor Service  
Great service as always.
- Paul B.
Always Steller Service  
excellent service as always.
- Paul B.
Great Service  
Great service and super friendly!
- Brianna C.
Thank you  
The gentleman in the customer area (John?) and the mechanic were very friendly, informative and helpful.
- Melanie H.
Great Service  
Safety inspection was done on schedule. I am satisfied with the service.
- Ron P.
Great service...as always.  
Ever since a Midas shop in Ottawa got me out of a jam 3 years ago, I've been going to the Mida shop here in Halifax. Friendly, helpful & extremely knowledgeable staff, who really seem to care about you & your vehicle and always willing to give frank & honest advice. Fast service, no long waits for appointments and do good work. Would certainly recommend.
- Tony B.
Got an oil change  
I got an oil change and switched to synthetic oil which gives more mileage between oil changes plus new wiper blades Not only did I receive the oil change but John explained how he also changed my oil filter to coincide with the synthetic oil Great job done by people who know what they are doing . I'd highly recommend Midas to anyone wanting quality service and friendly staff.
- Doug A.
Work done at Robie St. Midas  
Absolutely recommend to my family and friends ;)
- Robbie M.
my van  
I love these guys there fast efficient and they only do what they say and they know yr name there always friendly and most of all they really care thanks guys
- Donna J.
Best customer service in town  
Dave and the whole team at Robie St Midas are amazing. Can't recommend them strongly enough.
- Alana P.
midas oil change/tires  
great service and would recommend midas. I have been going there for years !
- Joanne S.
A1 Service  
Good price and great service.
- Stephen T.
Routine Maintenance and more  
Thanks for freeing-up back seat so could be folded up and down again and thanks for finding and replacing worn alternator belt.
- Richard S.
Trustworthy! A**  
An honest crew that won't try to scam you or sell you things you don't need, and they try to save you money overall long term even if they lose money on it.
- A B.
Winter Tires  
Hello Always have the best time with Dave and them at Midas. Customer service is tops! Thx guys :)
- Cathy W.
November oil and tire change, check up  
I recommend this location often. To date service has been very good.
- Katie C.
Customer Satusfaction  
I was very satisfied with the latest trip to Midas to get new snow tires installed.I had given Dave the manager the quote I had received from a competitor asking him if he could match it . He not only matched it but gave my van a winter maintenance package for FREE including a free oil change . Don't you just love the 'F' word - 'Free?' The job was done in less time than I had thought it would take and Dave and his crew matched the competitors price exactly. I wouldn't hesitate to recommend Dave and Midas to anyone for very friendly service and expert workmanship Sincerely Doug A
- Doug A.
Excellent Service  
I was very pleased with the service I received from Dave and his crew for new winter tires and rims . The work was done in good time and the price matched a competitor whom I did not want to give the job to. I would not hesitate to recommend Midas for quality work and fair. Competitive pricing Sincerely Doug A
- Doug A.
Excellent service and workmanship I wa ivvv  
I was very pleased with the quality of service I received at Midas. I asked for a quote for new winter tires and rims and received a bill that came in almost to the dollar from the estimate.I would not hesitate to recommend Dave and his employees to anyone wanting excellent work at competitive prices .Sincerely Doug A
- Doug A.
Oil change  
Staff were very friendly and completed the oil change in great time!
- Sarah M.
quick service and convenient location  
My exhaust needed immediate replacement - I was able to bring it in the next morning to be fixed.
- Raymond J.
Broken brake line  
Had never been here before but went on a recommendation from a friend when my brake line went....was very impressed with Dave who understood my emergency and got it fixed by noon on the day I dropped it off (without an app.)...would recommend this location to my friends ??
- Jane O.
Plug for tire  
Last minute request handled in a great way! Very pleased!
- Don S.
6 star  
I have had such amazing, honest service from this location . they are the gold standard
- Bryan F.
Exceptional Customer Service  
The staff took the time to show me damaged parts and how they function. I was able to get my vehicle repaired when I only booked a diagnosis. I later returned with concern of a sound and they inspected the sound immediately. The issue was promptly resolved with even more great customer service. Thanks John and Dave!
- Nadine A.
John is the man  
Great work and price on my F150. Thanks. You will not get a better price or service anywhere else in Halifax
- Stephen M.
Oil Change  
Great service, good price. Thanks Dave, and crew!
- Ross L.
Friendly and Great Service  
I recently had quite a bit of work done by the crew at Robie St Midas. I had gone in for a routine oil change but they had done a inspection of my car and found some things that needed immediate attention. They kept me informed along the way telling me how much each individual thing would cost and got me in for the rest of the day to finish the work. They even took me into the garage to see the parts they had replaced and showed me the worn parts. Everyone was extremely friendly and I would definitely recommend them!
- Hilary H.
First time  
GREAT SERVICE
- Lanze B.
Great service  
Although it was a shock to find out that it would cost me $400 for a new starter, it was definitely a necessity and the guys at Midas were courteous & friendly.
- Jeannette R.
These boys 'r best  
My wife and I have been taking our jalopies to these boys for years and they're the best auto repair place we have found. They've saved us a lot of money and roadside misery
- Stephen M.
Good  
Changed the oil on my grey Buick Lucerne. Fast and not expensive as I looked around. They will also work with my warranty.
- Steven W.
brakes  
Good service
- Yanni L.
Midas Halifax  
Everyone at Midas Halifax provides great customer service - from scheduling appointments to providing explanations when there are problems, to recommending different options when parts are required. I would highly recommend this shop for any car care needs!
- Tammy W.
Honest, quality work  
I have found over some years that Midas on Robie Street have provided honest and quality vehicle service for my three vehicles. John and Dave are great to deal with and do their best to provide you with accurate cost estimates and clear explanations of the work required in advance. I am happy to recommend them to my friends.
- Tom M.
Satisfied Customer  
Vehicle was taken in right on time, and work completed by time originally quoted. However another problem was discovered while doing the work. The problem was discussed with me, parts quickly ordered and installed while I waited. Very good service.
- David G.
Honesty  
We have had our vehicles serviced at Midas for many years and I appreciate their honesty. The staff have been very straightforward with our repairs but have also told us when something can wait. They are very budget conscious for their customers also.
- Wayne B.
Midas may have prevented an accident  
I bought summer tires at Midas and when they were removing my winter tires to put the new ones on, they saw that my tie rod was in serious need of replacing. They didn't just tell me, they showed me what a new one was like and showed me the issue with mine. I would have never known that and if it hadn't been replaced, it could have caused an accident. Also, when I arrived, I brought my bike to ride home while my vehicle was being fixed and the customer service representative fixed my chain when it fell off.
- Ines R.
recent Midas visit  
Hi, The staff at the counter at Midas are real gentlemen and I very much appreciate that. We all have busy lives and being welcoming and friendly means a lot . That is why I go back. I used to go to my dealer all the time but between the rising costs and at times the rude remarks, I decided to try somewhere else. Midas has been great and respectful. For a gal who does not know anything about cars except how to drive them, I appreciate being treated fairly.
- Katie C.
My service  
I would recommend Midas to friends as the service was great. Even had a ride home and a whole cup of chocolate candy. That will bring me back every time. Your cost is much less than other dealers as well.
- Linda A.
Incredible staff  
Dave and the rest of the team at Midas are fantastic. They are the sole reason I am now using Midas for my service needs (since the location is actually not at all convenient for me!). I trust their advice and the quality of their work.
- Alana P.
wrong oil used  
Taking my car there for the last 2 years and use synthetic oil. This time I was not even asked when I took the car there and thought they knew. They changed to conventional oil and wjlhen i asked they told me to bring it back for another oil change sooner.No offer of refund or a diacount for next time.Disappointed.
- Yanni L.
BEST Value tires & Service  
I recently needed to replace tires for this summer (and years to come I hope) and Dave was able to recommend excellent tires and his 'blind' quote beat all local competitors. I had independently researched tire ratings and his recommended tires were 'best' in their price range per "Tire Rack" ratings. I have been dealing with Dave and John for many years for Business and personal vehicles and they have always provided excellent service.
- Ed M.
Honest and efficient  
I have been getting my vehicles serviced at Midas for some years now and have found Dave and John offer great service that is both honest and efficient. They and their technicians are friendly and skilled at what they do and each visit always involves good conversation and an opportunity to learn something new.I will continue to go to Midas.
- Tom M.
Great service !  
I went to Midas for an oil change and was an hour late for my appointment. They understood and fit me in for an oil change anyway. Ontop of that they notified me of problems with my car that needed to be fixed, one of which was the cause of an annoying rattling noise I heard every time I drove my car. They fixed these problems then and there for a reasonable price. My car is now running perfectly. Very friendly, accommodating and knowledgeable staff. I will be back and recommend to anyone looking for great service.
- Robyn M.
repairs  
Dave and John, I am extremely satisfied with the work and shall always go to these guys and the store Thank you Parminder
- parminder s.
Great service and prices  
If you're browsing the web looking for the best place in Halifax to have your car service stop your search right here, you dont need to go any further. I'm a first time Midas customer and I decideed the give Midas on Robie street a try. I was pleasantly surprised at the prices, professionalism and the great service I received and I will be coming back again to have my car serviced. True professionals, highly recommended*
- Jean G.
10
Write a review
We would like to hear about your experience at Midas.
Book an appointment
Great auto service is only a click away.
Complete the online form to request a service appointment or call us for an inmediate appointment.
Thank you
---
We really appreciate your feedback!
Would you like to share your review? We've made it easy for you to share your review on Yelp or Google Places. No thanks, I'm finished.
Step 1
Use the button to copy the text of your review.
Step 2
Please click the Yelp or Google Places icon below, then click Write a Review. Follow the instructions to publish your review. To Paste the text on Windows use "control + v". On a Mac use "command + v"
Thank you
---
We really appreciate your feedback!
Would you like to share your review? We've made it easy for you to share your review on Yelp or Google Places. No thanks, I'm finished.
Step 1
Press and hold inside the review text to copy your review.
Step 2
Select the Yelp or Google Places icon below, then select Write a Review. Press and hold inside the review space to paste your review.
Thank you
---
We really appreciate your feedback!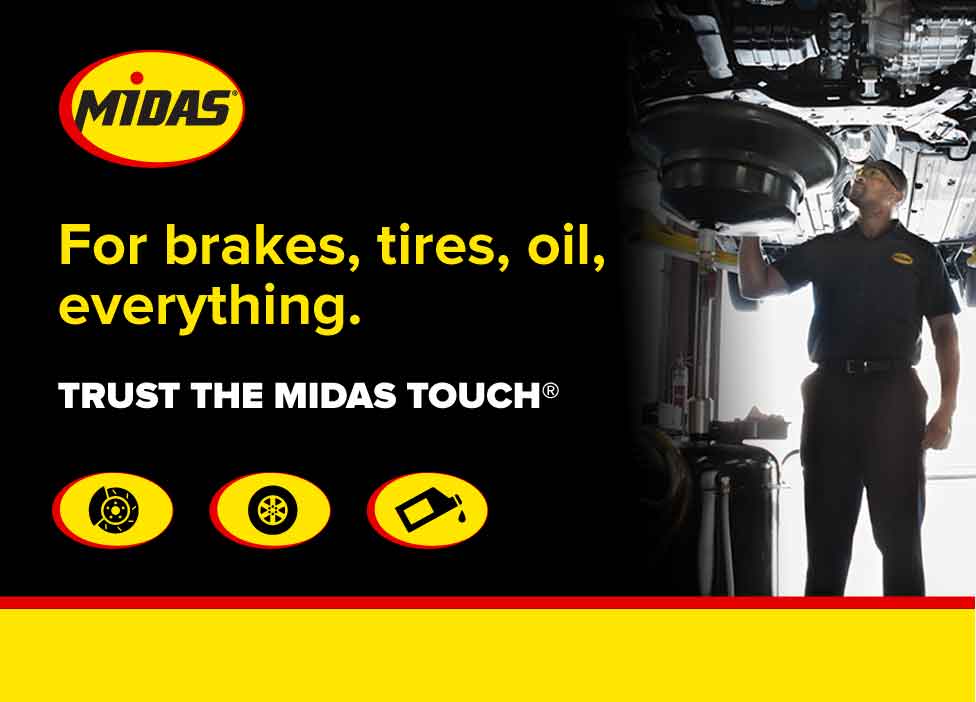 Programs
ASE Certified
Motorists Assurance Program
Amenities
Online Appointments Available
Online Estimates Available
Online Tire Shopping Available
---
Payment methods
The Midas Credit Card offers instant credit and easy terms to qualified applicants. Subject to credit approval. Minimum monthly payments required. See store for details. Get Details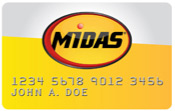 Join the Midas team at 2662 Robie Street, Halifax, NS, B3K 4N8
Build your future with a leader in the automotive services industry...Midas.
Midas is one of the world's largest providers of automotive service, incluiding exhaust, brakes, steering, suspension, and maintenance services. Midas has more than 1700 franchised and company-owned Midas locations in the United States and Canada.
Midas is committed to earning our customer's trust by offerring them the expertise, value and reposiveness they expect... every time they visit us.
Thank you!
Thank you for your interest in Midas. We will review your skills and experience and will contact you if your background matches the available position. If there is not a fit at this time, we will keep your information on file for any future openings.
Please Note: This employment opportunity may be with an affiliate of Midas International Corporation or it may be with an independent owner and operator of a Midas shop.
Midas Management at 2662 Robie Street Halifax, NS B3K 4N8.
Sending Message... Please wait.
Apply at your local Midas