Rating:
46

reviews
Welcome to Midas,
How may we help you?
Rating:
46

reviews
---
Change Store
Please wait, sending notifications
---
Thank you! Information about this Midas shop has been sent to you. We hope to see you soon!
Sorry, your start location could not be found. Please try again.
Midas
ottawa

is your one-stop shop for brakes, oil changes, tires and all your auto repair needs.
Midas stores are owned and operated by families in your community dedicated to providing high quality auto repair service at a fair price. And their work is backed by our famous Midas guarantee
*
whether you need an oil change or tires, factory recommended maintenance, or brake repair, your local Midas has you covered.
*See store for applicability and limited guarantee terms ↩
Average Rating:
46

reviews
oil change ok service estimates seem high  
The oil change was fine. The price quoted on parts seems extreme quote per control arm was $240 I purchased the exact part number listed on estimate for $90 each. Link kit quoted $70 purchased as quoted $30. Labour was $402.00 I completed all work in 1.5 hours in my laneway. The control arm is 3 bolts to remove and they charge 172.00 to replace it. link kit remove 2 nuts$ 57.50 I do not know which flat rate guide they use but is out to lunch on times. I give them credit on reporting the correct issues but rates seem extreme.
- Robert B.
Amazing service  
The guys at Midas are amazing! Randy is always super informative and has provided me with excellent ongoing service for my car! He goes above and beyond for his customers.
- Sharon L.
Toyota  
Good job
- Alec N.
Brakes etc  
Good job...good advice
- Alec N.
New Brakes  
Great customer service, very informative, honest and they go the extra mile. Thanks
- Wade K.
Awesome service!  
I was totally satisfied with my overall service yesterday at this Midas shop in Bells Corners. From the moment I walked in the Manager Randy greeted me and made me feel comfortable. Offered me coffee or water and Randy just made me feel like I was in a very caring garage. The Customer Reception area was clean and had newspapers available. The washroom was spotless! Fantastic customer experience and I will return because I was extremely satisfied!
- Peter L.
Good service  
Polite friendly service. They also found the cause of a rattle in the car to be just a loose heat shield - which they fixed for free.
- Tim P.
Superb professional service at Midas Bells Corners  
I am extremely happy with the work that Randy and his crew did on my 2006 Mazda MPV. Randy showed me what was wrong, and gave me options that were both intelligent and practical. The work was conscientiously done, and the price was more than fair. I recommend this service centre to everyone, and will be coming back again.
- James C.
Excellent Service  
Highly recommend Midas on Robertson Road. Friendly and courteous. They were able to service my car when I needed it right away. Randy went above and beyond and provided excellent and compassionate service. Something you don't often see anymore. Highly recommend to all.
- Glenda P.
Exhaust system repair  
good job
- Jeff N.
great  
same as always,great service
- Andy L.
Always the Best!  
Refer to many other people Trustworthy!
- Ken G.
Best Mechanics in Ottawa  
I would like to recommend a family-like, friendly, inviting people place that is Midas on Robertson Rd. There you will find great customer service, clean looking staff and a welcoming workplace area at Midas on Robertson Rd. you are greeted by a friendly face; the manager Randy is his name and top notch service is his game. Randy is not about money, Randy is about caring for and satisfying his customers. Randy at Midas offers a shuttle service for you to go home, wait in the heat and comfort while your car is being repaired. In our case the shuttle was already in use, so with no hesitation he used his own personal car to provide us a ride home to wait. Randy goes above and beyond what is expected! When you go to the garage as a couple they usually speak with the man only not at Midas Robertson Rd. The staff and manager Randy were extremely respectful including me the wife in all the conversations. Randy spoke and discussed with me as well as with my husband. Randy even took me to the repair area of the garage and showed me the problem... How nice is that !! I felt important and at no time was I ignored. There was another woman waiting for her car, Randy went over and sat beside her with the paperwork he did not speak to her he spoke WITH her, eye to eye and I thought what a nice guy! Midas is so lucky to have an asset like Randy working for them and representing them. I am not forgetting his staff. Classy ... just classy. No off-coloured joke in the garage area also in the reception room I will say it again .. Classy.! We were certain we needed a code 1800 part which is almost $300.00 well something did not sit well with Randy on that one. So he checked and double checked, and he promptly let us know that the "Vias" was not needed after all the old one on the car was still working just fine. Now come on who does that? He could have made money and installed the new one and we would have been none the wiser! We feel safe and well taken care of and we have the utmost trust in Randy and his team at Midas Robertson Rd. So, we cannot say enough about Randy and his team at Midas Robertson Rd Five Stars! Really! No no no! they are a 10 Star *** Thank you so much, New customers and friends for life Phil and Louise Riel.
- Louise R.
Good service  
Our cars always get good cares at Midas. People who work here are nice and don't push for other services but tell us clearly about the conditions of our cars. We are happy for being Midas' client for the past decade.
- Wentao Y.
Very good.  
I got the appt. in 2 days. The staff were courteous and efficient.
- George R.
Great service and price!!!!  
Thank you so much to Randy M. for the great customer service today. He called me three times for updates! Same day service and a great price. Will definitely be bringing my car back.
- Lissa B.
Superb customer service  
The tire on my car was suddenly looking flat. I had an urgent doctor's appointment...Randy set up my I-phone, got my GPS charged, and fixed my tire, all in time for my appointment. So friendly and such great service!!
- Rose K.
Always  
Always excellent service
- Barbara H.
Excellent service!  
I have been bringing my car to Midas Bells Corners location for about 2 years. I have an aging vehicle which needs TLC. I get regular oil changes, have had major work done, belts replaced, etc. The service is always friendly, timely and price is very competitive. I receive coupons for discounted services and even got a free oil change once as a promotion. I like that they show me the problem by asking me to view my car while in the garage/on the hoist. The waiting room has free Wi-Fi. Feels like a neighborhood garage! Front desk staff are considerate and helpful. Highly recommend Midas, Bells Corners.
- Sue S.
service  
fantastic
- John D.
Randy  
GREAT SERVICE It is so nice to deal with someone you can trust. Very helpful.
- Ken G.
stabilizer link replacement  
excellent service at a fair price.will return.
- Andy L.
My Repairs  
I am extremely satisfied with the proffesionalism courtesy and pleasant environment given to me during my repairs. Because of the nature of the repairs they offered me a solution saving me hundreds of dollars. I have in the past used this shop and willl continue to use this shop for all necessary repairs in their scope of practice. Thank you. Roy Snider
- Roy S.
Genuine...  
Randy at Sales is most genuine. Takes the time to explain and show in shop what needs done. The mechanics are all so very helpful as well.
- Maureen F.
Consistently good service  
Long time customer; have recommended to others.
- Barbara H.
Tire swap  
Easy and fast
- Ewan M.
Bells Corners is the Best  
Randy squeezed me in for a wheel change, and they dealt with my puncture promptly. They've taken care of my drive shaft, and I'm on the road until I can get a replacement vehicle. Ron and the boys in the shop are the best!
- Leslie G.
Saved the day - again.  
We've been going to Midas - Bell's Corners off and on for over 20 years. We've never had less than stellar service, regardless of who is on the team. I had my SUV towed from Carleton Place on a snowy evening, knowing that they would get my vehicle repaired and back on the road the next day.
- Leslie G.
Latest garage visit  
Always friendly at the desk, quick service, never up sell when not required. A pleasure to deal with.
- Wade K.
Best Midas  
We drive almost an hour to use Bells Corners Midas. It's our go-to service location, and they make everything right for us. I recommend them highly!
- Leslie G.
Terrific  
Very happy with Midas in Bell's Corners. I was particularly pleased with appointment given for my winter tire installation. No need to drop off the car in the AM and hope it gets done quickly...Midas was ready for me at 4pm after work and tires all done in less than 1 hr. Great rates too.
- Jane M.
Winter maintenance package  
Went in for the winter maintenance package- oil change, tire rotation ( i had received a coupon) that came with a free set of wipers. Received excellent service. The 'free set of wipers were not good quality so they offered to put them in the trunk rather than put them on. I appreciate the honesty!
- Brian N.
Very impressed  
I always had my service done at the dealership for my 2003 echo but it was just too expensive to have the muffler, etc done. This place was less than half the price and the service was absolutely great. Very impressive. And, Mike is awesome!
- Susan M.
Overbooked appointments  
Although the counter service was very good with the person explaining everything quite well, I had booked my appointment a couple of weeks in advance for first thing in the morning, and had to wait an hour and a half for my car to go into the bay. They said they had unfinished business from Saturday. I'll try not to book on Monday again.
- Cathy N.
Alain Desharnais  
The serviceman changed the oil and replaced the oil filter. Also, he installed my winter tires. And last, he informed me that my new three seasons tires were wearing off unevenly, probably due to manufacturing defect. I highly recommend this garage.
- Alain D.
Starter  
Prompt, efficient and friendly, as always.
- Maureen F.
Always use this Midas  
I'm there a LOT because I drive a Dodge Caravan. Alway leave satisfied (with exception of what I'm driving out it).
- Ewan M.
Phenomenal Service!!  
I was thoroughly impressed with the gentleman that worked the service counter!!! He was nice, welcoming and made me feel as though I could trust him completely!!! Wish I had gotten his name, as I would have liked to have called him out personally!!!
- Elisa M.
customer  
Absolutely would refer. We had a friendly, knowledgeable greeter. We felt were dealt with honestly. The work done was what was needed and the price half of what the dealer was quoting. The work was done quickly and well. We will come again. We will be happy to refer your establishment.
- Darren S.
I recommend this location  
Ken was very helpful and most pleasant. Gave good advice and got the job done in a most timely manner. I always recommend this location.
- Maureen F.
Good  
good price and nice service. We've been staying with Midas for several years and we are happy with their jobs .
- Wentao Y.
Positive  
Yes I have recommended the Bells Corners location to others as I have in the last visits been very satisfied.
- M. F.
Very impressed with the service!  
My brakes were shot. I googled "brake repair Kanata". The only place with good ratings online that was open on a Saturday was Midas in Bells Corners. (CT has poor service and online ratings to match!) I have never received such excellent service in an auto repair environment! Part of their process includes taking customers into the shop to show them exactly what is causing the problem, properly explain in layman's terms, present them with options, pros and cons, and then an estimate that they stuck to....no surprises! The only surprising fact was that Midas does a wide array of vehicle repairs (I remember Midas being a muffler place!) I will share their business card and my very positive experience with friends and family, and take all future business there! I highly recommend this Midas location!
- Catherine N.
Service appreciated  
Sean was very helpful at service desk in explaining and updating. Also spoke to Pheaktra my mechanic when I picked up my car. Impressed with both gentlemen. I've been going to Midas for many years and hesitated to return but with the service I received I will continue to have my car serviced at the Robertson Rd location.
- Maureen F.
Excellent, fair and fast service  
Thank you Chris and Tommy for fixing my car! Your service was exemplary and you really impressed me! Your pricing was also extremely fair and for one of the first times in dealing with mechanics I felt that you did the best job at such a fair price. Thank you both so much, and I am now a loyal customer!!
- Julie G.
?  
Good service
- Freddie P.
10
Write a review
We would like to hear about your experience at Midas.
Request appointment
Great auto service is only a click away.
Complete the online form to request a service appointment or call us for an inmediate appointment.
Thank you
---
We really appreciate your feedback!
Would you like to share your review? We've made it easy for you to share your review on Yelp or Google Places.
Step 1
Use the button to copy the text of your review.
Step 2
Please click the Yelp or Google Places icon below, then click Write a Review. Follow the instructions to publish your review. To Paste the text on Windows use "control + v". On a Mac use "command + v"
Thank you
---
We really appreciate your feedback!
Would you like to share your review? We've made it easy for you to share your review on Yelp or Google Places.
Step 1
Press and hold inside the review text to copy your review.
Step 2
Select the Yelp or Google Places icon below, then select Write a Review. Press and hold inside the review space to paste your review.
Thank you
---
We really appreciate your feedback!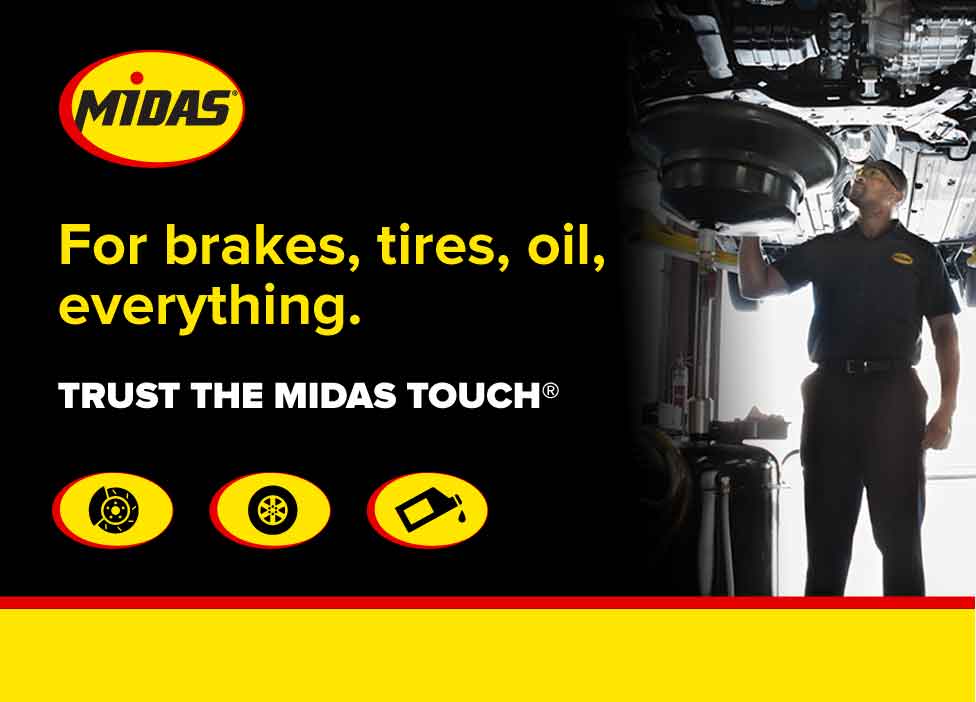 Programs
ASE Certified

Motorists Assurance Program
Amenities
WiFi

After Hours Drop-off

Coffee

Magazines

Online Appointments Available

Online Estimates Available

Online Tire Shopping Available
---
Payment methods
The Midas Credit Card offers instant credit and easy terms to qualified applicants. Subject to credit approval. Minimum monthly payments required. See store for details. Get Details
Join the Midas team at 2060 Robertson Road, Ottawa, ON, K2H 5Y8
Build your future with a leader in the automotive services industry...Midas.
Midas is one of the world's largest providers of automotive service, including exhaust, brakes, steering, suspension, and maintenance services. Midas has more than 1700 franchised and company-owned Midas locations in the United States and Canada.
Midas is committed to earning our customer's trust by offerring them the expertise, value and reposiveness they expect... every time they visit us.
Positions at Midas
Automotive Technician

General Service Technician

Join the Team
Thank you!
Thank you for your interest in Midas. We will review your skills and experience and will contact you if your background matches the available position. If there is not a fit at this time, we will keep your information on file for any future openings.
Please Note: This employment opportunity may be with an affiliate of Midas International, LLC or it may be with an independent owner and operator of a Midas shop.
Midas Management at 2060 Robertson Road Ottawa, ON K2H 5Y8.
Sending Message... Please wait.
Apply at your local Midas