Rating:
68

reviews
Please wait, sending notifications
---
Thank you! Information about this Midas shop has been sent to you. We hope to see you soon!
Close Window
Sorry, your start location could not be found. Please try again.
Midas
syracuse

is your one-stop shop for brakes, oil changes, tires and all your auto repair needs.
Midas stores are owned and operated by families in your community dedicated to providing high quality auto repair service at a fair price. And their work is backed by our famous Midas guarantee* Whether you need an oil change or tires, factory recommended maintenance, or brake repair, your local Midas has you covered.
*See store for applicability and limited guarantee terms
Average Rating:
68

reviews
car  
they did great good when they fixed my car
- Dave H.
car fixed  
they did agreat job I will go there all the time now
- Dave H.
Always do a good job  
I bring my vehicles here because they are friendly, reasonably priced, and have a clean waiting area.
- Denise F.
Great service!  
Great place to have your car serviced. Never had a problem and they are very accommodating. Josh is the best. Very happy with this Midas.
- Ann H.
Great staff  
Josh was so professional in getting my oil change done on a busy day. Great job!
- Scott W.
Excellent as usual  
Longtime customer. Always done right the first time . Thanks Dennis and Josh and rest of crew.
- Sean L.
Ok  
Great work. Great people- Dennis is wonderful. Great prices
- Brian G.
Oil change  
I understand mistakes happen every now and then but my engine light came on after a couple days after the oil change. I opened the hood to evaluate the situation and my oil cap wasn't even screwed on. It was laying on top of my engine cover. Call me lucky that it didn't fall but please double check in case this happens to another customer. Overall though everything is perfect just a small hiccup
- Reginald M.
-  
Excellent
- Miroslav T.
Outstanding services  
Dennis, the manager and his staff are very professional and courteous. I have been coming to midas at the same location in Fairmount, N.Y for a few years. The staff at this location have shown me they are dedicated and determined to keep their customers coming back. Dennis, being ex-military has shown his values and ethics are never to be questioned.
- Christopher R.
Trustworthy  
Very happy with the service. I will be a repeat customer.
- Rebecca B.
Great Customer Service  
This place is amazing! As a person who doesn't understand the inner workings of cars it is incredibly intimidating to have work done on my car. I always feel as though I'm being taken advantage of. Not at this Midas. I've spoken primarily with Josh and Dennis. Both helped ensure I understood exactly what work was being suggested and why. This is the first auto shop that has ever taken me out to my car to show me what is wrong so I could understand the costs. I will no longer go anywhere else to have work done on my car.
- Mary Kate S.
Outstanding staff & work  
Manager Dennis, his tech assistant Josh & the rest of the team at this Midas location are personable and professional. More importantly, they fix it right the FIRST time!
- Scott W.
Highly recommended  
They are honest, fair priced, and I've always have had great service whenever I've brought my car in.
- Jaime A.
Good job as usual.  
Dennis , Josh and the rest of the crew always do a good job. Got my daughters car repaired despite some time constraints. Thanks
- Sean L.
Really wonderful!  
So, at first I was concerned because I went there with the intent to use a coupon for an oil change. Unfortunately, the coupon couldn't be applied due to the oil type my car uses. However, it was still affordable and their check up was efficient and affordable and they ran me through everything and answered all my questions. The workers there are extremely kind and efficient at what they do. I recommend them for their kindness and patience and knowledge!
- Kacey C.
Still best service around!  
Josh is a constant help with everything and goes above and beyond any and all my customer service needs! Keep up the good work.
- Phil W.
Great service  
Very impressed with the service kinda reminded me of the mom/pop service, that personal service I'll definitely return for future service
- Mitchell M.
Excellent Service  
They did a very thorough job over holding my car I couldn't be happier.
- Robert O.
Cathy Z  
Excellent, the gentlemen was professional and was informed as to how long it would be. Car was ready as promised.
- Cathy Z.
Always A Pleasure  
I love this Midas in Fairmount. Service is always top notch and speedy. Dennis never fails to keep the consumer well informed and is always a pleasure to communicate with. I won't take my cars anywhere else.
- Taneesha A.
Exhaust  
Everyone is always very friendly & informative. I don't feel like I'm getting hosed! Special kudos to Dennis, he has to be one of the nicest human beings on the planet. Very knowledgeable & fair. I wish more people were like him. I would go back just because of him.
- Debby B.
great service  
yes great service, Josh and Dennis always get you and out .
- James P.
Trustworthy  
I've been going to Midas for years. I trust Dennis to give me sound advice on what my car needs and at a reasonable rate. I have recommended Midas to all my family and friends.
- Christine W.
New Tires  
Everyone was very friendly. Honored a quote I was given a couple months ago. Dropped my car off and they called me and was done in about 2 hrs.
- Debby B.
oil change  
very happy with the quick service friendly employees
- Stephen G.
Fantastic  
I had an emergency and called Dennis. My muffler pipes fell down to the ground and were grating on the road. Dennis said come on in now and we'll take care of you. He did and very quickly also. I was so scared that on my way to Midas, the pipes would fall off. I just made it. Thank you Midas, great customer service.
- Louise C.
Quick,easy, affordable  
Dennis and his team always makes room for us even on a last minute call. They are very friendly and fair with their pricing. I bring all of my cars to them for service.
- Dan D.
Best service around.  
Every time that I come to this Midas I am greeted by name no matter who is currently in the shop. The staff and manager, Dennis, are so knowledgeable and always willing to explain anything that is not understood. Coming from a car novice, I feel more capable because of what I have learned from this place. I would never feel comfortable going anywhere else.
- Jillian F.
Great Service  
I am greeted when I walk in the door. I am treated with respect. The repairs are explained in terms that I understand and I am encouraged to ask questions when I don't understand.
- Christine D.
State Inspection  
While this visit was for an inspection Dennis, Josh and team are always great to deal with.
- David M.
Fast efficient friendly service  
Oil change was a walk in and was taken in quickly and done correctly with a friendly technician!
- Celene U.
Good Job  
As it has been for a few years now, the work done at this Midas location is always good. They are up front with me and discuss the options of any repairs that need to be done. These options are offered without being pressured and with the knowledge to back their recommendations. Most of the time Dennis and Josh are who work with me and I appreciate their professionalism and that they work to get the work done properly and in a timely manor.
- Jeff K.
Midas review of latest service  
Yes, definitely! Dennis and Josh both are pleasant, courteous and professional. I have found that they are truthful about your car problem, and this is the first Repair shop that has not tried to take advantage of me. Have been going to them for about 4-5 Years now, and will continue to tell my friends about Midas. (My family knows, and goes there too!)
- 3153204142Donna Q.
recommend to everyone  
i go to midas with all my cars and would not go any where else. Dennis is great and so is jason. I hopethat is his name. I always have great service there. thank u
- Johanna B.
YES I WOULD AND DO!  
NOTHING BUT GOOD THINGS FROM DENNIS AND HIS CREW
- Keith C.
yes  
as always great service,thanks josh and dennis.
- James P.
From Greeting to Goodbyes  
Such a nice experience. Dennis and crew are so personable and helpful.
- Pat I.
Dennis is a winner  
For years I have always gotten professional, courteous and efficient service
- Bud C.
Awesome service!  
I was only there twice. After pep boys had given me issues many times. So I decided I needed to move on. I tried Midas and both times they were very respectful. They explained what was going on with my vehicle and did not take advantage of a female! Thank you Midas. I will recommend you to all friends and family !
- Sandy L.
Always great service  
Prompt reliable service. Friendly, knowledgeable service techs even good for a laugh. Never disappointed at Fairmount Midas!
- Ed G.
Good and fast service!  
My front breaks were rusted and I had to replace the rotors and the pads. The service was good and I was all set in an hour.
- Jasim I.
Just an inspection.  
Dennis and his team are always a pleasure to deal with. They are fair and and honest. Not much more I can ask for when it come to auto maint.
- David M.
Great Experience!  
The mechanics are very knowledgeable, honest and they do excellent work! I highly recommend this location!
- Alex M.
Yes!!!!  
Very good service Dennis and josh are the best been going there for years, both my truck and wifes beetle.
- James P.
wonderful service  
Friendly, efficient service! They showed me what my car needed and explained the repairs, including options for parts and costs upfront. Great service and repairs in a very timely manner. My car was ready before they estimated and in great working order!
- Celene U.
Thank you  
As I pulled in the driveway with my wife's Mustang, Steam was rolling out from under the hood. When it stopped I looked for the leak and called Midas. I told Dennis we were planning on taking the car on a trip in a couple of days and asked if he could take a look at it. He fit me in and the thermostat housing was fixed the next morning. I appreciate the service Dennis and Josh provide. Honestly, I was never a big fan of Midas because I had some issues in the past at a different Midas location. But because this one is so close to my house I figured I would give it another chance. The honesty, service, and cooperation I get from these guys is why I keep going back.
- Jeff K.
Taurus passed inspection!  
I want to put in writing how much I appreciate Dennis working with me to get the work done on my Taurus to pass inspection. I'll be back!
- Gary F.
Great place!!  
The Midas shop on West Genesee St. in Camillus has consistently provided my family with fantastic service at reasonable cost. The staff (Dennis and Jason, among others) has been courteous and they have always looked for ways to save me money. The quality of the service is such that I have recommended them to my son- we both go there whenever we need automotive care. This is the place to go if you need work done on your vehicle!
- Mark C.
Yes I would recommend Midas to my friends and family  
I feel I can truly trust everyone that has worked on my vehicle. They are very good at explaining what is wrong with your vehicle and showing you what needs to be done.
- Marie D.
Excellent  
I had a loud muffler and took it to Dennis's Midas shop in Camillus. These guys do all the work on my car for the last 5 or 6 years. Shamus greeted me when I walked in and said it would be about an hour wait. That was fine but they got the car in quicker than that and I was on my way in under 2 hours. Always great service,especially Josh,Dennis and Shamus! I won't let anyone else look at my car. My 2007 Impala has 176,000 miles thanks to these guys!
- Laura H.
Awesome Service  
My Husband & I have been going here for many years - and the service never disappoints- a BIG shoutout to Josh who always goes above & beyond!
- Megan R.
Oil change  
I have been going to Midas in Camillus for quite some time now. Dennis, the manager is always ready to answer any questions I may have. He is always pleasant and nice to everyone who comes in for service. At the time of the oil change, the staff discovered a problem with the "front sway bar" on my car. Dennis showed me the bad front sway bar, then showed me the good sway bar on the other side of my car and explained the difference between the two. When Dennis told me he had just celebrated 36 years working for Midas, I realized that here was a man that knew cars and knew what he was talking about and I felt that if I was told there was a problem with my car that I was not being lied to. I have another appointment on December 2nd for my annual car inspection with Dennis and his staff at Midas, and will continue to take my car there for any work needed in the future.
- Donna Q.
Great Service  
Great, Quick Service From Friendly Staff! Highly recommend Camillus location!
- Michelena C.
Booking & Cooking R & R onTime  
Outstanding job. First job in personnel ready to go. Finished work within estimated time frame. Estimated price matched completed work price. Test demonstrated no leaks or squeaks. On the road again - lunch with the Buyer. Thank you gentlemen.
- William K.
Thanks  
This Midas has been consistently helpful and considerate to me since I moved to Camillus, over 7 years ago. And that is how long I have been a customer there-because the Manager, Dennis, and his crew are great!
- Lynn R.
Honest and Caring  
My husband, Manhattan born and raised, was the world's greatest cynic. Yet, following his initial visit to our local Midas, he proclaimed unequivocal trust in Dennis, the manager, once Dennis assured him that the expensive and unexpected work that was deemed necessary by the mechanic at the dealership actually wasn't needed. That assertion proved to be correct, and since that first encounter, almost a decade ago, Dennis and his team have often gone above and beyond to provide outstanding service for all members of our family.
- Donna C.
great service all the time  
I never took my car to any repair shops before a good friend told me about Midas in Camillus the manager Dennis is a very nice and funny guy the staff their are great they have you in and out in no time keep up the good work guys.
- willie c.
Outstanding Personnel and Service!!  
My brakes went out on my Tundra during the day yesterday and I couldn't do anything about it until after work. I pulled into Midas on W Genesee at just after 5pm. I was greeted immediately by Shamus and I explained my problem. To my surprise he had my vehicle inside and diagnosed in less then 10 min!!! A blown brake line. I then spoke with Jason who informed me that he would try to get it it fixed by closing time (7pm) I thanked him and got a ride home. At 6:50pm I got the call that my truck was finished and he would wait for me to get there so I could have my vehicle back that evening. I just want to thank these two great young men for their AWESOME customer service!!
- Ernest M.
Nearly stranded!  
After being nearly stranded over the weekend in sub-zero weather due to a mis-firing cylinder, I was eager to get my car looked at. Dennis got me in by 10:30 on Monday morning, and had everything taken care of at a reasonable rate in just a few hours. I will definitely use this shop again AND tell others to do so.
- Gary F.
Repair Service  
Great service. Got me in and out quickly. Manager Dennis is always helpful.
- john b.
strut bearings  
Great place to have work done,Dennis gets you in and out as promised.
- james p.
Trusted Shop  
I always feel confident I am getting the right repair, for the right price at Midas. The shop is clean, the workers working, and they do a fine job too.
- Lore E.
Awesome service!!!  
Great place, fair prices and the service is outstanding!!!! Thank you Midas Guys!!
- Edward S.
Attention to Detail  
I took my car to Midas on West Genesse St in Camillus when my break pedal melted to the floor. The manager called me when they were taking the car out for a test drive, but called back to tell me the breaks need more adjusting. They worked find, the car stopped as needed, but there was a 1 inch sag in the peddle that the manager did not feel comfortable with. He found a seldom looked at gaskit that was causing the problem. His Attention to Detail, makes this a trustworthy place to get work done.
- Scott M.
Terrific Service  
I have been going to Midas since Sept. 2011 and have always had great service and I have confidence that my car is in good hands every time I take it there..
- Kathy G.
Great Service  
A big thanks to the Crew at 3802 W.Genesee they were awesome. Service was fast, friendly & professional with honest helpful advice which was greatly appreciated.I will call on them for any future work & will recommend them to others.They saved me time & money,thank you all.
- Becca S.
Loyal Customer  
I have been to many car repair shops including the chevy dealership, but none of them can compare to the TOP QUALITY SERVICE I always get from Dennis and his staff at Midas on West Genesee St in Syracuse NY. As long as Dennis is there I will continue to service my car there. Yasmin
- Yasmin A.
10
Write a review
We would like to hear about your experience at Midas.
Request appointment
Great auto service is only a click away.
Complete the online form to request a service appointment or call us for an inmediate appointment.
Thank you
---
We really appreciate your feedback!
Would you like to share your review? We've made it easy for you to share your review on Yelp or Google Places. No thanks, I'm finished.
Step 1
Use the button to copy the text of your review.
Step 2
Please click the Yelp or Google Places icon below, then click Write a Review. Follow the instructions to publish your review. To Paste the text on Windows use "control + v". On a Mac use "command + v"
Thank you
---
We really appreciate your feedback!
Would you like to share your review? We've made it easy for you to share your review on Yelp or Google Places. No thanks, I'm finished.
Step 1
Press and hold inside the review text to copy your review.
Step 2
Select the Yelp or Google Places icon below, then select Write a Review. Press and hold inside the review space to paste your review.
Thank you
---
We really appreciate your feedback!
Programs
Better Business Bureau Accredited Business
ASE Certified
Motorists Assurance Program
Amenities
WiFi
After Hours Drop-off
Coffee
Magazines
Online Appointments Available
Online Estimates Available
Online Tire Shopping Available
---
---
Payment methods
The Midas Credit Card offers instant credit and easy terms to qualified applicants. Subject to credit approval. Minimum monthly payments required. See store for details. Get Details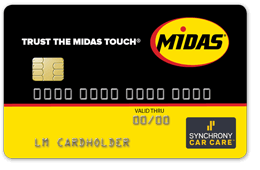 Join the Midas team at 3802 West Genesee Street, Syracuse, NY, 13219
Build your future with a leader in the automotive services industry...Midas.
Midas is one of the world's largest providers of automotive service, incluiding exhaust, brakes, steering, suspension, and maintenance services. Midas has more than 1700 franchised and company-owned Midas locations in the United States and Canada.
Midas is committed to earning our customer's trust by offerring them the expertise, value and reposiveness they expect... every time they visit us.
Positions at Midas
Auto Shop Manager
Automotive Technician
General Service Technician
Thank you!
Thank you for your interest in Midas. We will review your skills and experience and will contact you if your background matches the available position. If there is not a fit at this time, we will keep your information on file for any future openings.
Please Note: This employment opportunity may be with an affiliate of Midas International Corporation or it may be with an independent owner and operator of a Midas shop.
Midas Management at 3802 West Genesee Street Syracuse, NY 13219.
Sending Message... Please wait.
Apply at your local Midas