Rating:
20

reviews
Please wait, sending notifications
---
Thank you! Information about this Midas shop has been sent to you. We hope to see you soon!
Close Window
Sorry, your start location could not be found. Please try again.
Midas
cincinnati

is your one-stop shop for brakes, oil changes, tires and all your auto repair needs.
Midas stores are owned and operated by families in your community dedicated to providing high quality auto repair service at a fair price. And their work is backed by our famous Midas guarantee* Whether you need an oil change or tires, factory recommended maintenance, or brake repair, your local Midas has you covered.
*See store for applicability and limited guarantee terms
Average Rating:
20

reviews
Courteous and professional  
I've noticed a little leak on the garage floor and brought the car for inspection to Midas. The mechanic found out the cause - water pump. The repairs didn't take too long. The manager provided transportation to take home my family who was with me at the time. All was very courteous and professional.
- Nikolay B.
Beechmont Midas  
Great service from this Midas. They have been servicing my Toyota for years-it is over 13 y/o now. Honest & dependable!
- Eric S.
Fast service and saved me money!  
I brought my car in for a second opinion on an exhaust issue identified by a dealership's service dept. The dealership wanted to replace some parts, but I wanted to see if the issue could be repaired for less cost. I made an appointment at Midas, and I was just expecting to drop off the car before getting an estimate some hours later. But they asked me to wait, and had looked at my car and provided an estimate for me within 15 minutes. The cost for the repair was about half of what the dealership wanted to charge for replacement! And I had my car back in just a few hours. I was very pleased with the service and the work.
- Mary W.
GREAT SERVICE  
DAN AND ALL THE STAFF DO A GREAT JOB OF TAKING CARE OF ALL MY AUTOMOTIVE NEEDS. THANK YOU
- Mike W.
We do  
If u didn't do any good I wouldn't b coming there,and Dan(the old man) is a big part of us coming there for all these years.??
- Richard F.
Great Experience  
Have to give a "great" review on my first visit to this Midas location. Although I went in for just an oil change which was badly needed, also suspected that there might be a problem with the brakes. Turned out I was right and the manager was quick to call me out so both he and the mechanic could show me just how bad the problem was on both front and back brakes and pads. They even stayed late to do the job as they did not want me to leave in the bad condition they were in. True I wasn't ready for the difference in an oil change price and also getting new brakes, but appreciated the discounts given and the job done on both. Will definitely return!
- Donna M.
Low price promotion  
I was happy with having my oil change priced so low, it was $19.99 with a tire rotation. You can't beat that. The time it took however was quite long, I was there with my car for an hour and 20 minutes. The mechanic stated it wasn't normally that slow. The service was very friendly. I will most likely go back to them as long as their oil change prices stay low.
- Aimee S.
The techs are really great  
best and most friendly service I've had in years. Paul and Dan can't thank enough!
- Jody S.
Oil change  
Beechmont midas has the most honest mechanics. Brandon went over everything in my car . Dan waited on me a few months back and I can say it's nice to have honest people you can take your car to ! Thank You !
- Sandra L.
Dan (old man)  
With Dan (old man) being there the wife and I have had great service with out all the bull ****,Dan has done us rite and we always tell other people to go there.
- Richard F.
Repair  
Had engine light problem with noise coming from exhaust area. Auto Zone scanned it, but cldnt figure it out. U guys did. Paul was incredibly helpful in diagnosing it & helped me save some $ in the process. He's a good tech & a really nice person. Please compliment him 4 me. Thx, Ted p.s. Having complimented Midas & Paul on the above, I have to mention that this review form sucks becuz it "forced" me to go out to the car to get my reciept to get the stooopid invoice#. Surely ur admin could have ascertained tha from the info.
- ted s.
Excellent Job  
I needed a lot of work done on my Dodge Neon. After getting multiple estimates, Midas was the most competitive. Paul and his team got the job done in a timely manner - even having to stay late to finish my car. There were several additional findings during the repair where Paul let me know what needed to be done and that he would be able to stay within the initial estimate provided. Excellent to work with. Good, honest people. I would highly recommend them.
- Bryce C.
Robert Huffaker  
With out an appointment i was in an out 30 min good job guys as a viet nam dam good job guys
- Robert H.
At first happy  
At first I was happy, I usually go to the one by my house on the west side but they were booked so since I was on the east side I went there. They were all friendly but I don't really know much about oil and figure there were going to use the cheaper stuff they usually do. When it cost more I thought maybe there was no sale or something at the time. The next day I had to go back because something was wrong with my tire pressure and I saw a sign for the 19.99 oil change so I went to ask them and they said they put the expense oil in. I was not very happy to spent almost 60 dollars for a oil change when it's normally 20
- Molly F.
Suspicious Scamming.  
I took my car to Midas to get a basic oil change. They put the car on a jack, and was changing the oil. I was in the waiting room, and about 30 minutes later, a mechanic told me my car wouldn't start. I was scared, that it was something wrong I thought they did something, and messed my car up. I got loud basic I was freaking out, all of a sudden they got it started. I think they lied to me to see if I would pay more money to get it fixed. I think they thought I was a fool. Mechanic seemed careless "Starters go out over time." that very quote stopped me from taking my car to Midas ever again. Based on wait I have heard, and experienced. I would rather take a chance at other servicing places. Don't there they may ***** you car up, for real.
- Carlton T.
Brake work  
Robbie and Kennie were very helpful and courteous and did my brake work effectively. I had previously stopped coming to this location,but Robbie and Kennie have won me back.
- Greg M.
Very Ethical and Excellent Service  
I first came to Midas after Tire Discounters tried to charge me $1600 for a repair that seemed too much to me. After I finally got my car out of Tire Discounters and into Midas, the bill for the same repair was about 1/3 of what Tire Discounters was trying to charge me. I recently stopped in without an appointment for an oil change, and I was treated very well. The entire charge was only $19.99 plus tax and they also checked over my entire car, including rotating my tires. Roger, the District Manager, and Gary went out of their way to make things easier for me, and Rob, the Asst. Manager, explained everything to me when checking me out. After my experiences elsewhere, I especially appreciate that Midas is so honest, ethical, and working hard to get my business.
- Susan B.
Will go no where else!  
Let's face it, when you need a mechanic, it is not the time to find a mechanic! We were in a situation that was not good, a vehicle that just stopped working and new to the area. We drove down Beechmont looking for a shop and came across Midas. The associate at the desk was Scott Fair. He spoke with us and told us to get the vehicle there, they would diagnose and call us. Long story short, (and the long part would have been the mechanics working on the water pump/ fan motor housing! ) after 3 days the vehicle is in better shape than it has ever been. I cannot say enough about Scott and his professionalism, he kept in contact with us and worked above and beyond to get us running and happy. This is a class act team and we will not be looking anywhere else for our automotive needs! If only they worked on motorcycles!
- Lois D.
Hands Down THE BEST!  
I cannot say enough great things about this location and the Manager, Steve, who has given me THE BEST customer service each and every time I have called or been in. I was referred to this location by my father-in-law mainly for the honest, good work and excellent customer service that Steve provides and could not agree more. My dad's van needed some TLC after receiving horrible, expensive & dishonest work from another business and this was just the place to restore our faith. We will continue to only see Steve and the Midas crew on Beechmont! Thank you again!
- Jami R.
Honest, straight forward and very helpful  
The entire staff there is helpful every time I go in for service. They let me know what is going on with my vehicle and then let me make decisions on repairs without feeling pressured or scared into buying something. Highly recommend for full service, they can do anything!
- Cathy M.
10
Write a review
We would like to hear about your experience at Midas.
Request appointment
Great auto service is only a click away.
Complete the online form to request a service appointment or call us for an inmediate appointment.
Thank you
---
We really appreciate your feedback!
Would you like to share your review? We've made it easy for you to share your review on Yelp or Google Places. No thanks, I'm finished.
Step 1
Use the button to copy the text of your review.
Step 2
Please click the Yelp or Google Places icon below, then click Write a Review. Follow the instructions to publish your review. To Paste the text on Windows use "control + v". On a Mac use "command + v"
Thank you
---
We really appreciate your feedback!
Would you like to share your review? We've made it easy for you to share your review on Yelp or Google Places. No thanks, I'm finished.
Step 1
Press and hold inside the review text to copy your review.
Step 2
Select the Yelp or Google Places icon below, then select Write a Review. Press and hold inside the review space to paste your review.
Thank you
---
We really appreciate your feedback!
Programs
Better Business Bureau Accredited Business
ASE Certified
Motorists Assurance Program
Amenities
WiFi
After Hours Drop-off
Coffee
Magazines
Online Appointments Available
Online Estimates Available
Online Tire Shopping Available
---
---
Payment methods
The Midas Credit Card offers instant credit and easy terms to qualified applicants. Subject to credit approval. Minimum monthly payments required. See store for details. Get Details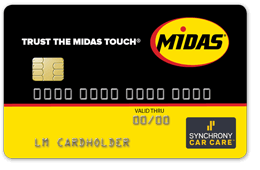 Join the Midas team at 8502 Beechmont Avenue, Cincinnati, OH, 45255
Build your future with a leader in the automotive services industry...Midas.
Midas is one of the world's largest providers of automotive service, incluiding exhaust, brakes, steering, suspension, and maintenance services. Midas has more than 1700 franchised and company-owned Midas locations in the United States and Canada.
Midas is committed to earning our customer's trust by offerring them the expertise, value and reposiveness they expect... every time they visit us.
Positions at Midas
Auto Shop Manager
Automotive Technician
General Service Technician
Thank you!
Thank you for your interest in Midas. We will review your skills and experience and will contact you if your background matches the available position. If there is not a fit at this time, we will keep your information on file for any future openings.
Please Note: This employment opportunity may be with an affiliate of Midas International Corporation or it may be with an independent owner and operator of a Midas shop.
Midas Management at 8502 Beechmont Avenue Cincinnati, OH 45255.
Sending Message... Please wait.
Apply at your local Midas