Rating:
99

reviews
Welcome to Midas,
How may we help you?
Rating:
99

reviews
---
Change Store
Please wait, sending notifications
---
Thank you! Information about this Midas shop has been sent to you. We hope to see you soon!
Sorry, your start location could not be found. Please try again.
Midas
kingston

is your one-stop shop for brakes, oil changes, tires and all your auto repair needs.
Midas stores are owned and operated by families in your community dedicated to providing high quality auto repair service at a fair price. And their work is backed by our famous Midas guarantee
*
whether you need an oil change or tires, factory recommended maintenance, or brake repair, your local Midas has you covered.
*See store for applicability and limited guarantee terms ↩
Average Rating:
99

reviews
Good customer service but..,  
The customer service at the front desk was great..very friendly! I am assuming the oil change was done fine... But I was also told that there were some complimentary things included with the oil change (ie:vacuum floor mats and clean front windshield, etc) none of which were done. Maybe don't advertise that if you aren't actually going to do it ???????
- A C.
Rear Brake Light replaced  
Had a rear window brake light go out and was driving by Midas on Princess on Saturday in one of our Company vehicles. Thought I would swing in and see if they could replace for me. Replaced for free and excellent service. Will go back.
- Steve W.
Great service in all departments.  
I go in to get some brakes done and come out with 1/2 my car rebuilt! This was a good thing. My car is 13 years old. I knew I needed brakes done so I brought it in for a free inspection. I also had some concerns with some clanking. Upon inspection: I need new rear brake calibers and the front control arms. The control arms where SOOO bad they had to torch them out which took many extra hours. I was kept informed exactly what was going on with my car and I OKed all the work. I got to see the new pads. rotors, calibers and Control arms. I watched them torch out the some of the arm work too. It was nice to be able to see what and how they where doing things. They where able to fit my work in the same day i had it looked at and it took them all day and the better part of the next day. I compared the price to some other shops and they are on par or cheaper. I also had a few little things done for free and did not pay for the extra time cutting out the seized up arms. I was also given a loaner car! Now my car stops "on a dime" and I feel more grounded and there is no more clanking so far. My wife feels much safer in the car now. I feel we are good for a a few more years now. I also get my oil changes and tires from here and have been very pleased with the staff and the workmanship. They let you know what will need to be done and what can wait and also what the manufacturer recommended maintenance are. 5 stars all around everyone!!! Thank you.
- Andy A.
Service and brake check  
Everything done well. Personnel were easy to talk to and let me know everything they did or were suggesting. Need a better coffee machine!
- Tony K.
Oil change and re and re tires.  
Yes most definitely. I was well taken care of, I have to say the best in the city of Kingston. Thank you for most efficient care.
- Linda B.
Oil change  
They were very helpful. And explained my battery issue and what my options are for financing that repair
- Cyndy C.
Reviews  
Always great service!
- Victoria D.
Great Work!  
They took Good Care of my truck
- Terry B.
How did you do  
As always great service and friendly people
- Linda S.
Great Customer Service  
I am very impressed with the service I received during my visit to MIDAS at 1137 Princess Street. Jesse Howe is very professional in dealing with the customers. He cares alot about the convenience of their clients. He is very polite and identifies your vehicle repair needs and provides you very cost effective solution. Repair work is carried out diligently and in timely manner. In future, I will always prefer to go to this location of MIDAs and recommend others to bring their vehicle there to get value added service.
- Muhammad K.
Taking care of me  
Simply amazing I needed warranty work done out of town. Plus thay found issues not under warranty (of course) I called midas booked an appointment got it done for less money! Found they suggested work that didn't need to be done, and I wasn't stranded in a distant city with out a car. MIDAS ROCKS!
- Wayne P.
owner  
yes..you did great..u were so helpful to pick up and drop off..u were friendly, polite, informative, helpful..couldn't ask for more thanks
- S C.
👍  
Great service, awesome prices, friendly workers and very professional.
- Alexis C.
Good but  
Brakes seem ok, car stops well now and is quiet. That was main reason for visit. I'm not sure all the other work that was meant to be done was actually done. I had to ask for my wipers and maybe not part of the deal but didnt get one for the back. My tire that leaks still seems to leak too and I was told they would reseal it. The brakes that were replaced seem fine, cant tell if others were "cleaned up" as they looked as rusty and crusty as when they went in. And seem to have a muffler pipe noise I didn't have when it went in. I take the blame for leaving car and not staying to check work as it was being done. If I did return I would stay with car. Cost a lot more than I expected and would do better research next time as well as that could be fair price but I didnt compare or check. Car things always seem to be much more dont they.... Again that was up to me and I didnt do my due diligence.
- Jen A.
service  
excellent
- Paul M.
Oil Change  
Excellent service as always. Even drove my son to school. :)
- Tiffany W.
Amazing Customer Service  
Best in Kingston. They completely put your mind at ease and always go the extra mile to get you in and out. They always seem to do whatever it takes to keep your business. Their staff are incredible and they have won my loyalty! Thank you Midas staff Princess Street for your professionalism and your eagerness to resolve issues.
- Terri M.
Tire issue was misdiagnosed  
I received excellent service at Midas in Kingston except for the misdiagnosis of my low front passenger tire. They said that the tire was just not properly sealed to the rim but I had the same low tire again a few days later and took it to a tire place in Toronto that said the rim had a flat spot (likely from a pothole) which was allowing air to slowly seep out. I ended up paying Midas $25 to have the tire remounted and rebalananced and then another $70 in Toronto to have my rim replaced. Apart from this misdiagnosis I had an excellent experience at Midas. I just wish they had correctly identified the issue with my tire so that I hadn't spent the $25 unnecessarily.
- Tanya R.
Not clear writing  
My visit to midas was ok. Only one problem, I had a hard time reading the writing on my statement. The writing was not very clear.
- Sally B.
Service  
I have been to Midas 4x now and never received the complimentary vacuum/mat washing the radio advertises :( Other than that, happy with service.
- Lindsay F.
Great friendly service  
The service is always top notch at Middas.
- Kim W.
Very pleased  
I was very happy with the service I received. I had my rear brakes done and front brakes serviced, and a brake fluid flush. They took the time to speak with me before during and after my service. The mechanic himself even explained some things and felt like they cared. Great service!
- Kelly F.
Usual overall good experience  
I have come to expect consistent quality service and am not disappointed. I have, however noticed that my last 2 oil changes did not include the courtesy vacuuming. Has this service ended?
- Karl V.
Tres bien  
bon service, rapide, texto utile
- Aude B.
fast and efficient service  
another very profession experience done in a fast efficient manner
- Tim A.
Wow  
Great service, great prices, and open on Saturday! The staff was pleasant, professional and efficient. I will be back and will recommend Midas Kingston to everyone.
- Debbie M.
Customer Service was superb  
The staff exceeded my expectations. I appreciated the flexibility and professionalism of the front desk staff. The staff expedited the appointment so that my daughter could return to school in a timely fashion. The staff were professional, friendly, and made the experience positive. My daughter, a student at Queen's felt very welcome and safe in your environment. She will be back! Thank you, Jodie
- Jodie W.
Best service  
Jess and Cheryl are always great ,fast reliable service .Keep up the Great Job.#1 in city.
- Robin F.
Exceptional Service  
My recent experience at Midas (Princess Street) was the definition of exceptional customer service. I was concerned about a tire pressure warning I had been getting and thought perhaps I needed a new tire. The service attendant conducted a thorough check of each tire, noticed that all tires were under pressured and topped them up. He could not find any problem with the tire in question. He was polite and professional and took a fair amount of time to do this. When I went to pay I was told there is no charge. This exceptional customer service will definitely keep me coming back.
- John R.
Passionate staff  
Your assistant manager, Cheryl was amazing! She was very passionate to our needs and could not have made our experience any better, thank you. Al and Simone Reid
- Al R.
First time but not last time customer  
My dad recommend me going to Midas for an oil change and I'm happy I did. The service at the one on princess street was great. As soon as I walked in I was greeted by name and the lady behind the desk was so friendly. The service was quick and even making the appointment was easy. Also best price I have ever paid for an oil change. I will be back. Thank you.
- Courtney P.
So far I am satisfied  
Always happy with the service I receive, there was one incident where i ended up getting used struts elsewhere, but that is no fault of Midas.
- Sebastian S.
Thanks  
Great service great staff fair price.
- Wayne P.
Great service  
I have appreciated their service and I will definitely return to this location. Friendly staff and very professional.
- Julie H.
Pleasantly surprised  
Very polite and efficient staff. Amazed that they could get the parts and had the capacity to work on an older extremely rare European luxury car . Made some suggestions that saved me thousands and proved to be the appropriate solution rather than doing a complicated and unnecessary repair. Courtesy car made my life easy!
- Charles M.
Alignment  
I will say that the staff were very professional and friendly on the phone and in store. I did however disagree with paying the full price of a rear and front end alignment when they were only able to adjust the front due to issues with some bolts in the rear as the staff informed me about. In addition to this, the coupon flyer that came in the mail for the alignment service did not apply to the kind of alignment that I needed even though it appeared to me that it was a standard alignment that was advertised in the flyer. All in all I felt that they performed good service, but did not fully inform me in regards to the questions I had about their promotional deals.
- Steven C.
Ok  
the oil change was good I never had a problem with that when I emailed you to give me what was wrong with my car and I never heard anything I now have no car
- Julie T.
Amazing people who care about their Community  
Midas Kingston have always done a great job keeping our Track Operators vehicle making it to the next big race! However they go beyond earning your business and doing top quality work! They also help service clubs in their community foster a child's dream to be an Olympian and race for their Country, teach our riders life has winners and losers and we must pick ourselves up and try hard irregardlous and even have fun while doing something active that the whole family can participate in! Thank you Midas Kingston for everything you have done for Gan BMX and the children and riders we bring to our community!
- Gananoque B.
Outstanding Service  
I have been a customer for quite some time, and the staff are always courteous, respectful, and go out of their way to accommodate my needs. Have never been disappointed with their work!
- Linda M.
Amazing help!  
Brad was super helpful to me when my truck ran out of oil. He topped me up, checked that I was safe for travel - and got me on my way quickly. Thanks so much!!!
- Julie L.
Oui très bien  
Courtois, professionnel, à temps
- Aude B.
Pleased  
I was very happy with the service. There was a minor adjustment needed later but they took care of it quickly. Very busy shop. Deservedly so.
- Mike T.
Great Customer Service  
I was helping a lady whose vehicle had a flat tire and discovered that the spare was flat too. I took the punctured tire to Midas on Princess pretty near their closing time and explained the problem and they ****** in the repair there and then. Fantastic service - well done Midas staff you are awesome!
- Colin R.
fast and efficient service  
arrived a few minutes early and was back on the road in 35 minutes
- Tim A.
Flush coolant, front alignment  
First-rate, as always. FR lower ball joint had a problem, shown old and new in comparison. Despite unexpected extra, job completed cheerfully and on time. I'll be back!
- Mike C.
The Best  
Can't thank the guys enough for getting me in on an emergency basis Saturday morning after getting a rock stuck in my caliper while on the 401 heading to Montreal. Professional service and diagnosis.... Quick turn around and had me back on the road that morning.... I never write reviews so this one is well earned and much appreciated.
- Glen G.
Amazing Service!!!  
This shop continues to go above and beyond with every single service. Professional, kind, and customer services focused. Thank you all for everything you do every day. Well done.
- Ryan W.
Five star service  
My muffler decided to go. Very loud. Turned car around went to Midas. Had car repaired same day and the staff were awesome. Recommend. Definitely five star.
- Joanne S.
Half a day at Midas  
I made an appointment for 23 March at 12:00. Upon arrival, it was 30 minutes before my car was taken into the shop to be looked at. Despite already knowing what was wrong with my car (exhaust) it took about 40 minutes for a tech to look it over and assess what needed to be replaced. The customer service rep priced me out parts and gave me a military discount which was great. However, I was told it would take an hour and a half for my car to be worked on and it took 2 hrs and 45 minutes.
- Erin F.
Outstanding Professionals  
In all my years of owning a vehicle, this is the number one spot I have taken it to. Thank you for great professional service. Outstanding.
- Ryan W.
Amazing Customer Service  
Thank you Jesse from the Kingston Midas on Princess st! My husband always takes our car into Jesse for oil changes and other things that need to be done. He is always professional, accurate and quick! Today he went above and beyond for us! My son's first birthday party is this weekend and he offered to blow up our helium balloons for us! We can not thank you enough! Take all your car needs to the Princess street Midas and ask for Jesse!!!
- Renee L.
Fast efficient service  
Fit me in quickly for a problem with my brakes. Shuttle got me to work ASAP which was great-I did not have to wait around; through with explanation of what needed to be done and the cost associated with it. Ready as promised. Only issue is a I requested an estimate on something I have not yet received.
- Robin B.
Friendly  
First time going and was very impressed with the service. Everyone was very nice and explained to me ( a non car person ) the benefits of the services. When I told them I could only afford to do certain services at that visit they did not pressure me or make me feel bad for it. And we're completely understanding. I will most certainly be returning to get those other things completed.
- Vanessa I.
Excellent  
Friendly, professional and efficient
- Suzanne H.
Always excellent service!!  
The service is what I have come to expect from Midas...5 stars all the way!!! Never disappointed! Very trustworthy company. Will continue to do business with them. Keep up the great work/service!!
- Connie K.
Decent service  
The service was very quick which was appreciated, however, no one went through the papers with me afterward to explain any notes or comments made throughout the service.
- Emma D.
steering wheel left covered with dirty oil  
service was OK by my steering wheel was left covered with dirty oil
- A W.
Awesome Service  
I came into the Princess St location on Saturday Jan 13th with a check engine light. Jessie got my car in right away to have this checked out for me. He let me know what the issue was and if the light came back on to bring it back. Jessie was great at ******* my car in right away and I have also received top notch assistance with himself and with the other staff at this location.
- Victoira D.
Fast and Efficient  
I had an appointment for a wheel alignment. The car went right in and was finished earlier than expected. Thanks.
- Andrew H.
Great service  
I've been in for service twice now and both times were great! The staff are super knowledgeable and friendly. Cheryl was so great she helped get what I needed done the cheapest way possible, as well as informed me of all my options for payment plans (which I did not know you could do). I would definitely recommend people come in for any of their car care needs. All the staff are super nice and helpful
- Taeler R.
Great Service  
I had a flat tire and they were very busy said they couldn't repair it till the end of the day When I explained that I had to go to work they repaired it within 1/2 an hour. I know they were very busy and I was so thankful they fixed it. I always get great service and will never go anywhere else for my oil changes..
- Sharon H.
Great Friendly Service  
Always a pleasure when dealing with Midas
- Kim W.
Jesse Howe  
the customer service from Jesse and the staff was great.
- sheila d.
Oil Change  
I always love my service from the princess garage. Only issue was no sticker to remind me when I need to come back. That would have been nice. But besides that it was great.
- Kristal B.
Oil Change  
Arriving for the prescribed appointment, the service was prompt and after a quick look at the newspaper & crossword, my name was called and it was all done. Midas does a good job.
- David D.
Brakes troubles quickly fixed  
Was in Kingston for a Scottish Country Dance Ball. As I drove in to the hotel parking lot, I heard terrible grinding noise. I called around an everyone was booked installing winter tires. A gal at the ThriftLodge recommended Midas, just a couple of doors down the street. I called, got in early Sat am. the car was ready by noon. Many thanks from an out-of-towner in distress
- Charles M.
Attention to detail  
2 weeks after. The change oil light is on. They need to remember to reset.
- Donna W.
First-rate, as usual  
I always end up choosing the local Midas. They know the car, they know me and any surprises are genuine, not contrived. As I said in the title, first-rate as usual!
- Mike C.
Not the best service I have experienced  
I brought my car in for brake maintenance and ended up having a bigger list to fix which was fine but twice I had to bring the van back. The spark plugs and leads were changed and I was coming close to stalling the vehicle in idle. Took back the first time only to have leads changed and told all was good. Once again stared having issues and had to go back a second time. The wrong spark plugs were put in much to my dismay. I would hope repair work is done right the first time as it cost me a lot of my time to keep coming back and forth for resolution on an issue I never brought it in for int he first place.
- Shawn B.
Latest service  
Impeccably done, as usual, and ready before expected time. Have also investigated Midas estimates for upcoming work against competitors, favourable. Finally, I appreciate the notifications of work that will be required in the future.
- Mike C.
Beyond Great  
These guys are great especially Jesse took care of us when we had a major breakdown had us back on the road in no time. Courteous pleasant and very nice to deal with. Thanks
- Sam S.
Princess street location  
Go midas!!!!!!!! See Shaun Lavery.. He the man!!!!
- Roberta W.
oil change and check over  
yes no waiting
- Cliff A.
Efficient and friendly  
Booked online for a Saturday morning appointment but got a call Friday morning asking if I could come in immediately, my problem got fixed a day early freeing up my weekend. Saved over $1000.00 by going with an alternative fix. Thank you to all the staff at Princess St Midas!
- Mike O.
Honest opinions and reasonable pricing.  
Honest opinions and reasonable pricing.
- Soheil F.
Awesome!  
I had an awesome experience today when we had to bring our car in to the Princess Street location. Jesse Howe was fantastic! He was so pleasant, helpful and understanding (unlike our first stop at Canadian Tire). Not being from the area, I was worried we would not be able to get the car looked at before we had to head home. Jesse not only took our car right away, he also fixed the extremely loud, annoying rattle for free! As a single mom, I really appreciated his honesty and his kindness.
- Theresa M.
Very happy customer Again  
I would like to say thanks to the staff at Midas at Princess St Kingston for the quality of work and the friendlyness of staff. The savings that I received saved me $60.00 compared to Canadian Tire for the same job, BUT only Midas had a life time warranty. I am returning to Midas to buy my winter tires. Thank you Midas and have a great day!
- David D.
Best place to go to for Car Repair  
I am very pleased with Midas Kingston. I have trusted their advice for 40 years. They do excellent work and do the best for you at a reasonable rate. lavernsimkins@yahoo.ca
- La Vern S.
So helpful!  
I was having a little battery crisis and dropped into the Midas Service Centre on Princess St. The manager, Jesse had a mostly helpful technician take a look and they had a part shipped to the store. I was on my way within 30 minutes! Fabulous services and a very customer friendly shop! Thank you!
- W W.
Excellent Service  
I was recently in for repairs. The staff was courteous and knowledgeable. Car is running beautifully. In the future I will definitely come back to Midas, and recommend them to friends and family.
- H B.
Excellent service  
I had my vehicle service at 1137 Princess St Kingston today, and the service was excellent. It was cheaper than expected. Plus they even spray out the debris out of my air conditioner at no extra charge. I am so delighted on their services that I made an appointment to buy 4 new tires. I do not usually write a review, but I had to because that is how great their service was Thank you Midas at 1137 Princess
- David D.
Great customer service!  
We found the Midas staff knowledgeable and very professional! Work was done with care and in a timely fashion. Would definitely go back to the Princess Street Midas. Thanks Jessie for the great service.
- Dorothy A.
best in class  
My wife and I have been bringing both our suv and truck to Midas for a number of years. We started at the Princess st. location in Kingston but moved to the new location on Gardiners road when it opened. I have never had better service anywhere in my 49 yrs. of driving. The front desk staff and shop staff go to great lengths to make sure we are safe and happy on the road. These people care about the customer and take great pride in their work. We could not get service any better anywhere else! Great people and excellent service. That says it all.
- Jim D.
Pit stop service  
On our way to Fredericton we experienced too much wobble while driving. To be better safe than sorry we found our way to your MIDAS location. (we always go to MIDAS in our home town as well) Our vehicle needed a lot of work but thanks to your excellent service we were on the road again without the feeling we were 'stuck' at the half way point.We were offered a service car so we could do some shopping while waiting. Thanks to the whole MIDAS team we arrived in Fredericton safe and sound!
- Carlien B.
Brakes & Tires  
Right from the detailed information to explaining what was needed and my options, the staff at Midas are top notch. All work for my Dodge Ram including suspension,spark plugs, oil changes, Tune ups,etc I rely on the professionals at Midas.
- Rick T.
Fantastic Service  
My exhaust system let go and Midas booked me in right away. The service from the first phone call was excellent. The breakdown of needed services was detailed and optional. Jesse worked with me on the bill and was extremely helpful. The work was done in an hour and I was back on the road. Will be following up on the rest of the work to be done. Well done, Midas!!Thank-you!
- Laurie H.
Floating on a cloud  
No words, and I mean no words can best describe MIDAS at 1137 Princess Street better than the beautifully written comments I have read from past customers ...Everything that has been mentioned, I humbly bow to. I fully and totally agree, and then some. All I can say is that I went in feeling so foolish for something that I HAD DONE to my car, and needless to say...They (ALL) made it seem like nothing - no big deal - to my relief, I instantly felt at ease...after that it had only got better. Which, in my opinion, and in so many others, the "Thank you" are ENDLESS. But, I will say it again and again, so Thank you...MIDAS's Staff. See ya at my next oil change. Diana
- Diana H.
Great Service  
Friday afternoon needed a tire repair right now!!! In and out less than half an hour Great service and even better no charge
- cory v.
Thank you again...Midas!  
Once again the fine folks at Midas on Princess St. Kingston have pulled through with great, affordable service in a timely fashion...thanks to Jesse, Cheryl, Tony and the rest of the crew for keeping me safely on the road with the 'Midas Touch'. A satisfied and loyal client...Mauro S.
- Mauro S.
Jesse & Tony - Way above and beyond!!!!  
It was 4:40 on a Friday afternoon of the hottest day of the year when I pulled in. I knew there was something wrong with my car but not what. I was hoping it was transmission fluid issues and figured if I got an oil change that would check the level and I'd be on my way. I live in Napanee and didn't want to get on the 401 and be stranded. Once I explained what I was trying to do Jesse said let me see what I can do, I know the guys are pretty much done. He came back with Tony who I explained everything to. He said an oil change isn't going to fix it, I need to drive the car. We went for a drive and back. He then asked my permission to pull the tires. Turned out my front caliper was siezed completely. It in turn has destroyed the brand new pads and rotors I'd had done 6 months before. He took me to the car and explained everything and showed me everything in a way I could actually understand!!! By this time it was well after 5, after the closing. I said I wanted to go ahead and Jesse got me an estimate. They said they could do it first thing the next morning. My next problem was getting home! No problem Jesse said, and gives me a car to take home!! The next morning Tony called and suggested I change my tires as well, which I knew were bad. He had already researched the best price for me. I said go ahead as well, my son drives my car too, it needs to be safe. Couple hours later I get the call it was done. I was more than pleased with the end invoice, they had given me a free alignment alignment well!! I couldn't have asked for better service, more friendly and professional staff, a nice clean, welcoming wait room! They now have a customer for life and I've told everyone I know about the amazing service there!! Thanks again!
- Jennifer Y.
Above and beyond customer service!!!  
I called and talked to Jesse Howe to book an appointment for an oil change and to purchase and install new tires for my RAV4. He gave me an estimate for new tires fairly quickly and he asked me if I want to get it install on the same day. I told him that I can't because I'm working later on that day. He told me that he can get someone to pick it up once I get to work and get everything done while I'm working and then drop it off once it's done. All I have to do is sign the invoice once my car gets drop-off. I wasn't expecting that at all. In my opinion, that is the best customer service. That's why I always go to this specific location even though there's Midas location closer to my house.
- Harold R.
Muffler Miracle  
I went to nearly every garage in Kingston, and was turned down saying that no aftermarket mufflers existed for my 2011 Elantra. When I went to Midas on Princess street, it took about 10 Minutes for them to find a Muffler they could modify and Fit to my vehicle. It took an other hour to install it at a very good price. A Big thank you to Paul and Jesse for doing the extra research and effort to procure me with a suitable Muffler. Top Rating Customer Service!
- Vincent B.
Excellent Service  
Took my vehicle to the shop today without an appointment and received excellent service. You guys did a terrific job with the repairs and even stayed after hours so I could get my car back before the next day. Thank you so much to Jesse, Tony, and everyone else. Your commitment to exceptional customer service is evident.
- Kevin B.
Found Potential Problem  
Hats off to Jesse, Tony and Justin. I went in for an oil change and snow tire removal, but a potential problem was found and brought to my attention. Fast service and repairs made and I was safely on my way. Thanks again to the Midas team. Earl
- Earl L.
Jeremy and Jesse  
Was really pleased with the service and willingness to earn my business. I have been a client for several years and appreciate their efforts to go the extra mile to make the appointment easy for me.
- Melanie L.
Friendly, great service  
Cheryl greats me like a friend and makes sure that I am kept informed and consulted. I go back because of her and the good service.
- Deb M.
excellent service  
Cheryl and the technician bobby,fit me in without an appointment,they were very busy. They let me come out to the shop and see what was going on with brakes. Iwill
- richard c.
Continuity of Service  
My son and I have used Midas since we returned to Ontario over a year ago. Their service to my son's older model car and my late model SUV has been excellent. They have consistantly provided us will quality service, good prices, and an attention to detail we really appreciate.
- Ric L.
Very friendly service  
The employees at this Midas location were very friendly.
- Brenda W.
10
Write a review
We would like to hear about your experience at Midas.
Request appointment
Great auto service is only a click away.
Complete the online form to request a service appointment or call us for an inmediate appointment.
Thank you
---
We really appreciate your feedback!
Would you like to share your review? We've made it easy for you to share your review on Yelp or Google Places.
Step 1
Use the button to copy the text of your review.
Step 2
Please click the Yelp or Google Places icon below, then click Write a Review. Follow the instructions to publish your review. To Paste the text on Windows use "control + v". On a Mac use "command + v"
Thank you
---
We really appreciate your feedback!
Would you like to share your review? We've made it easy for you to share your review on Yelp or Google Places.
Step 1
Press and hold inside the review text to copy your review.
Step 2
Select the Yelp or Google Places icon below, then select Write a Review. Press and hold inside the review space to paste your review.
Thank you
---
We really appreciate your feedback!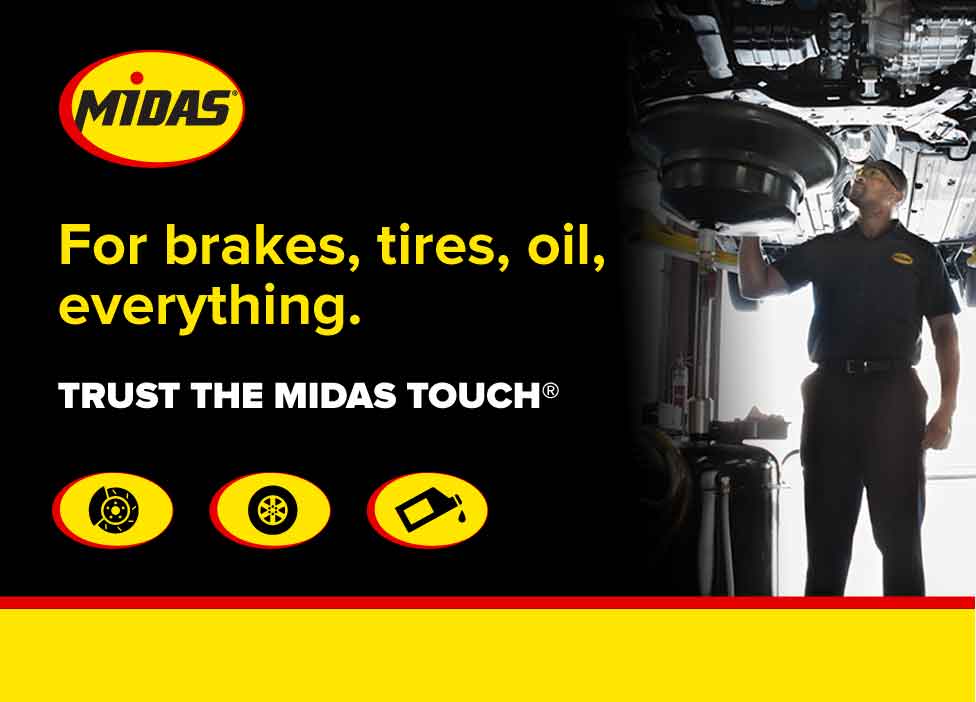 Programs
ASE Certified

Motorists Assurance Program
Amenities
Online Appointments Available

Online Estimates Available

Online Tire Shopping Available
---
Payment methods
The Midas Credit Card offers instant credit and easy terms to qualified applicants. Subject to credit approval. Minimum monthly payments required. See store for details. Get Details
Join the Midas team at 1137 Princess Street, Kingston, ON, K7M 3E1
Build your future with a leader in the automotive services industry...Midas.
Midas is one of the world's largest providers of automotive service, including exhaust, brakes, steering, suspension, and maintenance services. Midas has more than 1700 franchised and company-owned Midas locations in the United States and Canada.
Midas is committed to earning our customer's trust by offerring them the expertise, value and reposiveness they expect... every time they visit us.
Thank you!
Thank you for your interest in Midas. We will review your skills and experience and will contact you if your background matches the available position. If there is not a fit at this time, we will keep your information on file for any future openings.
Please Note: This employment opportunity may be with an affiliate of Midas International, LLC or it may be with an independent owner and operator of a Midas shop.
Midas Management at 1137 Princess Street Kingston, ON K7M 3E1.
Sending Message... Please wait.
Apply at your local Midas