St. Catharines
ON
L2P 1N6
Rating:
71

reviews
Welcome to Midas,
How may we help you?
St. Catharines
ON
L2P 1N6
Rating:
71

reviews
---
Change Store
Please wait, sending notifications
---
Thank you! Information about this Midas shop has been sent to you. We hope to see you soon!
Sorry, your start location could not be found. Please try again.
Midas
st. catharines

is your one-stop shop for brakes, oil changes, tires and all your auto repair needs.
Midas stores are owned and operated by families in your community dedicated to providing high quality auto repair service at a fair price. And their work is backed by our famous Midas guarantee
*
whether you need an oil change or tires, factory recommended maintenance, or brake repair, your local Midas has you covered.
*See store for applicability and limited guarantee terms ↩
Average Rating:
71

reviews
thanks  
First time going to midas. It was a nice experience. They changed my oil and looked at a few things.
- Marie K.
excellent  
my first time at this location.. great service, location, staff, lovely waiting room, complete with coffee and current magazines
- Marlene B.
A Great Experience  
I went for an oil change and tire rotation, and that's what I got....trusted, fast service. They didn't try to sell me anything else, said there were no issues with the car and all looked great. They took me in well within my estimated time window. And the lady at the front desk was extremely friendly and polite. Overall, a great experience. Highly recommended.
- David Z.
Service  
Overall good fast and reliable
- Carol A.
Oil change  
Staff was very courteous and quick.
- Ken M.
Winter Tire change over  
Awesome service as always!
- Trudy D.
Great shop  
I have taken both my cars here for years and I am always happy with the friendly and honest service I receive.
- Eric P.
Great Job by Team Midas at 135 Hartzel Road in Saint Catherines Ontario  
I brought my Nissan Frontier to Midas because I was experience a louder than normal exhaust sound. The guys there had it up in the air in no time, showed me the problem and did the work right away. Job was completed on time and at the price promised. Job well done. I would recommend the Midas at Hartzel Road in St. Catherines to all my friends and family.
- Doug S.
Oil change  
Although Midas was busy, got my oil changed in less than an hour with no prior appointment
- Dan T.
Great Quick Service.  
Went in for an oil change. My vehicle was taken in immediately and serviced! My coupon was accepted as well!
- Don M.
Excellent Customer Service and very professional  
Caring and honest. You don't find that in many shops (if any). True to their prices and VERY accommodating to YOUR needs.
- Crystal M.
I will be come back again!  
Excellent service in a timely manner and reasonably priced.
- Trudy D.
Wall in appointment that was short and sweet  
All work was completed promptly and properly
- Steven K.
Repairs  
Phenomenal job,, I am very satisfied with the outcome. They were very professional and courteous. Will definitely be back
- Andrew C.
Excellent Service!!  
This was my first time at Midas and I will definitely return again. Thank you for your friendly and professional customer service.
- Colleen S.
Amazing Staff!!  
I was treated with utmost respect and professionalism by everyone I spoke to. The service desk woman was friendly and helpful. The mechanic, Rick, was excellent. Very friendly and efficient. Overall one of the best auto service experiences I've ever had. Will not only return there for any future needs but will refer anyone else there as well. Great place!!
- Wayne H.
Wonderful Customer service  
Very nice experience, customer service Donna was delightful and very nice. Enjoyed my stop over. Any coupons?
- Martin V.
Great  
Great service, knowledgeable, honest staff. I have been going to this Midas for 17 years even when I moved to Falls.
- Lise G.
Good Customer Service  
Recently, I had my vehicle in for a repair. I was very satisfied with the way they analyzed the problem and fixed it within a reasonable amount of time. However, I was more impressed how they helped someone else with a vehicle issue. The customer service manager informed this gentleman that Midas could not fix the problem. The manager then gave him the name of a company who could fix the problem, told him what to say when he arrived and gave him directions on how to get there. The man left very pleased. Great customer service. Bob Cretney
- Bob C.
Excellent Service  
Very impressed with the high level of positive engagement.
- Andrew F.
Muffler/exhaust  
Love Midas on Hartzel rd in St. Catharines only place I take my car to always fast reliable service.
- Jay H.
Customer for Life  
Exceptional service from both the front counter and the technicians. I shall be bringing in all of my families vehicles as well as highly recommending to my friends! Thank you !
- Andrew F.
Oil change  
Wonderful people and a pleasant, friendly experience.
- Carter S.
Excellent  
Friendly staff, great service, quick and easy to get an oil change!
- Karly C.
Good job  
Excellent service
- Liz L.
Happy as always  
I asked for my brakes to be checked while getting my oil changed. Most places would take this as an opportunity to gouge me for brakes. Kevin told me they are fine. No upsell. I trust Midas which is a rare thing for me
- Barry J.
great, fast service  
Had to have a battery replaced. This was done right away. This my choice for my automotive service needs!
- Don M.
Great experience  
Very friendly staff and quick service
- Stephanie P.
oil change  
No waiting. Used Christmas voucher. All is good. And they support my Rotary club too!
- Dan T.
Oil change  
I went in at last minute and they still took me in they were fast and efficient.
- Phil H.
Trusted service  
I go to Hartzel Rd Midas all the time because they do great work and don't try to talk you into unneeded service. Keith is a great friendly manager that I enjoy dealing with. And Dawn is such a pleasant person at the front desk that is a pleasure to talk to.
- Keith L.
Yes five star  
Always polite , always prompt , treat others as they want to be treated, Thankyou Brian G
- Brian G.
First visit  
The service was excellent. Seemed to be in and out in no time.
- Cindy L.
A little confused  
I spoke with manager before the shop opened, and he said that they could do any work at Midas, but when the mechanic looked at my car he said that the hvac control unit was under dash and the dash would have to be taken apart and that was something they dont do.
- Robert M.
Snows  
Just got new snow tires for my new-to-me van and all went well. I have the benefit of storing tires at Midas which is awesome.
- Dan T.
Winter tires  
Service was great and very speedy. Very informative but the two mechanics need to get on board regarding tires. One said 2 tires was OK for winter tires and the other mechanics said not OK. Will go back again.
- Sharlene C.
How you do  
The reason I drive from Port Colborne is for one employee Rick. He is the Best
- Marsha B.
GREAT SERVICE!  
Service great, had an appointment and they handled the situation immediately. Great price, great staff. Will definitely be bringing back my vehicles to MIDAS again. I have informed some of my co-workers who need a service with their vehicles, go to MIDAS.
- John S.
Repair for a cracked radiator; brand new tires applied; new brakes installed; rear tail LED light re  
The owner Keith and staff including the friendly Office Manager, Dawn was genuine and very kind, as if I were the only customer being catered to and this MIDAS shop is a very busy place. I got a great deal and to my pleasant surprise since I was 150km from my home Keith even lent me the company van to use (without any charge) to drive to and fro home until my car was repaired the next day. I highly recommend this MIDAS location. Keep up the great work! Sincerely,
- Gabriella A.
Awesome  
Awesome as always
- Lisa F.
Great service  
Was great service all around, from start to end.
- Nathan D.
Great Job  
Always courteous always quick the service is the best I have ever had time and time again every time I go there thanks guys keep up the good work
- Robert O.
Oil Change  
Great
- Marsha B.
Excellent Service and Pricing  
This Midas shop is excellent from the front-end staff through to the mechanics and technicians in the shop. Prices are competitive, if not better, than the competition and work is thorough and very quick.
- Michael H.
Good fast service  
For most work I would recommend Midas. I do however have a problem that apparently they do not repair. Was referred to the dealer for that repair.
- Don M.
Maintenance of truck  
Everything was excellent and done in a timely fashion. Will definitely give a high recommendation to your service centre. Have never had any issues with your establishment all the years I have been going there.
- Phil H.
Break job  
Good job
- Taft P.
Good experience  
The problem was found and corrected! I was given a courtesy ride to and from the shop when my vehicle was being serviced. Much appreciated. All staff I had contact with were pleasant to deal with.
- Don M.
Exhaust Leak Repair  
Fast, courteous. Was shown problem prior to repair.
- Mark H.
" Awesone "  
No matter what service you need on your car Midas is second to no one. Thanks Midas Jerry Stadnyk.
- Jerry S.
Oil change  
I brought my truck into Midas last week to have a oil neck on my head replaced as it broke. They were unable to get one since it was a dealer part but suggested a wrecker. Ì found one for free and Midas put it in for me at no charge. They then proceeded to do my oil change. That is service. Rick was very helpful and I will continue to be a loyal customer.
- Phil H.
AMAZING!!!  
I have never been treated so well at a business before. 10/10 would recommend going to Midas on Hartzel road in St. Catherine's Ontario.
- Autumn R.
Service with a smile.  
This store has become my store of choice. Was recommended by a friend who did some body work on my vehicle. Everything I have gone to the store (garage) to be looked at has been dealt with in a friendly manner and quickly! I recently had to get new wiper blades and got them installed. Without asking me they put on winter blades to replace the worn blades. They did a super job. New blades working excellently.
- Don M.
Great service  
Looked at my car within minutes of arriving. Brought me out to the car and showed me what was wrong and how he was going to fix it.
- Ken M.
Great Service  
Took car in for oil change and tire balance. Everything done very quickly and correctly and they even put on new wiper blades I purchased elsewhere (and didn't charge me).
- Michael H.
yes  
good polite service
- Garry B.
great service.  
In for a oil change. got right in. car is working great. Super service as always
- Don M.
Fast and professional service  
When it comes to the basics like oil changes, Midas is a great place to go for fast and professional service. Although I've had a slow leak in one of my tires for months now and they havnt been able to locate and repair it. Also, they have a tendency to refuse jobs that will be too difficult for them, such as a bolt that has been broken off inside my car via the seat mounting point. Although disappointing, I still enjoy the friendly and fast service and will continue going here for my oil changes and other regular maintenances.
- Adam L.
Service quality.  
Service was friendly and courteous. Did what was expected and let me know about concerns about my truck re:replacing original shocks. d what was expected and let me know about concerns about my truck. Re: replacing original shocks.
- Phil H.
Great service  
Great service. Just said what needed to be done and didn't try to up sell. Work was done quickly and for a fair price. Will definitely be coming back for any future repairs.
- Sean C.
Professional and quick.  
All the employees of this locations were very professional and completed my oil change in a very timely manner. I always choose Midas for my car maintenance and repairs. 10/10 recommend for others.
- Adam L.
295 k  
2005 Malibu, has been looked after by this Midas only, since day 1. Now up to 295k and running great!!
- Gerry H.
Service  
Always have good service ere at Midas on Hartzel Rd. Would recommend this shop to anyone.
- Don M.
Thanks for fixing the radio  
The bass is now rich. The mid tones full and I hear high notes I'd missed for so long.
- John M.
Great Service!  
Once again Midas has provided me with excellent service at a reasonable cost. I will continue to deal with this location in the future!
- Warren H.
Great Service!  
I was very pleased with the swiftness of the repairs. The price was okay as well. I have been dealing with this Midas for about 4 years. I go to them for everything that they can do. They have never let me down.
- John Warren H.
the best  
The staff and Randy have alway's been upfront and HONEST. Always detailing the work the has to be done, and the work that can wait till the next appointment. Always working with you, not out to make a quick buck, you can always trust him.
- Steven P.
Would recommend!  
The staff at Midas in St Catharines are polite, personable and knowledgable. They do what they say they will.
- Jessica G.
Never disappointed  
The staff at this Midas, led my Randy, has your best interests at heart. They are continually honest and helpful in troubleshooting and repairing our vehicles. I travel across the city to specifically go to this Midas!
- Matt G.
Definitely the "Go To" Place for Quality Automotive Service Needs!  
As a local business owner I appreciate quality service and attention to detail. Randy and his team of professionals consistantly deliver quality automotive care at reasonable prices. I recommend Randy and his team to all my customers for their automotive service needs. I know that they will be looked after at the Hartzel Road Midas with the same care and attention to details as I do Well done!
- Dean R.
The Best Service  
Randy and all of the staff are excellent. They go out of their way to treat us well. We always receive excellent service. We would not go anywhere else.
- Terry M.
10
Write a review
We would like to hear about your experience at Midas.
Request appointment
Great auto service is only a click away.
Complete the online form to request a service appointment or call us for an inmediate appointment.
Thank you
---
We really appreciate your feedback!
Would you like to share your review? We've made it easy for you to share your review on Yelp or Google Places.
Step 1
Use the button to copy the text of your review.
Step 2
Please click the Yelp or Google Places icon below, then click Write a Review. Follow the instructions to publish your review. To Paste the text on Windows use "control + v". On a Mac use "command + v"
Thank you
---
We really appreciate your feedback!
Would you like to share your review? We've made it easy for you to share your review on Yelp or Google Places.
Step 1
Press and hold inside the review text to copy your review.
Step 2
Select the Yelp or Google Places icon below, then select Write a Review. Press and hold inside the review space to paste your review.
Thank you
---
We really appreciate your feedback!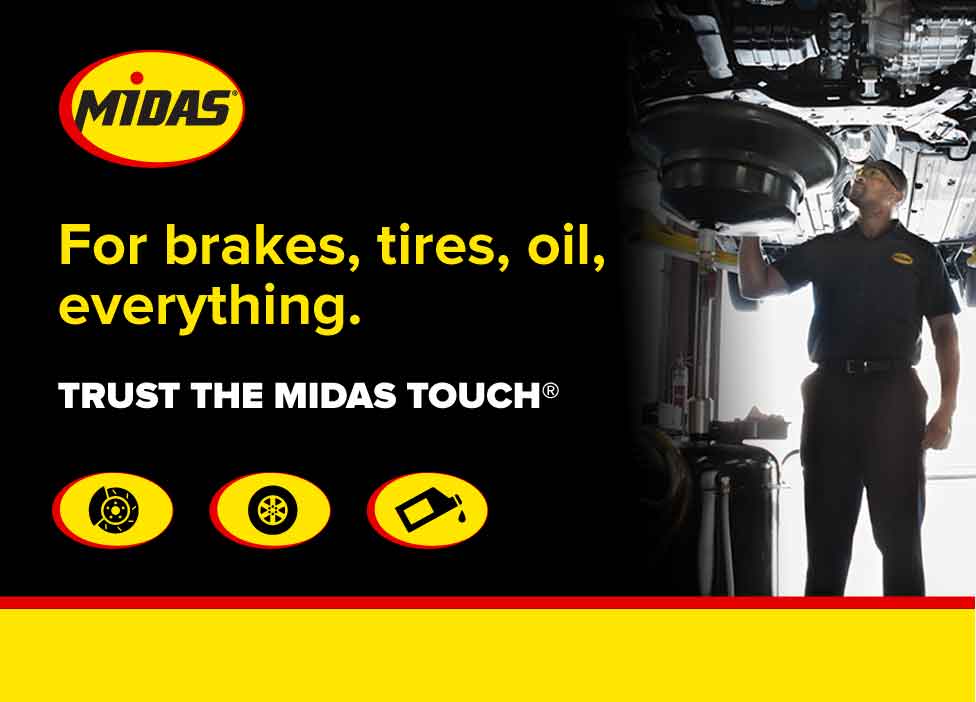 Amenities
WiFi

Pick-up/Drop-off Services

After Hours Drop-off

Coffee

Magazines

Online Appointments Available

Online Estimates Available

Online Tire Shopping Available
---
---
Payment methods
The Midas Credit Card offers instant credit and easy terms to qualified applicants. Subject to credit approval. Minimum monthly payments required. See store for details. Get Details
Join the Midas team at 135 Hartzel Road, St. Catharines, ON, L2P 1N6
Build your future with a leader in the automotive services industry...Midas.
Midas is one of the world's largest providers of automotive service, including exhaust, brakes, steering, suspension, and maintenance services. Midas has more than 1700 franchised and company-owned Midas locations in the United States and Canada.
Midas is committed to earning our customer's trust by offerring them the expertise, value and reposiveness they expect... every time they visit us.
Positions at Midas
Assistant Shop Manager

Auto Shop Manager

Automotive Technician

Customer Service Representative

General Service Technician

Join the Team

Service Advisor
Thank you!
Thank you for your interest in Midas. We will review your skills and experience and will contact you if your background matches the available position. If there is not a fit at this time, we will keep your information on file for any future openings.
Please Note: This employment opportunity may be with an affiliate of Midas International, LLC or it may be with an independent owner and operator of a Midas shop.
Midas Management at 135 Hartzel Road St. Catharines, ON L2P 1N6.
Sending Message... Please wait.
Apply at your local Midas